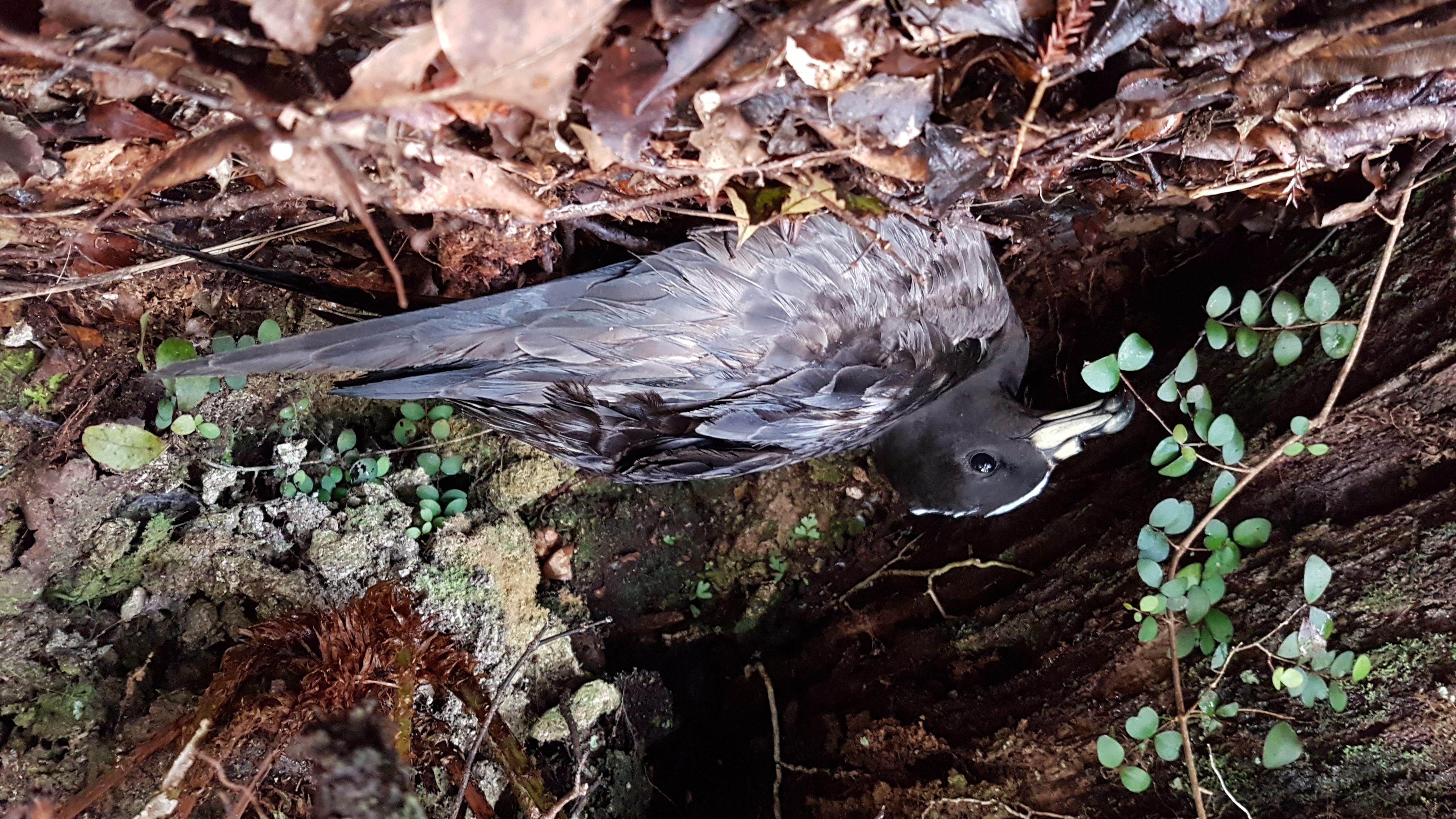 An adult Black Petrel rests on the surface at its forest breeding site
NOTE: This post continues an occasional series that features photographs of the 31 ACAP-listed species, along with information from and about their photographers. Here, Elizabeth 'Biz' Bell of Wildlife Management Ltd writes with feeling of the Black Petrel or Tākoketai Procellaria parkinsoni (both globally and nationally Vulnerable), which she has studied and photographed at its main breeding site in New Zealand for a quarter of a century.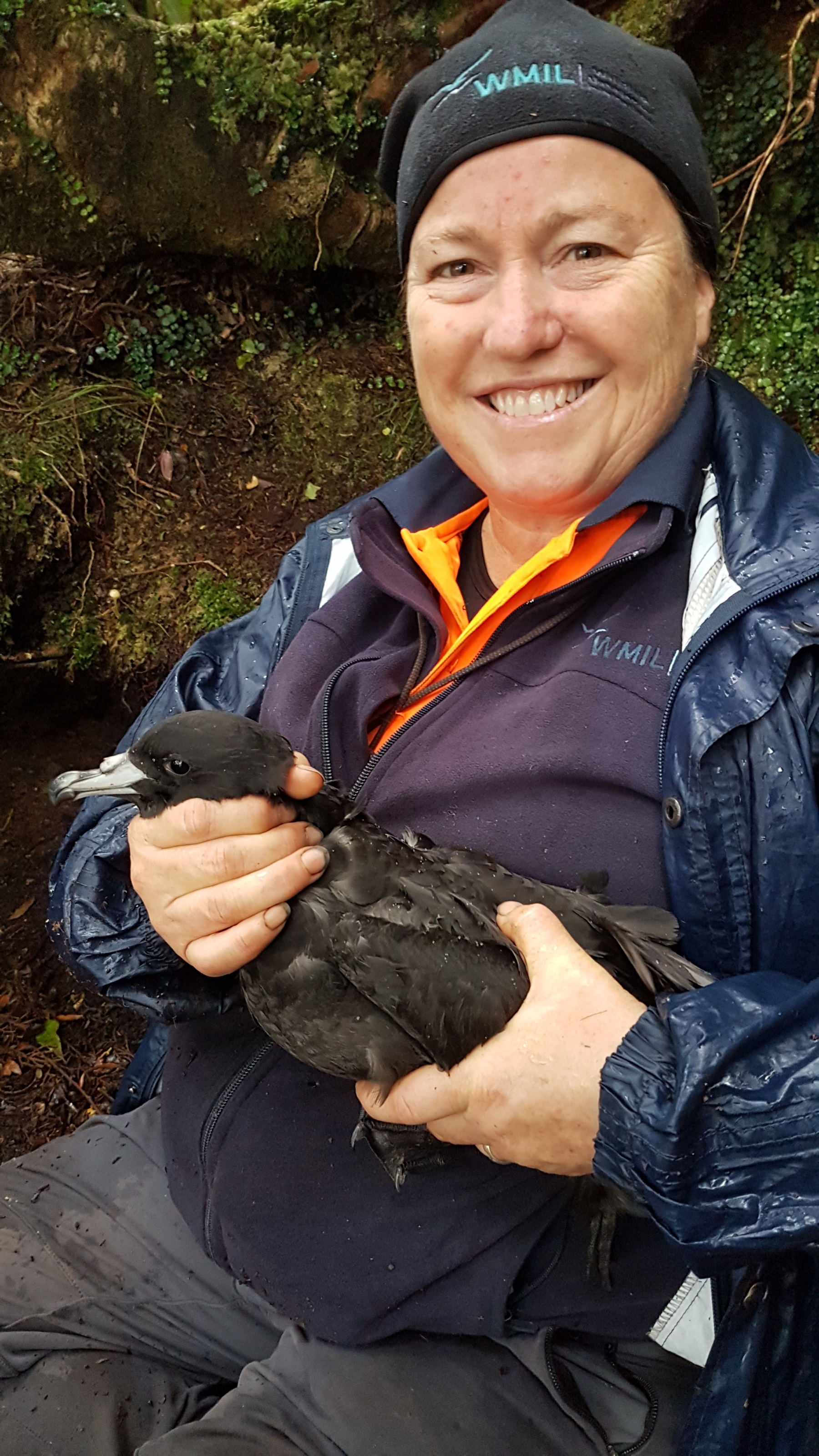 'Biz' Bell carefully restrains a Black Petrel during burrow checks, May 2020; photograph by Paul Garner-Richards, Wildlife Management International
Established by my father, the late Brian Bell QSM in 1992, Wildlife Management International Ltd (WMIL) specialises in seabird research and island restoration around the world. I now manage WMIL, supported by a team of excellent and passionate ecologists. We undertake research on several seabirds (including ACAP-listed species) and other bird species to determine their demographics, behaviour and population status and trends, as well as eradicating invasive mammals as part of the New Zealand Predator Free 2050 vision and on islands around the world to protect seabirds and other resident native species. The Tākoketai/Black Petrel project is one of the longest running seabird research studires still being undertaken by WMIL.
I started working with Tākoketai/Black Petrels on Aotea/Great Barrier Island in 1996 when the late Mike Imber asked me to start a population monitoring project to help determine the status and trends of this iconic New Zealand species. Little did I know then that I would be still walking up Hirakimata/Mount Hobson each summer over 25 years later and planning to keep doing those trips as long as I physically can. These birds get under your skin and their personalities and charisma are magic – making it easy to charm fishers and fishing industry management about their importance and of the need to protect them at sea with suitable mitigation measures.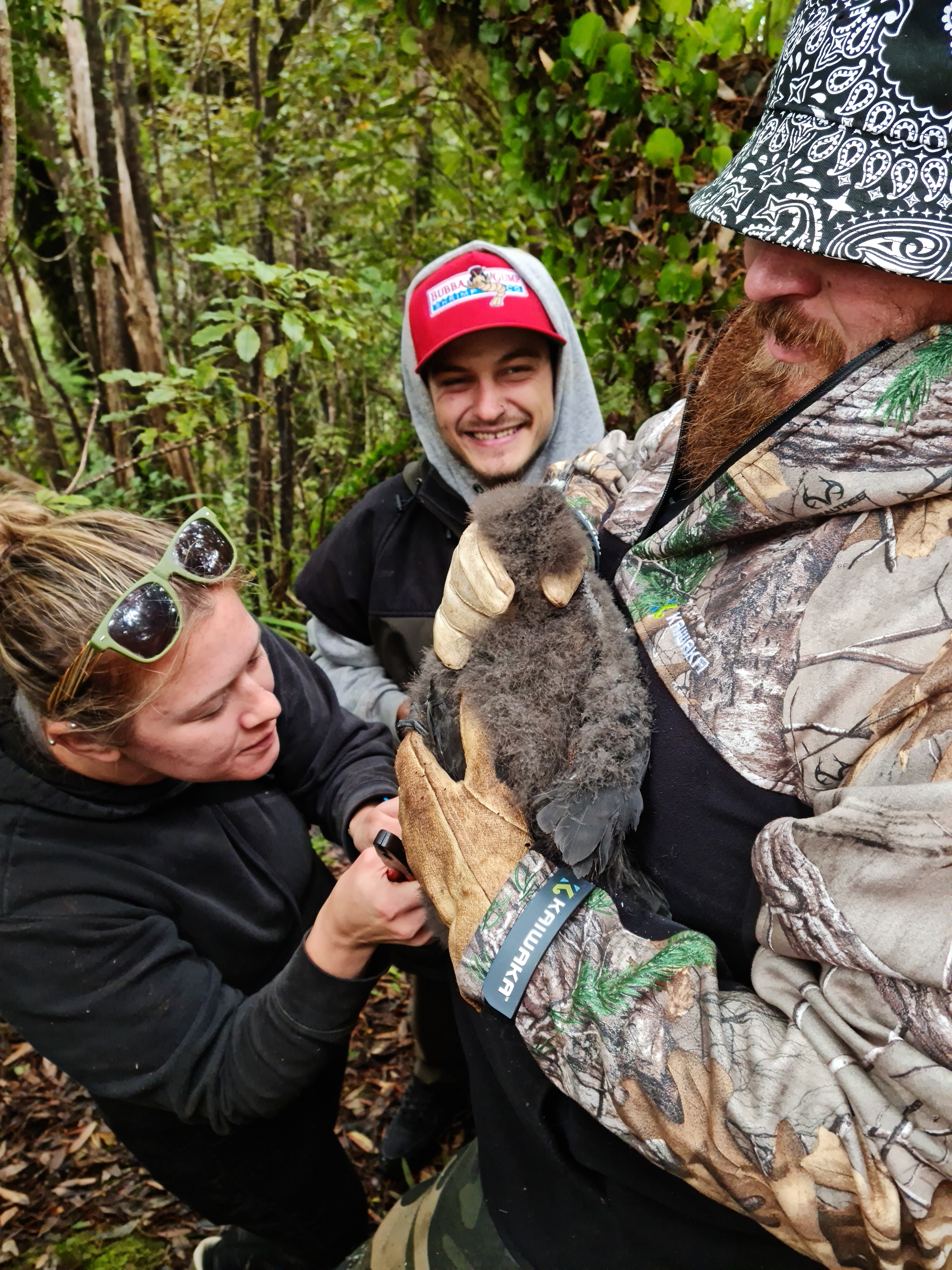 Banding a Black Petrel chick, with help from visiting fishers, May 2021
Visiting the Tākoketai/Black Petrel colony throughout the breeding season means we get the whole picture of their behaviour throughout from pre-egg laying pair bonding to egg laying, incubation, chick rearing and watching the chicks take their maiden flights as they fledge. Following adults as they carefully nurture an egg or small chick is wonderful; how they carefully roll the egg into position and settle on the egg or snuggle the chick underneath them for warmth and safety. Or the cheek of little unguarded chicks practicing their aggressive moves by honking and snapping at the torch light as we check their status in the breeding burrows, often having to remove small chicks or eggs from the burrow for safety, keeping them warm in field hats, while we check adults for bands.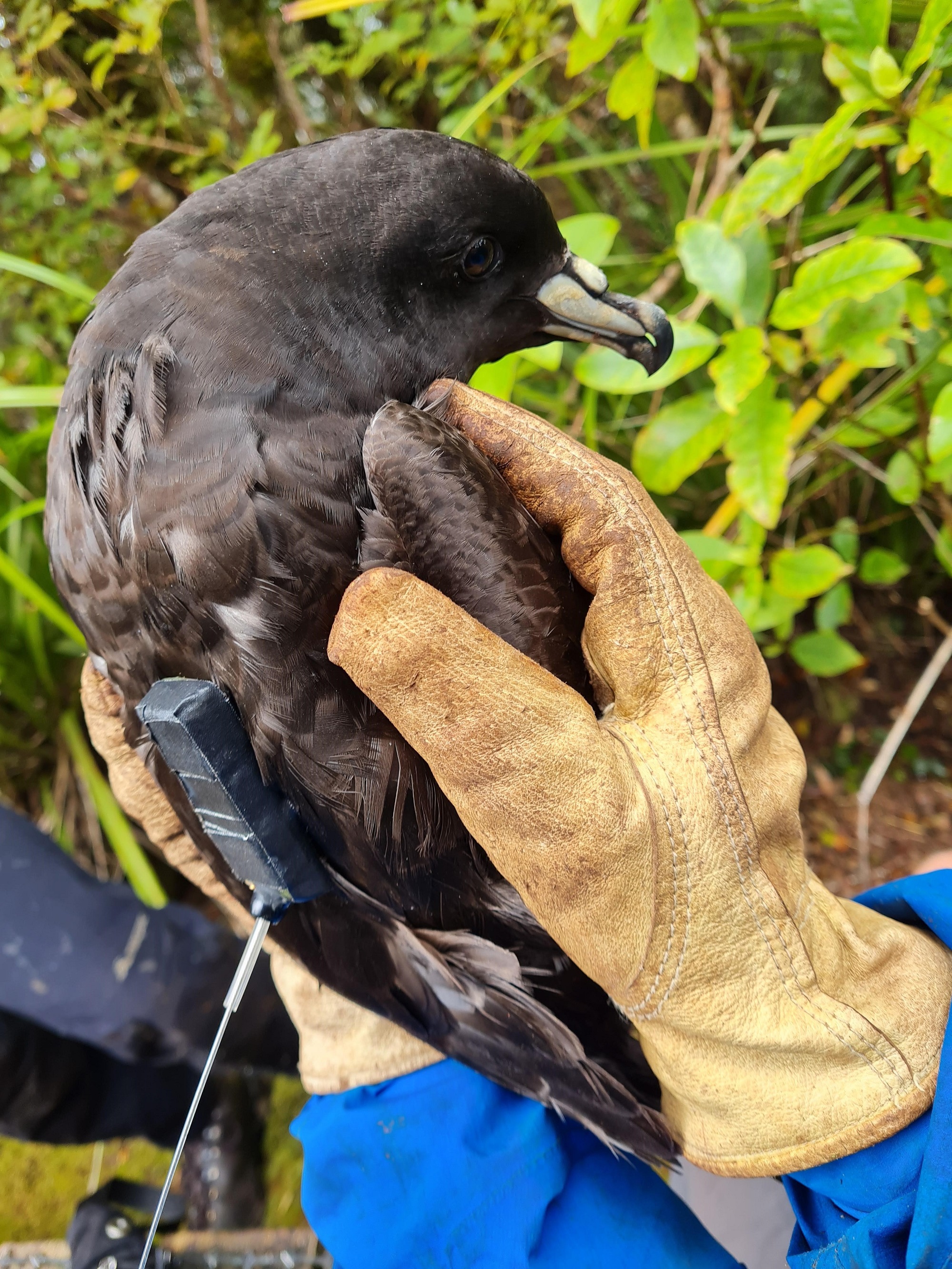 A Black Petrel is fitted with a back-mounted satellite tracker in October 2020
We have also been adding a range of tracking devices to the birds – through all age classes and at all stages of the breeding cycle as well as on migration to South American waters for the non-breeding over-wintering period. Data from these devices have helped us understand Tākoketai/Black Petrel behaviour at sea, including the discovery that they can dive up to 34 m while foraging, where they forage during the breeding season, and the migration routes to South American waters followed by both adults and fledglings. This information can help us determine areas of risk from commercial and recreational fishers and other environmental factors (including climate change and pollution events) within the New Zealand Exclusive Economic Zone, international high seas and in South American waters.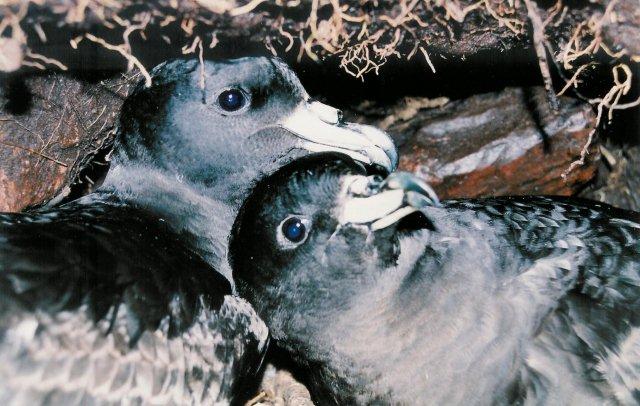 A Black Petrel pair revealed by flash at night
The field work on Aotea is a real mixture of peering into simple, accessible burrows to others that require inserting most of your body, or multiple people working through individual entrances to reach the resident parent or chick. The island, terrain on the mountain, burrow types, interesting vegetation, and the special nature of the birds themselves makes it impossible not to have a wide range of images, interactions, and crazy memories collected over the course of the long-term study. It is indeed both a real privilege and a pleasure to be working on Hirakimata/Mount Hobson to understand the behaviour, population dynamics and status of Tākoketai/Black Petrel on behalf of Ngāti Rehua Ngāti Wai ki Aotea and the New Zealand Department of Conservation.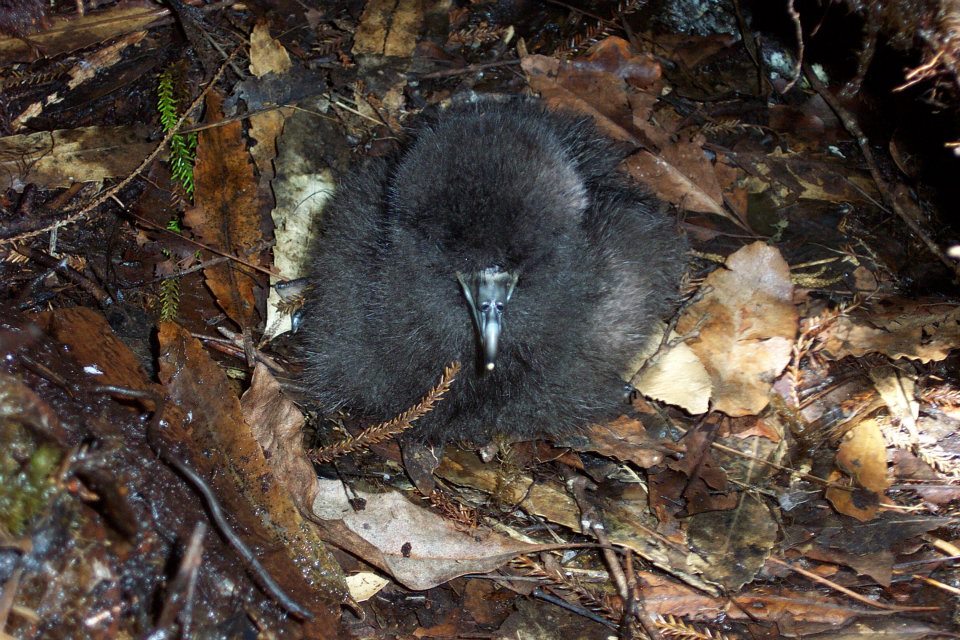 A downy Black Petrel chick in its burrow, photographs by 'Biz' Bell
Selected Publications:
Bell, E.A. 2016. Diving behaviour of black petrels (Procellaria parkinsoni) in New Zealand waters and its relevance to fisheries interaction. Notornis 63: 57-65 63: 57-65.
Freeman, R., Dennis, T., Landers, T., Thompson, D., Bell, E., Walker, M. & Guilford, T. 2010. Black Petrels (Procellaria parkinsoni) patrol the ocean shelf-break: GPS tracking of a Vulnerable procellariiform seabird. PLoS ONE 5(2): e9236. doi:10.1371/journal.pone.0009236.
Gaskin, C.P., Harrison, P., Baird, K.A., Cunninghame, F., Ismar, S.F.H. & Bell, E.A. 2016. An opportunistic sighting of a flock of black petrels (Procellaria parkinsoni) at Galápagos Islands, Ecuador. Notornis 63: 54-56.
Imber, M.J., McFadden, I., Bell, E.A. & Scofield, R.P. 2003. Post-fledging migration, age of first return and recruitment, and results of inter-colony translocation of black petrels (Procellaria parkinsoni). Notornis 50: 183-190.
Mischler, C.P., Bell, E.A., Landers, T.J. & Dennis, T.E. 2015. Sex determination of black petrels (Procellaria parkinsoni) using morphometric measurements and discriminant function analysis. Notornis 62: 57-62.
Quinones, J., Calderon, J., Mayaute, L. & Bell, E. 2020. Black petrel (Procellaria parkinsoni) congregations at sea off Perú during the Austral summer. Notornis 67: 573-576.
Zhang, J., Dennis, T.E., Landers, T.J., Bell, E. & Perry, G.L. 2017. Linking individual-based and statistical inferential models in movement ecology: a case study with black petrels (Procellaria parkinsoni). Ecological Modelling 360: 425-436.
Elizabeth 'Biz' Bell, Wildlife Management International Ltd., Blenheim, New Zealand, 01 October 2021