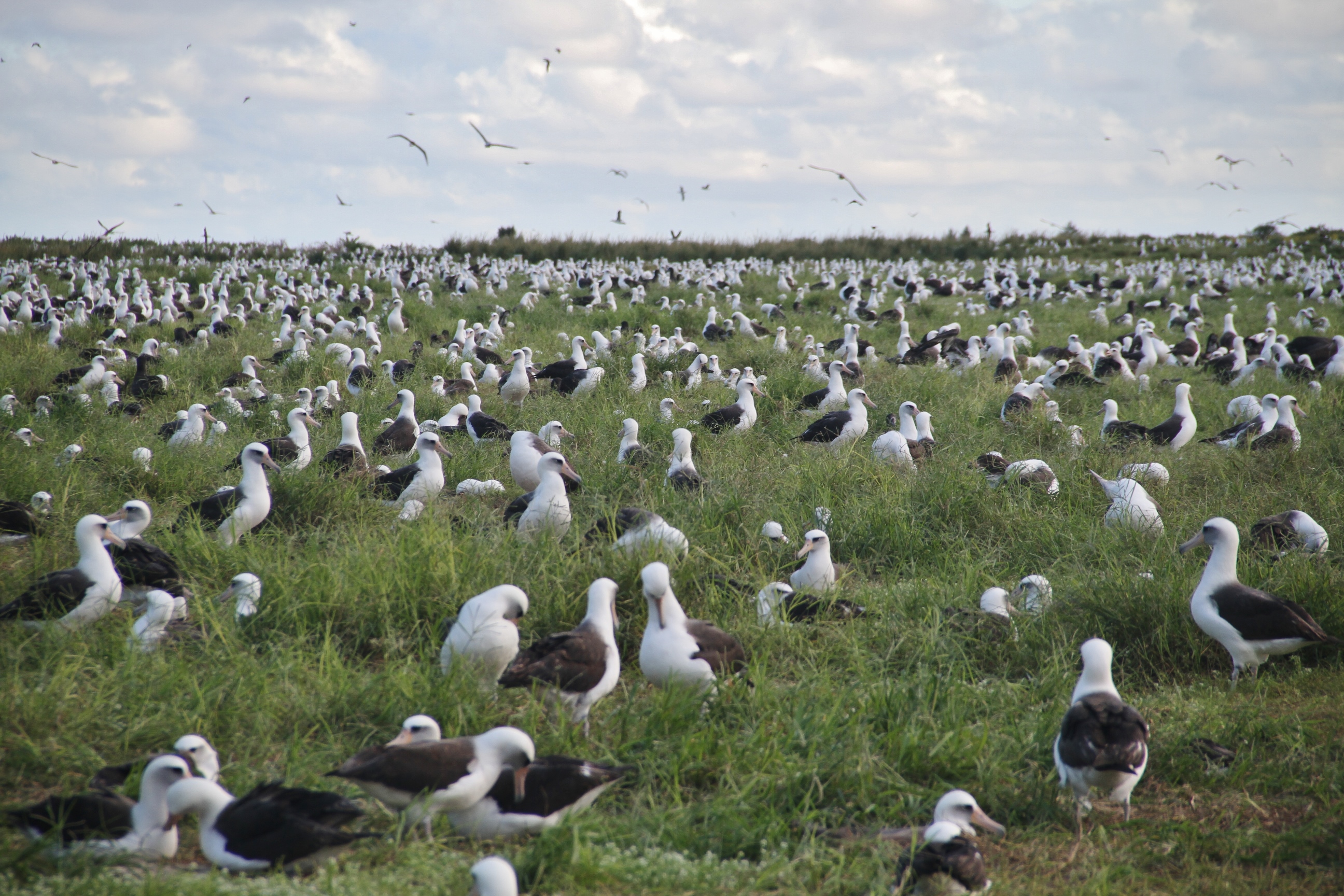 Laysan Albatrosses on Sand Island, Midway Atoll
The ongoing COVID-19 pandemic halted plans last year to eradicate albatross-attacking House Mice Mus musculus on two globally important seabird breeding localities, the Gough Island Nature Reserve in the South Atlantic and the Midway Atoll National Wildlife Refuge in the northern Pacific – both of which form parts of World Heritage Natural Sites. The South Atlantic eradication is going ahead this year with the first team members of the Gough Island Restoration Programme arriving on the island last and this month, but what of Midway's postponed Seabird Protection Project? ACAP Latest News reached out to North Pacific colleagues to find out the current situation. In reply Wes Jolley, Project Manager, Island Conservation, writes to ALN:
"In September of 2020 the Midway project partnership [that includes the environmental NGO Island Conservation] determined that the best course of action was to delay the project and aim for a 2022 implementation. It was a disappointing decision, but after working for several months to evaluate various scenarios there was strong alignment around this being the right approach. The timing for the decision was because increased irretrievable resources would be needed starting in Q4 [Fourth Quarter] 2020 in order to ramp up for a 2021 implementation. The continued uncertainty around COVID-19 was the major underlying factor. We performed scenario and mitigation planning and based on the best information available determined that increased logistical uncertainty and associated costs around a 2021 implementation reduced our confidence that we could implement the project to the highest quality possible. Our best chance at achieving our ultimate goals was to delay.
We remain committed to seeing the project's successful conclusion and are optimistic about 2022. Due to the advanced stage of planning at time of delay we are well positioned to pick things up, but we have been using the time well to fill in additional knowledge gaps and improve strategies where we can."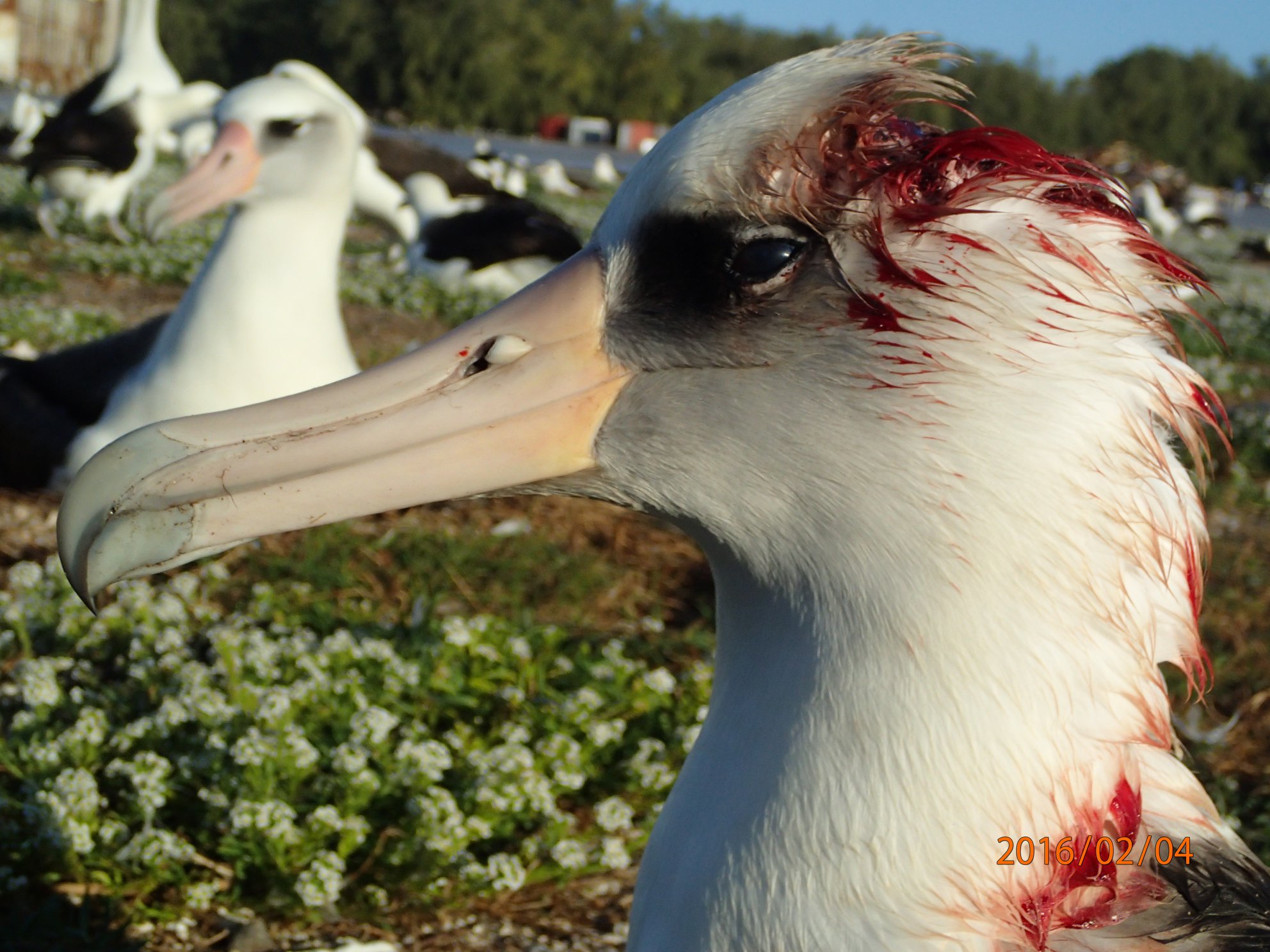 Laysan Albatross attacked by mice on Sand Island, Midway; photograph from Friends of Midway Atoll National Wildlife Refuge
One of the knowledge gaps that now has been filled is a recently completed study of the arthropod communities on Midway's mouse-ridden Sand Island in comparison to that of adjacent mouse-free Eastern Island by Northern Illinois University postgrad Wieteke Holthuijzen. In her thesis abstract she concludes "Our study contributes to the body of knowledge of arthropods in the Northwestern Hawaiian Islands, arthropod community ecology, and potential mouse impacts on islands."
View a recording of Wieteke's virtual thesis defence.
ACAP Latest News looks forward to reporting further on the Gough and Midway mouse eradication efforts and in time – and with both hard work and luck - lauding their successes.
With thanks to Emily Heber, Communications Manager and Wes Jolley, Project Manager, Island Conservation, and Wieteke Holthuijzen, Friends of Midway Atoll National Wildlife Refuge.
Reference:
Holthuijzen, W. 2021. Fly on the wall: comparing arthropod communities between islands with and without house mice (Mus musculus). MSc thesis, Department of Biological Sciences, Northern Illinois University. 127 pp.
John Cooper, ACAP Information Officer, 21 March 2021