Agathe Gérard (Institut Méditerranéen de Biodiversité et d'Écologie marine et continentale (IMBE), Aix-Marseille Université, Centre IRD de Nouméa, Nouvelle-Calédonie, France) and colleagues have published in the journal Austral Ecology on testing the ability of Wedge-tailed Shearwaters Puffinus pacificus to react to the odour of Ship or Black Rats Rattus rattus.
The paper's abstract follows:
"Seabirds are particularly vulnerable to introduced alien mammalian predators, especially invasive rats, which are the main contributors to seabird extinction and endangerment in many places worldwide. However, this appears context-dependent because, paradoxically, cases of apparent long-term coexistence between rats and some species of seabird have been reported for centuries, in various locations. Among seabirds, procellariiforms are known to have developed a range of olfactory-driven behaviours, such as partner recognition and homing. Olfaction could be an effective means of recognizing and thereafter avoiding invasive predators. However, the role of olfaction in predation risk assessment has not yet been examined in any procellariiform. Here, we investigated, through a Y-maze experiment, whether the wedge-tailed shearwater (Puffinus pacificus) avoided the odour of one of the most damaging alien predators on islands, the ship rat (Rattus rattus). The experiment was conducted in different ecological contexts on three neighbouring islets off New Caledonia having different communities of invasive rats. Contrary to our expectations, the wedge-tailed shearwater either did not detect or did not avoid the odour of the ship rat, despite about 175 years of coexistence between rats and shearwaters in New Caledonia. These findings highlight the need for further investigations (across species, across sites) into the factors underpinning the paradox between high vulnerability and the surprising long-term coexistence between procellariid seabirds and alien invasive rats."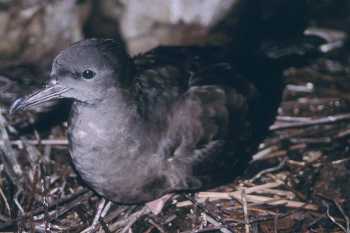 Wedge-tailed Shearwater, photograph by Alan Burger
Reference:
Gérard, A., Jourdan, H., Millon, A. & Vidal, E. 2015. Anti-predator behaviour in a procellariid seabird: Wedge-tailed shearwaters. Austral Ecology DOI: 10.1111/aec.12252.
John Cooper, ACAP Information Officer, 05 July 2015