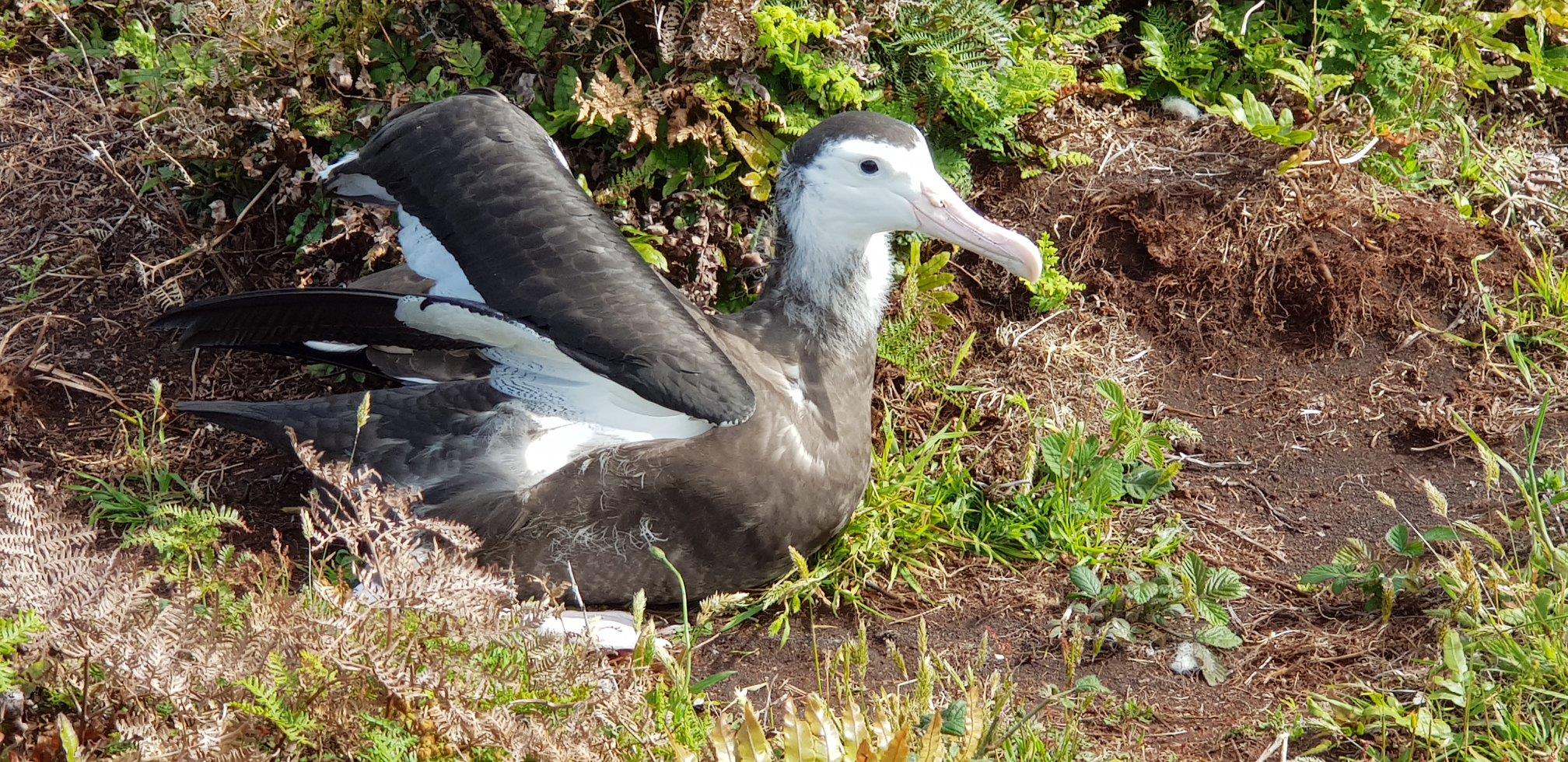 Antipodean Albatross chick, Mount Hakepa, Pitt Island, December 2020, photograph from the Chatham Island New Zealand Facebook Page
A single pair of globally Endangered Antipodean Albatrosses Diomedea antipodensis, presumed to be of the nominate race, breeds on Pitt Island in New Zealand's Chatham Islands group. A chick approaching fledging was present in an area of low fern on the shoulder of Mount Hakepa in late December last year and is expected to fledge this month.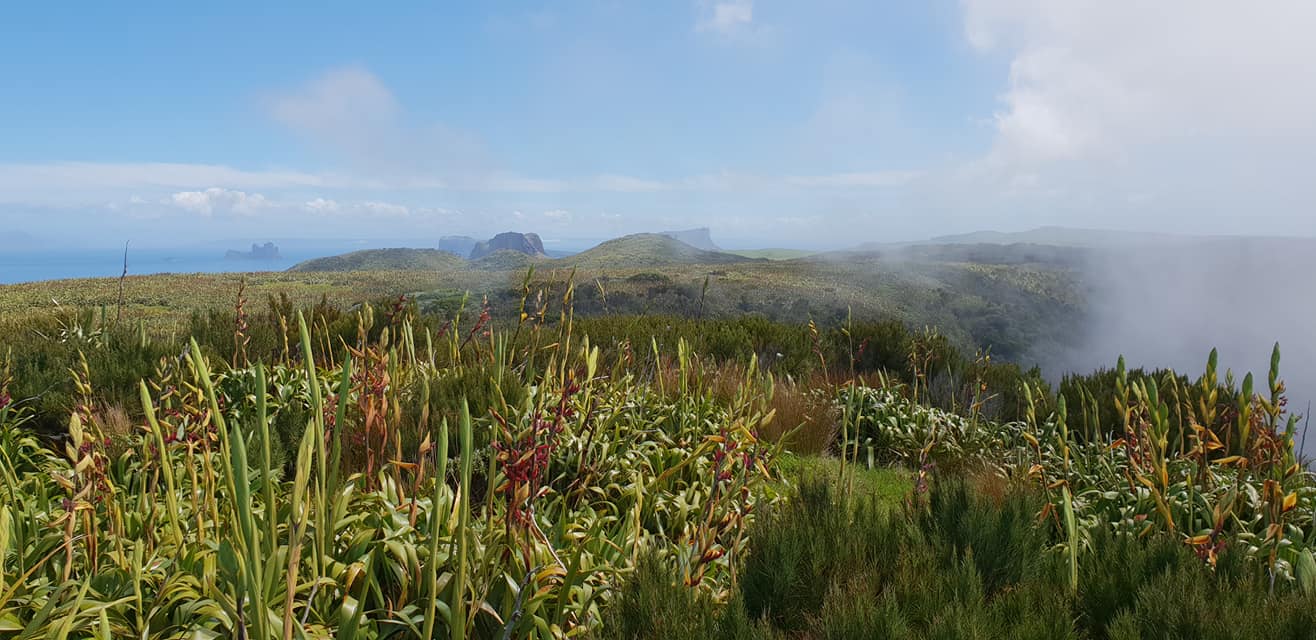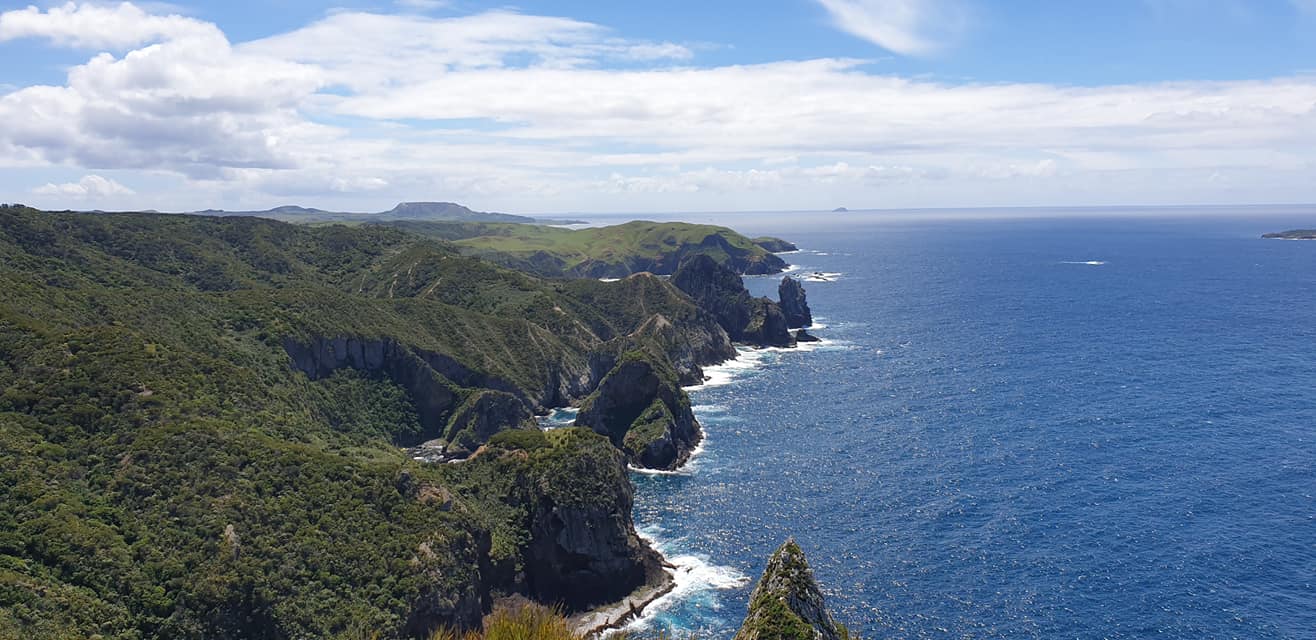 Views of Pitt Island, photographs from the Flower Pott Lodge Facebook Page
Pitt Island (6190 ha) is the second largest island in the group; it has a small human population of around 40 persons with farming, fishing, hunting and tourism being commercial activities. Mount Hakepa, 230-m high and of volcanic origin, lies close to the sea on the island's east coast and is in private ownership. The island lies some 700 km north of Antipodes Island, the closest breeding site of the species.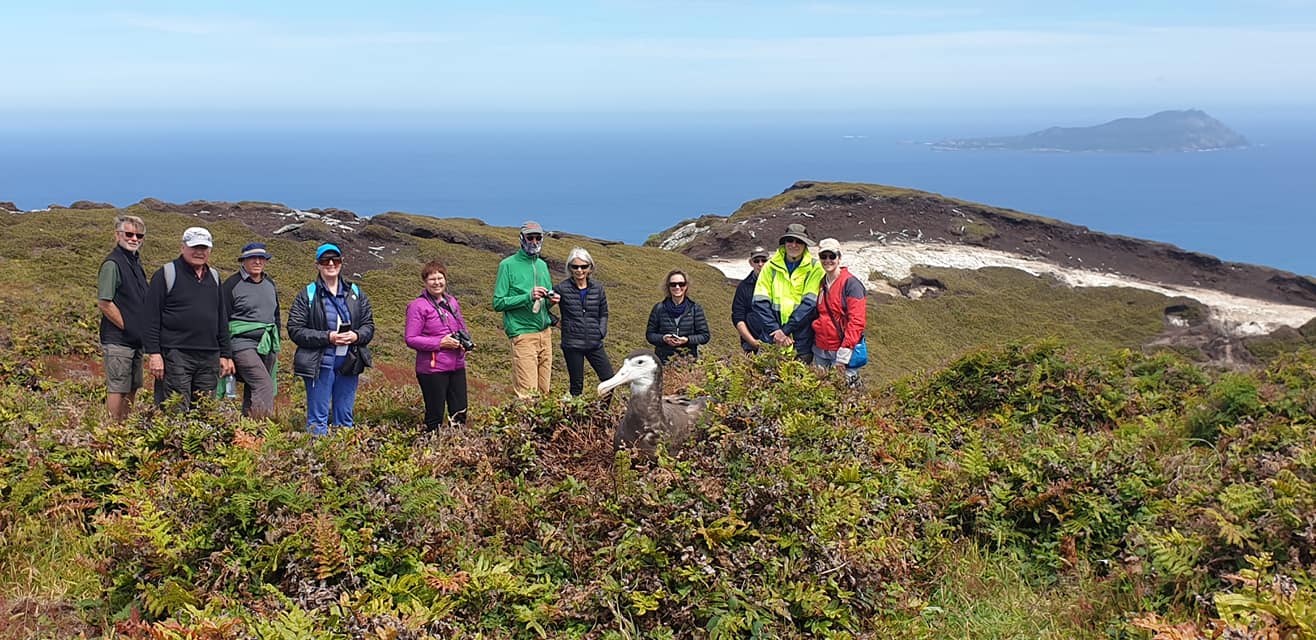 The 2020/21 Mount Hakepa Antipodean Albatross chick viewed by tourists, photograph from the Flower Pott Lodge Facebook Page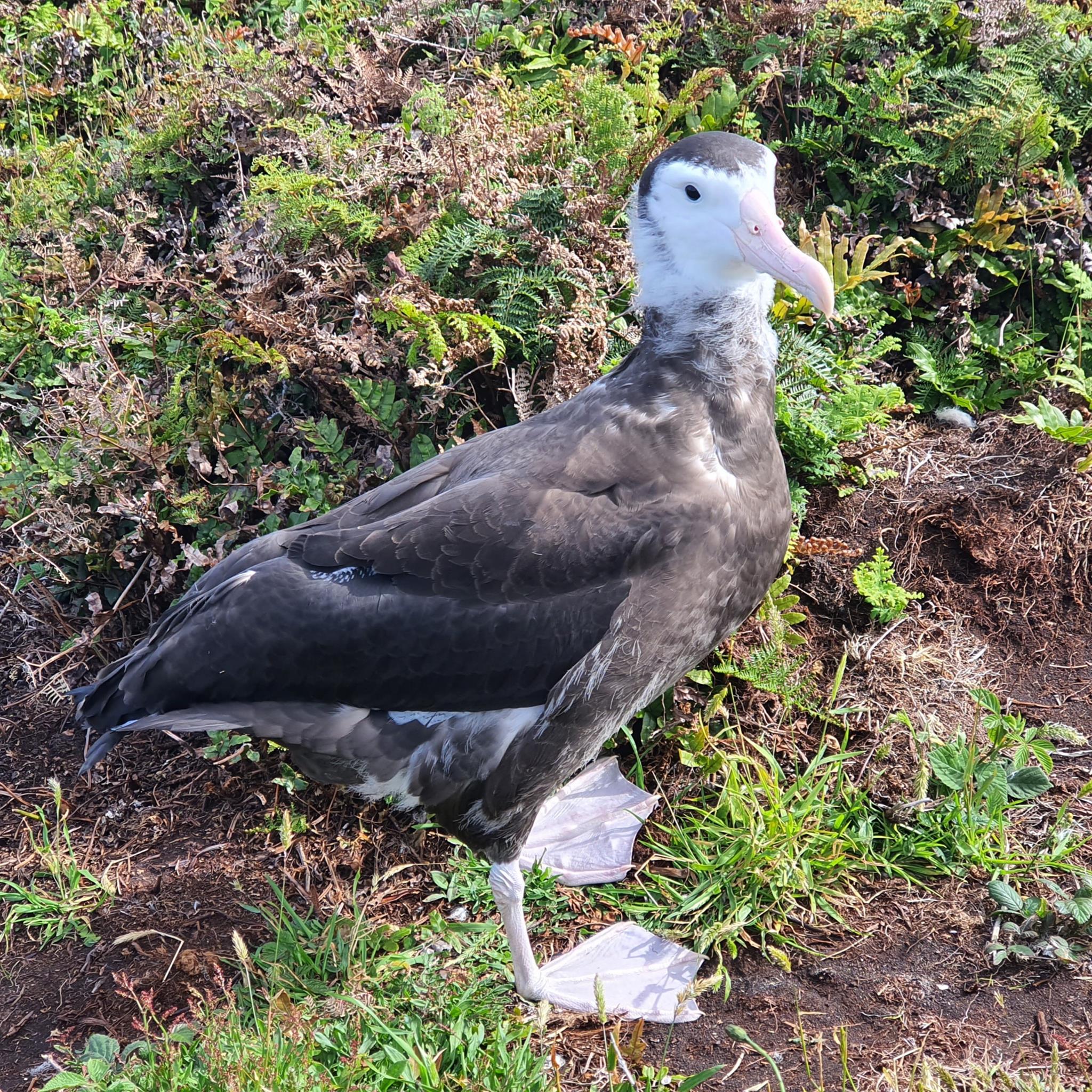 The 2020/21 Mount Hakepa chick close to fledging, photograph from the Department of Conservation Facebook Page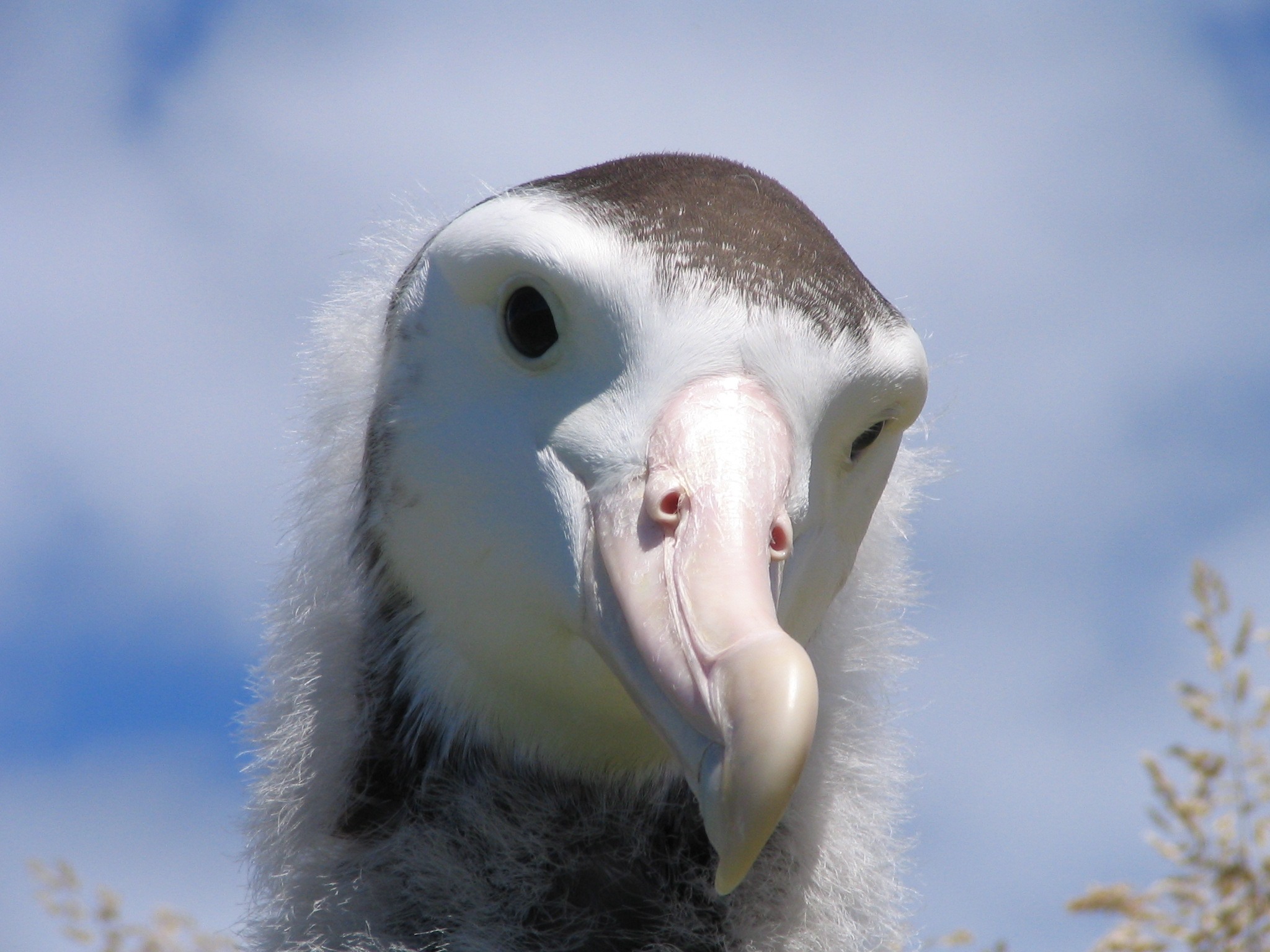 The first chick known to have fledged on Pitt Island, photographed on 10 January 2005 at the Waipaua Scenic Reserve by Nathan McNally
Early breeding records of Antipodean Albatrosses on Pitt Island have been summarized by Colin Miskelly and colleagues: "A subadult male Antipodean wandering albatross was found in Waipaua Scenic Reserve on Pitt Island in May 2002, and what may have been the same bird was ashore at the same site in 2004. An egg was found at this site in Apr 2004 and the resulting chick fledged in Jan 2005. What is presumed to have been a different pair was found with an egg on Mount Hakepa, Pitt I, in early Jan 2006; their egg hatched in Apr 2006, and the chick fledged about 7 Jan 2007. What is presumed to be the same pair also nested successfully at the Mount Hakepa site in 2008/2009, with the chick fledging on 6 Jan 2009."
A displaying pair of Antipodean Albatrosses videoed in March 2019 on Pitt Island has been posted on the Flower Pott Lodge Facebook Page. A similar-looking pair was photographed and videoed displaying ashore in March and April 2018 and three were reported present on Mount Hakepa, with breeding taking place, in June 2017.
Most of the island is in private ownership made up of seven farms; roughly a third is managed as reserves by the New Zealand Department of Conservation. The island supports populations of feral cats, pigs and sheep, as well as domestic cattle, sheep and dogs. Feral rams are trophy hunted. The breeding Antipodean Albatrosses on Pitt Island have been protected by shooting pigs, trapping cats and erecting electric fences around nests.
Single Antipodean Albatross pairs (possibly the same birds) bred unsuccessfully on the main Chatham Island in three consecutive seasons from 2003 to 2005.
With thanks to Nathan McNally and Colin Miskelly.
References:
Aikman, H. & Miskelly, C. 2004. Birds of the Chatham Islands. Wellington: Department of Conservation. 116 pp.
Bell, B.D. & Robertson, C.J.R. 1994. Seabirds of the Chatham Islands. BirdLife Conservation Series No. 1. pp. 219-228.
Houston, D. 2013/2018. Another wandering albatross chick raised on Pitt Island. Chatham Islands, New Zealand.
Miskelly, C.M., Bester, A.J. & Bell, M. 2006. Additions to the Chatham Islands' bird list, with further records of vagrant and colonising bird species. Notornis.53: 213-228.
Miskelly, C.M., McNally, N., Seymour, J., Gregory-Hunt, D. & Lanauze, J. 2008. Antipodean wandering albatrosses (Diomedea antipodensis) colonising the Chatham Islands. Notornis 55: 89-95.
John Cooper, ACAP Information Officer, 28 January 2021