The most westerly of the USA's Northwestern Hawaiian Islands (NHWI) in the North Pacific, Kure Atoll falls within the Papahanaumokuakea Marine National Monument, a large Marine Protected Area declared in 2006. In 2010 Papahanaumokuakea became one of then only 28 mixed (cultural and natural) UNESCO World Heritage Sites in the World.
The atoll consists of a 10-km wide near-circular barrier reef surrounding a shallow lagoon and several sandy islets. Total land area is 86 ha, with Green Island making up 78 ha. It is the World's most northerly coral atoll.
As well as breeding populations of ACAP-listed Black-footed Phoebastria nigripes (2854 pairs in 2014) and Laysan P. immutabilis (20 073 pairs in 2014) Albatrosses a single female-female pair of Short-tailed Albatrosses P. albatrus has laid two infertile eggs in a single nest annually since 2010 (click here).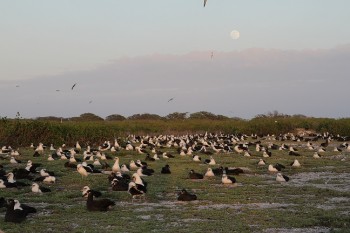 A mixed-species albatross colony on Kure Atoll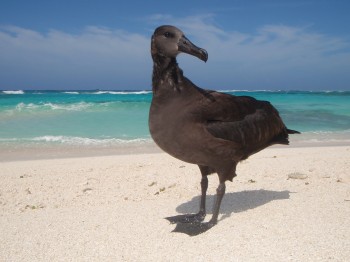 Black-footed Albatross on Kure Atoll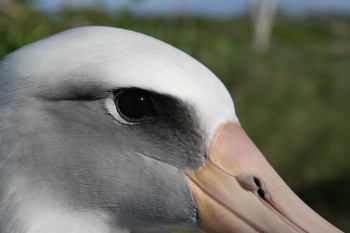 A Laysan Albatross on Kure Atoll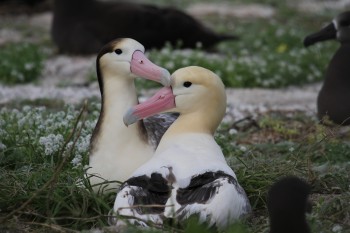 The Kure female-female pair of Short-tailed Albatrosses
Photographs by Cynthia Vanderlip

Breeding statistics from Kure Atoll from Kure Atoll Conservancy
Other procellariiform species that breed on Kure include Wedge-tailed Puffinus pacificus and Christmas P. nativitatus Shearwaters, Bonin Petrels Pterodroma hypoleuca and small numbers of Tristram's Storm Petrels Oceanodroma tristrami.
Kure Atoll is managed by the State of Hawaii's Department of Land and Natural Resources (DLNR), Division of Forestry and Wildlife. DLNR technicians and volunteers work to restore Kure's habitats by clearing invasive non-native plants (notably Golden Crownbeard Verbesina encelioides – click here), reintroducing native plants, removing nets and other debris from reefs and beaches and monitoring the atoll's animal and plant populations. A successful programme to eradicate Polynesian or Pacific Rats Rattus exulans which had been attacking adult seabirds (including albatrosses) and eating eggs and young chicks was undertaken from 1993 to 1995.
The Kure Atoll Conservancy is a non-profit foundation dedicated to supporting restoration and other wildlife management programmes that enhance biological diversity, ecosystem health and cultural resources of Kure Atoll (click here). Follow the fortunes of field workers on Kure here.
With thanks to Cynthia Vanderlip, Executive Director, Kure Atoll Conservancy for photographs.
Selected Literature:
Arata, J.A., Sievert, P.R. & Naughton, M.B. 2009. Status Assessment of Laysan and Black-footed Albatrosses, North Pacific Ocean, 1923-2000. U.S. Geological Survey Scientific Investigations Report 2009-5131. Reston: U.S. Geological Survey.
Cousins, K. & Cooper, J. 2000. The Population Biology of the Black-footed Albatross in Relation to Mortality caused by Longline Fishing. Honolulu: Western Pacific Regional Fishery Management Council.
Frierson, P. 2012. The Last Atoll. Exploring Hawai'i's Endangered Ecosystems. San Antonio: Trinity University Press. 309 pp.
Harrison, C.S. 1990. Seabirds of Hawaii: Natural History and Conservation. Ithaca: Cornell University Press. 249 pp.
Naughton, M.B., Romano, M.D. & Zimmerman, T.S. 2007. A Conservation Action Plan for Black-footed Albatross (Phoebastria nigripes) and Laysan Albatross (P. immutabilis). Version 1.0.
Pyle, R.L. & Pyle, P. 2009. The Birds of the Hawaiian Islands: Occurrence, History, Distribution, and Status. Version 1. Honolulu: B.P. Bishop Museum.
Rauzon, M. J. 2001. Isles of Refuge. Wildlife and History of the Northwestern Hawaiian Islands. Honolulu: University of Hawai'i Press. 205 pp.
John Cooper, ACAP Information Officer, 29 June 2014