One of the USA's Northwestern Hawaiian Islands (NHWI) in the North Pacific, Laysan Island is a raised coral atoll with a central 70-ha hypersaline lake. Its area is about 4 km² (1.6 by 2.4 km); it is one of the largest islands in the NHWI chain. The atoll is low-lying with a maximum height of 15 m and is partially covered with a low vegetation of grasses and vines; parts are exposed sand with little growth. The island is inhabited year round by a field camp operated by researchers and managers.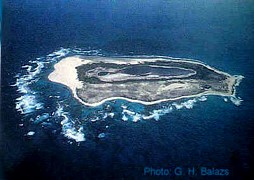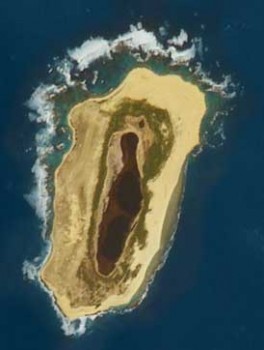 Two aerial views of Laysan Island with its central lake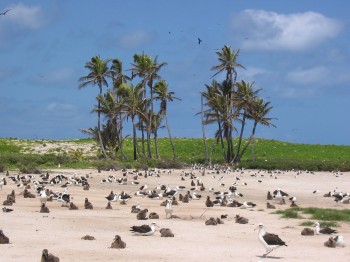 The single coconut grove with Laysan Albatrosses, photograph by Greg McClelland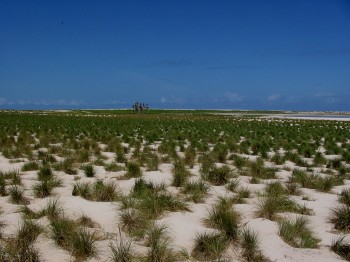 Low grassy vegetation, photograph by Greg McClelland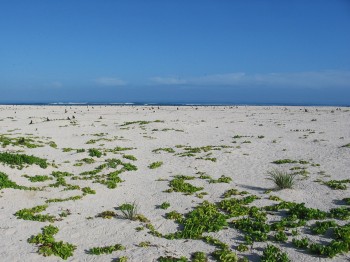 The northern "sand desert", photograph by Greg McClelland
Laysan falls within the Papahanaumokuakea Marine National Monument, a large Marine Protected Area declared in 2006. In 2010 Papahanaumokuakea became one of then only 28 mixed (cultural and natural) UNESCO World Heritage Sites in the World.
Two ACAP-listed species, the Laysan Phoebastria immutabilis and Black-footed P. nigripes Albatrosses breed on the atoll. The ACAP Data Portal gives 2012 populations of 134 835 breeding pairs of Laysan and 24 565 pairs of Black-footed Albatrosses.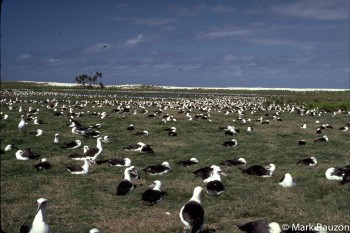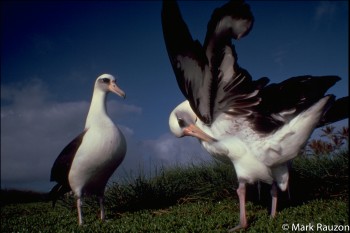 Laysan Albatrosses breeding and displaying on Laysan Island
Photographs by Mark Rauzon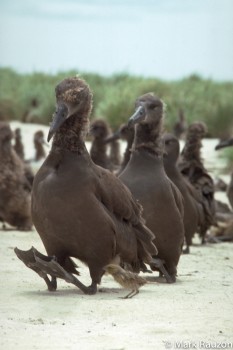 Black-footed Albatross chicks cool off with an inquisitive Laysan Finch
Photograph by Mark Rauzon
Other procellariiform species that occur are the Bonin Petrel Pterodroma hypoleuca, Buler's Petrel Bulweria bulwerii, Christmas Puffinus nativitatus and Wedge-tailed P. pacificus Shearwaters and Tristram's Storm Petrel Oceanodroma tristrami, along with and a number of other seabird species. Occasional singleton Short-tailed Albatrosses P. albatrus have been recorded ashore on Laysan (click here); with an adult photographed in 2011 (click here). Breeding attempts have not (as yet) been reported, unlike on Kure and Midway Atolls in the Northwestern Hawaiian Islands.
Laysan was severely altered by the effects of feral European Rabbits Oryctolagus cuniculus. Brought as a food source for humans in 1903, the rabbits ate nearly all of the island's plants, leading to wind erosion of exposed sand and driving to extinction three land bird taxa. Albatrosses were also heavily exploited for their feathers, eggs and guano around this time, leading to massive mortality.
The degradation of Laysan Island led to the creation of the Hawaiian Islands Bird Reservation by President Theodore Roosevelt in 1909. In recent years successful efforts by the U.S. Fish and Wildlife Service have eliminated most pests, such as Polynesian Rats Rattus exulans, the rabbits (believed absent since 1923), and weeds, and restored much of the native vegetation on the island with translocations and plantings. As a result, Laysan Duck Anas laysanensis and Laysan Finch Telespiza cantans populations are increasing and the Millerbird Acrocephalus familiaris has been reintroduced (click here). This good news is tempered by the risk Laysan (and all the low-lying NWHI islands) face from impending sea-level rise, as well as from storms and tsunamis.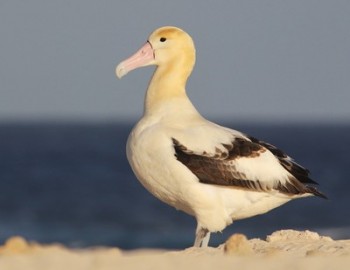 An adult Short-tailed Albatross turns up on Laysan Island (click here)
With thanks to Greg McClelland and Mark Rauzon for their photographs and information.
Selected Literature:
Arata, J.A., Sievert, P.R. & Naughton, M.B. 2009. Status Assessment of Laysan and Black-footed Albatrosses, North Pacific Ocean, 1923-2000. U.S. Geological Survey Scientific Investigations Report 2009-5131. Reston: U.S. Geological Survey.
Cousins, K. & Cooper, J. 2000. The Population Biology of the Black-footed Albatross in Relation to Mortality caused by Longline Fishing. Honolulu: Western Pacific Regional Fishery Management Council.
Ely, C.A. & Clapp, R.B. 1973. The natural history of Laysan Island, Northwestern Hawaiian Islands. Atoll Research Bulletin No. 171. 361 pp.
Frierson, P. 2012. The Last Atoll. Exploring Hawai'i's Endangered Ecosystems. San Antonio: Trinity University Press. 309 pp.
Harrison, C.S. 1990. Seabirds of Hawaii: Natural History and Conservation. Ithaca: Cornell University Press. 249 pp.
McClelland, G.T.W., Jones, I.L., Lavers, J.L. & Sato, F. 2008. Breeding biology of Tristram's Storm-petrel Oceanodroma tristrami at French Frigate Shoals and Laysan Island, Northwest Hawaiian Islands. Marine Ornithology 36: 175-181.
Naughton, M.B., Romano, M.D. & Zimmerman, T.S. 2007. A Conservation Action Plan for Black-footed Albatross (Phoebastria nigripes) and Laysan Albatross (P. immutabilis). Version 1.0.
Pyle, R.L. & Pyle, P. 2009. The Birds of the Hawaiian Islands: Occurrence, History, Distribution, and Status. Version 1. Honolulu: B.P. Bishop Museum.
Rauzon, M. J. 2001. Isles of Refuge. Wildlife and History of the Northwestern Hawaiian Islands. Honolulu: University of Hawai'i Press. 205 pp.
Storlazzi, C.D., Berkowitz, P., Reynolds, M.H. & Logan, J.B. 2013. Forecasting the Impact of Storm Waves and Sea-level Rise on Midway Atoll and Laysan Island within the Papahānaumokuākea Marine National Monument - a Comparison of Passive versus Dynamic Inundation Models. U.S. Geological Survey Open-File Report 2013-1069. 78 pp.
John Cooper, ACAP Information Officer, 06 April 2014