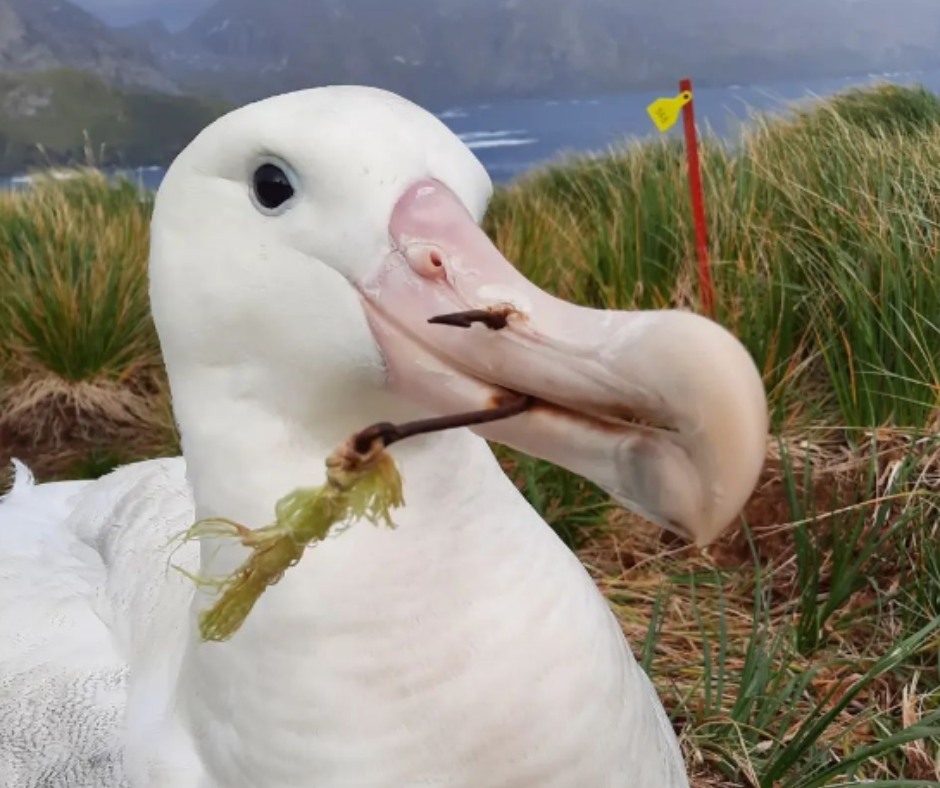 The Wandering Albatross at a marked nest on Bird Island, with a rusted longline hook through its upper mandible prior to removal; photograph from Erin Taylor

Erin Taylor (Zoological Field Assistant, British Antarctic Survey on Bird Island in the South Atlantic) writes on the Facebook page of the Albatross Task Force this month: "Just over four months ago, the team on Bird Island removed a hook from this Wandering Albatross' bill. Today, the adult is successfully raising a strong chick [see below] who is beginning to show some juvenile plumage!"
Following an approach by ACAP Latest News, Erin replies that "The bird in question is a female with the band number 5147573. She was banded in 1993 as a juvenile and has bred with the same partner (5147784) 11 times since their first attempt in 2002. They have raised eight successful chicks together in Bird Sound. The chick had already hatched when the entanglement was discovered and has grown at a rate consistent with the other chicks being fed by two parents. The hook removal was simple as it had passed through the hard part of the mandible so all we had to do was chop the hooked tip off with bolt cutters in order to get it back through the hole, the wound was then disinfected. The bird only has a metal band as it nests in Bird Sound, not on in the Wanderer Ridge study colony. but all the Wanderers are counted across the whole island once a month from April."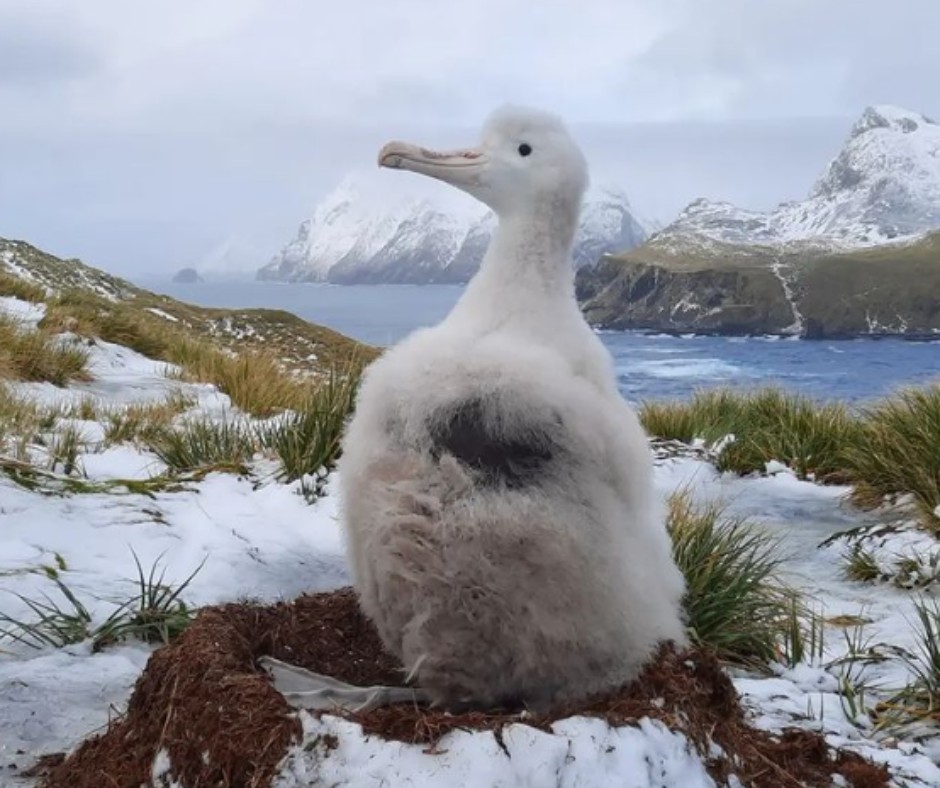 Definitely well fed! The hooked Wanderer's chick; photograph from Erin Taylor

This is not the first time attempts have been made this season to remove fishing hooks from Vulnerable Wandering Albatrosses Diomedea exulans on Bird Island. The previous entanglement was on 16 December 2021 and also involved a female (band no. 4003232) that fledged in 2008. She has bred twice on the island, with two different partners, being successful on her 2nd attempt. Both hooks removed this season had the same lime green multifilament line attached, so it is highly likely the birds were caught alive and released on the same fishing vessel.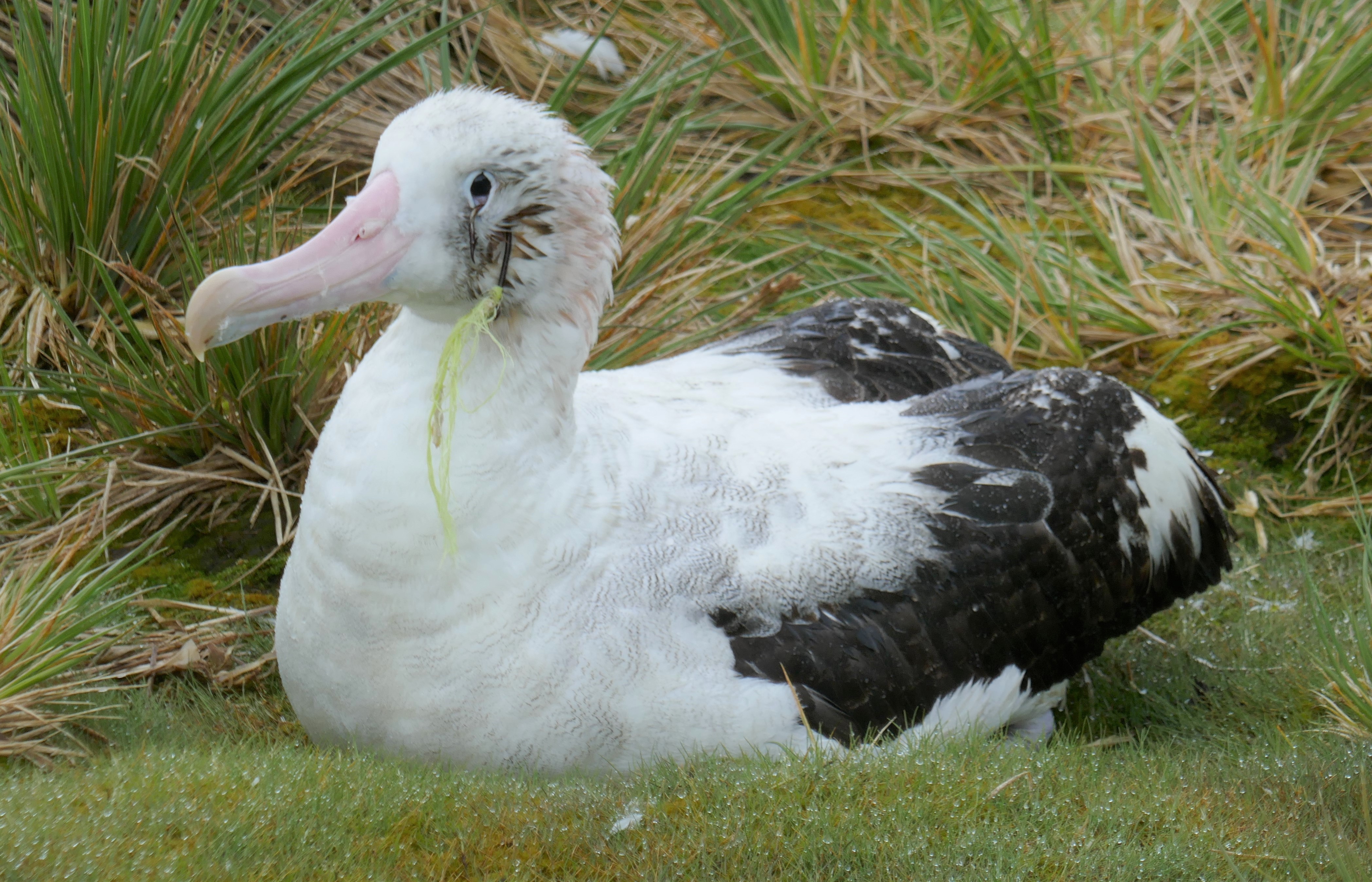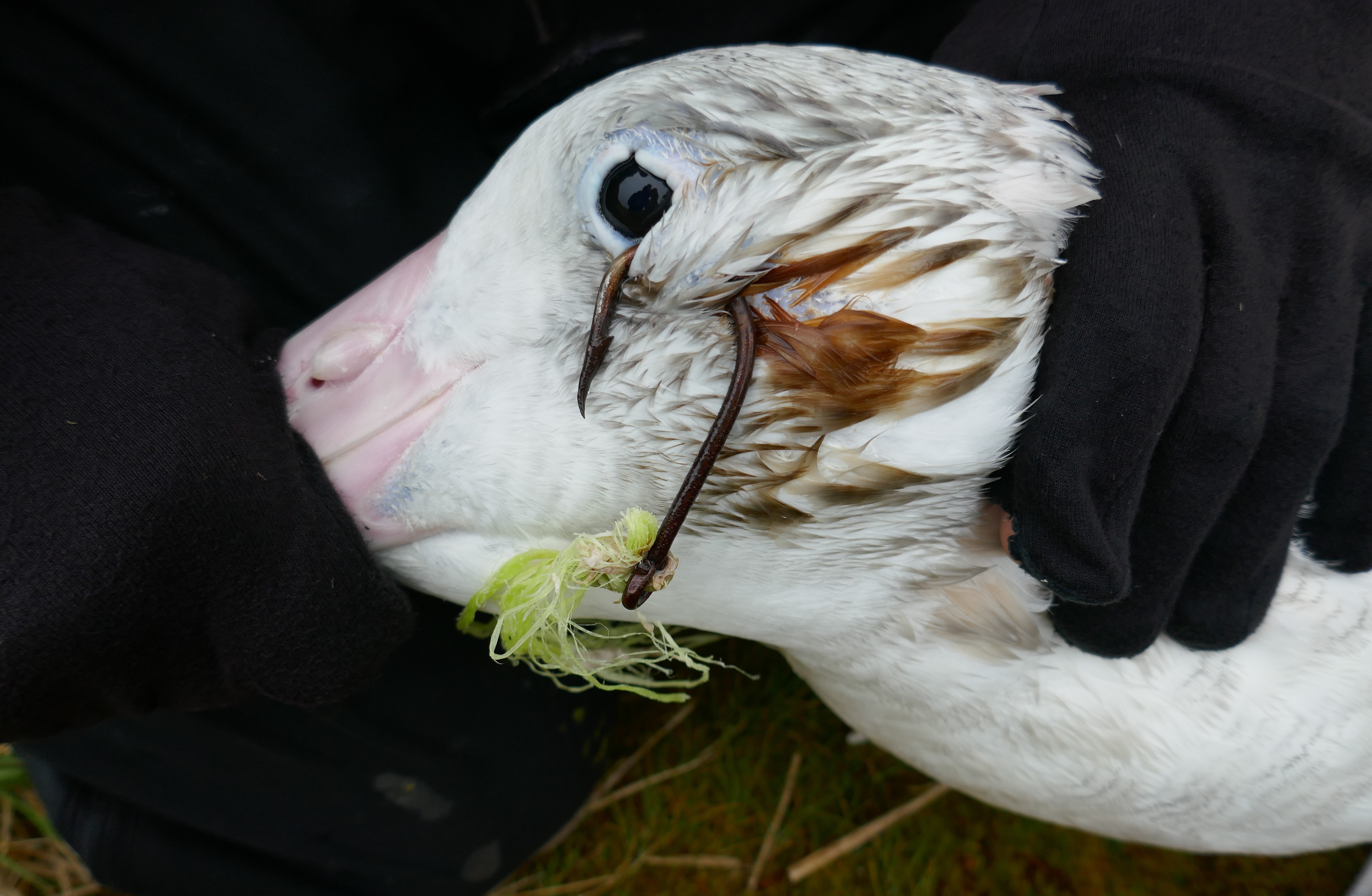 The Wandering Albatross found hooked on Bird Island in December 2021; photographs by James Crymble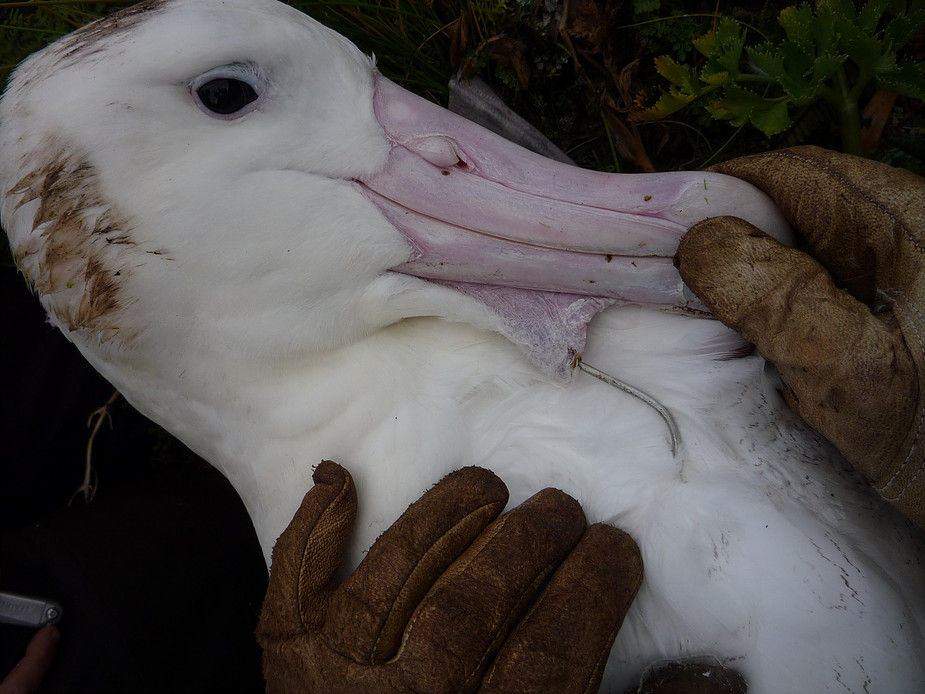 A hooked Tristan Albatross on Gough Island, photograph by Kate Lawrence
The Wanderer is not the only great albatross that succumbs to longline hooks. The picture above is of a Critically Endangered Tristan Albatross D. dabbenena in a study colony on Gough Island with a hook in its neck. A hooked Tristan Albatross caught at sea did not survive, despite having the longline hook removed (click here). . Another great albatross, the Endangered Antipodean D. antipodensis, in this case identified as from the Gibson's subspecies (photo below), is not immune from being hooked, as another ALN account reveals, this time with a successful result.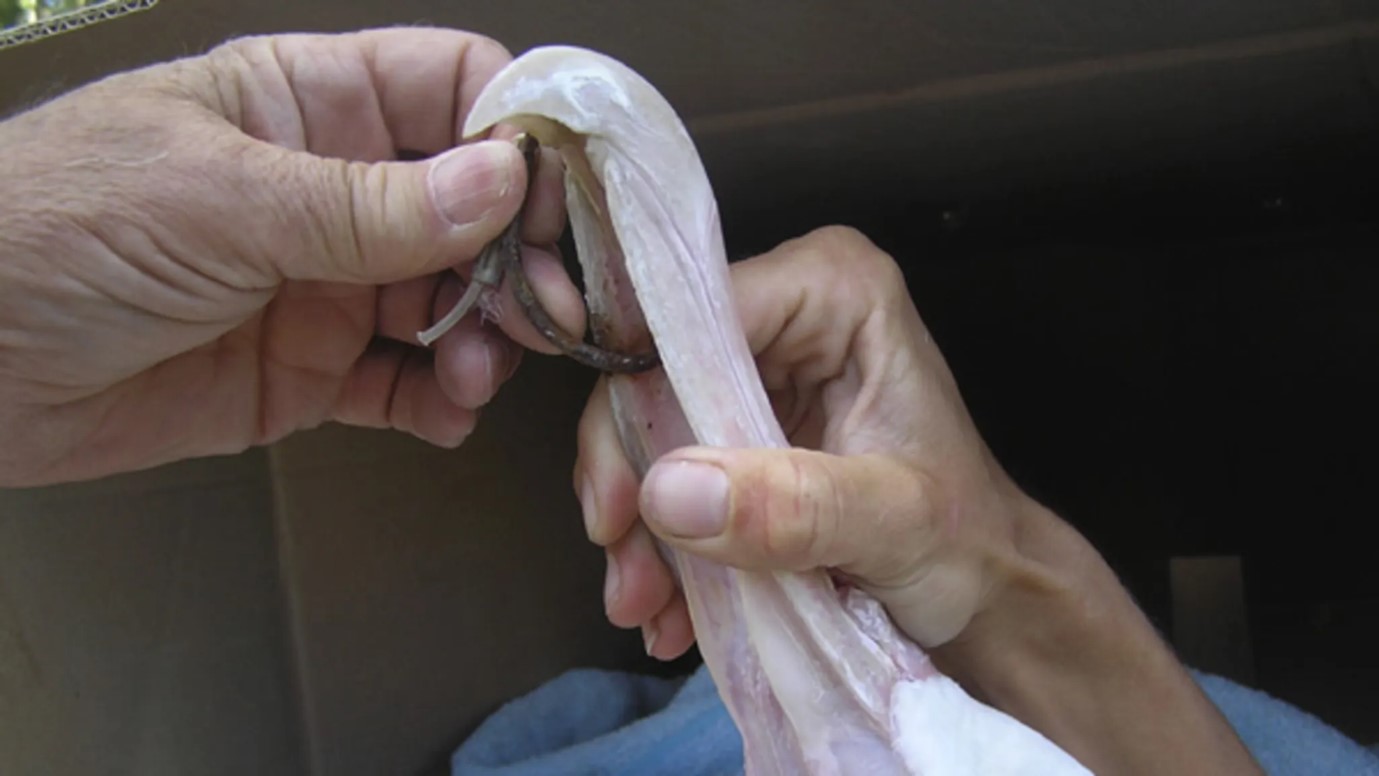 Removing the hook from the Gibson's Antipodean Albatross, photograph by the Tasmanian Department of Primary Industries, Water and Environment
Richard Phillips of the British Antarctic Survey writes to ALN: "Live captures of seabirds are unfortunately very frequent, accounting for a mean of 40% and 11% of all bycaught birds in demersal and pelagic longline fisheries, respectively. How often this affects individual species depends on both the degree of overlap with different fisheries and the level of interaction with gear during hauling. In the one study to date that has examined survival of live-caught albatrosses once released, this was around 40% of that expected for the wider population. The level of monitoring of live captures is poor in many fisheries and the potentially major impacts on survival need to be taken into much better account in ecological risk assessments on the impacts of fisheries on seabirds."
With thanks to Erin Taylor.
References:
Phillips, R.A., Ridley, C., Reid, K., Pugh, P.J.A., Tuck, G.N. & Harrison, N. 2010. Ingestion of fishing gear and entanglements of seabirds: monitoring and implications for management. Biological Conservation 143: 501-512. (ALN account).
Phillips, R.A. & Wood, A.G. 2020. Variation in live-capture rates of albatrosses and petrels in fisheries, post-release survival and implications for management. Biological Conservation 247, 108641. (ALN account)
Whylie, B. 2010. One albatross of the hook. The Albatross 45: 7-8.
John Cooper, ACAP News Correspondent, & Richard Phillips, Higher Predators and Conservation Group, British Antarctic Survey, 27 September 2022