Unfortunately, H89 has died.  Its body is to be brought to Cape Town for autopsy.
*******************
Tshikana Rasehlomi, BirdLife  International Albatross Task Force Instructor, reports via satellite 'phone from a South African tuna longline vessel 100 nautical miles east of Durban, South Africa in the Indian Ocean of hauling aboard today a "very unhappy" Tristan Albatross Diomedea dabbenena.
The bird had swallowed a hook and was soaked and completely exhausted when retrieved.  The hook has been successfully removed but the bird is not looking strong, so it has been placed in a warm, dark place to allow it to recover.
The bird was identified as a Tristan Albatross by it being banded as Yellow H89/J-14156.  It was metal-banded as a chick in the Tafelkop study colony on Gough Island in the South Atlantic on 29 October 2000.  It was next recorded as a "loafer" (non-breeding visitor) in the Gonydale study colony about a kilometre away in April 2004 and again in 2008.  It was then recorded breeding (probably for the first time) in January 2010 when the colour band was added and when it was photographed and identified as a male.  Its chick had died by 12 July 2010, most likely after been attacked by alien mice.  It has not been recorded breeding this current (2011) season so it has been taking a year off far away from home.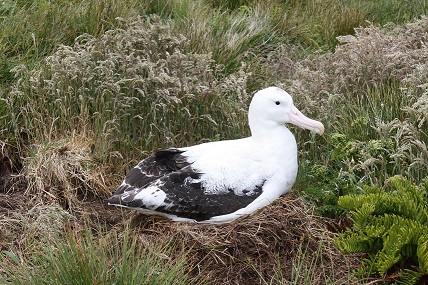 Tristan Albatross Yellow H89/J-14156 incubating in Gonydale, Gough Island in January 2010
Photograph by Kalinka Rexer-Huber
Of particular interest is that recoveries and at-sea tracking show that Tristan Albatrosses rarely leave the South Atlantic Ocean, although a few do reach Western Australia.  There is a 1959 recovery from Port Elizabeth, South Africa, but this capture represents a notable range extension for the species northwards in the Indian Ocean.
Research on ACAP-listed species on Gough Island is conducted jointly by the FitzPatrick Institute, University of Cape Town and the Royal Society for the Protection of Birds in the UK, with support from the UK's Overseas Territories Environment Programme and with the approval of the Tristan Conservation Department.
With thanks to Ross Wanless for information.
John Cooper, ACAP Information Officer, 23 September 2011