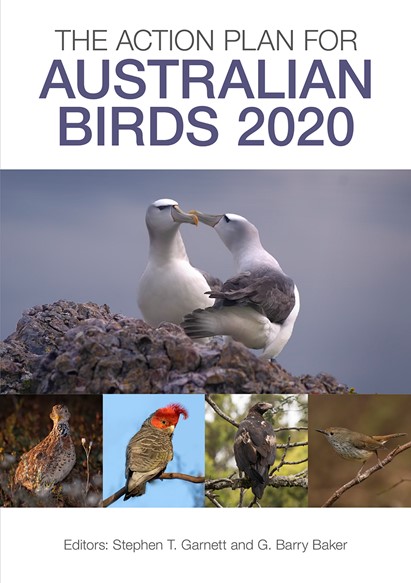 The Action Plan for Australian Birds is a once in a decade review of how Australia's birds are faring, and the actions needed for their protection. It brings together data collected by experts and citizen scientists across the country to provide a snapshot of how threatened birds are, why, and what is needed to improve their situation. The 2020 Action Plan, a collaboration between Charles Darwin University and BirdLife Australia, provides an overview of the risk of extinction of all birds occurring in Australia and its territories. Written by more than 300 experts, the book has been edited by Stephen Garnett and Barry Baker. The 2020 Action Plan reveals that around one in six Australian birds are in peril. The major drivers of their decline are the result of human activities and climate change (click here).
In contrast, the eight ACAP-listed albatrosses and petrels that breed within Australia have been doing better than have many Australian birds. All but one, the Shy Albatross Thalassarche cauta, breed in the sub-Antarctic. The removal of introduced mammals from Australia's sub-Antarctic Macquarie Island has led to the national downlisting (improvement) of both Black-browed T. melanophris and Light-mantled Albatrosses Phoebetria palpebrata from Endangered to Least Concern, and Grey-headed Albatrosses from Critically Endangered to Endangered. The population of Black-browed Albatrosses in Australia is estimated as over 1000 mature adults and there is no evidence of a decline or an identified threat, hence a Least Concern categorization at the national level, matching the species' global status. The equally abundant Light-mantled Albatrosses has a global status of Near Threatened. The Australian breeding population of Grey-headed Albatrosses is a smaller one, less than 250 mature adults, and therefore it qualifies as Endangered (also globally Endangered).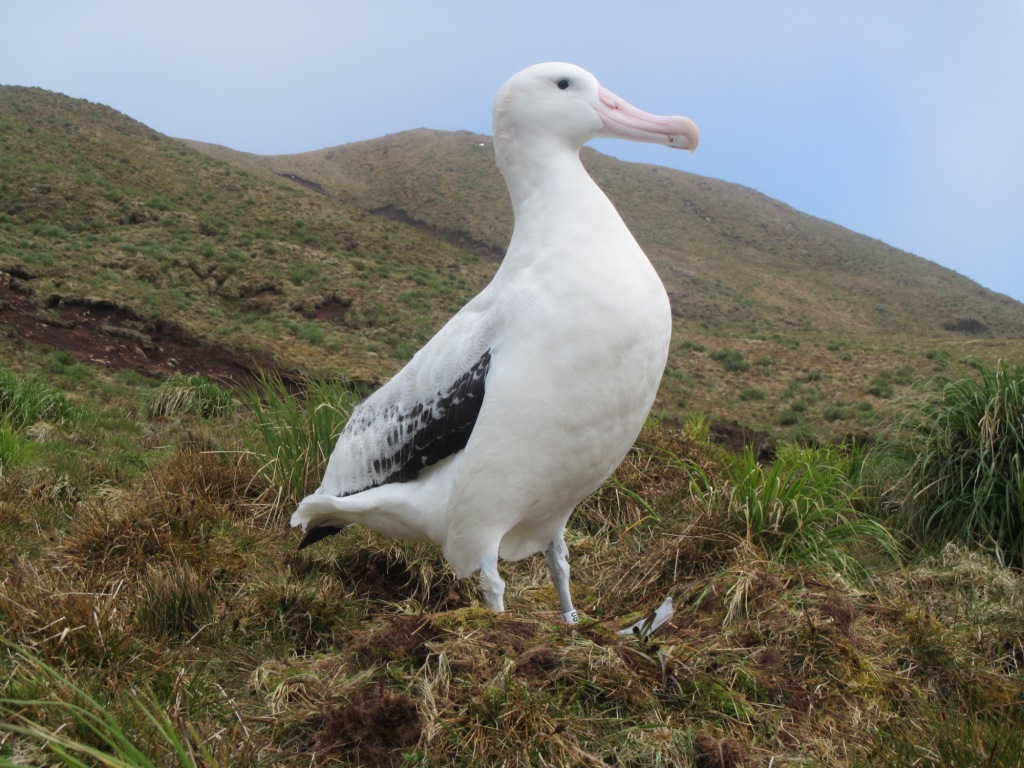 One of the few. A colour-banded male Wandering Albatross stands over its nest at Petrel Peak, Macquarie Island, prior to egg laying; photograph by Kate Lawrence
Grey Petrels Procellaria cinerea that breed on Macquarie with an increasing, but still small, population have been downlisted from Endangered to Near Threatened (as globally). The Northern Macronectes halli and Southern M. giganteus Giant Petrels have both remained at Least Concern, as they do at the global level. Against the above trends among ACAP species, the tiny population of Wandering Albatrosses Diomedea exulans that breeds on Macquarie has remained as Critically Endangered (globally Vulnerable).
The Shy Albatross that breeds on three Tasmanian islands, considered nationally Vulnerable in 2010, is now categorized as Near Threatened, due to low breeding success on Pedra Branca and indications of decreased juvenile recruitment on Albatross Island suggesting steep declines are plausible in the next three generations. Its global status is also Near Threatened.
Reference:
Garnett, S.T & Baker, G.B. (Eds) 2021. The Action Plan for Australian Birds 2020. Clayton South: CSIRO Publishing. 816 pp.
John Cooper, ACAP Information Officer & Barry Baker, Institute of Marine and Antarctic Studies, University of Tasmania, 11 January 2022