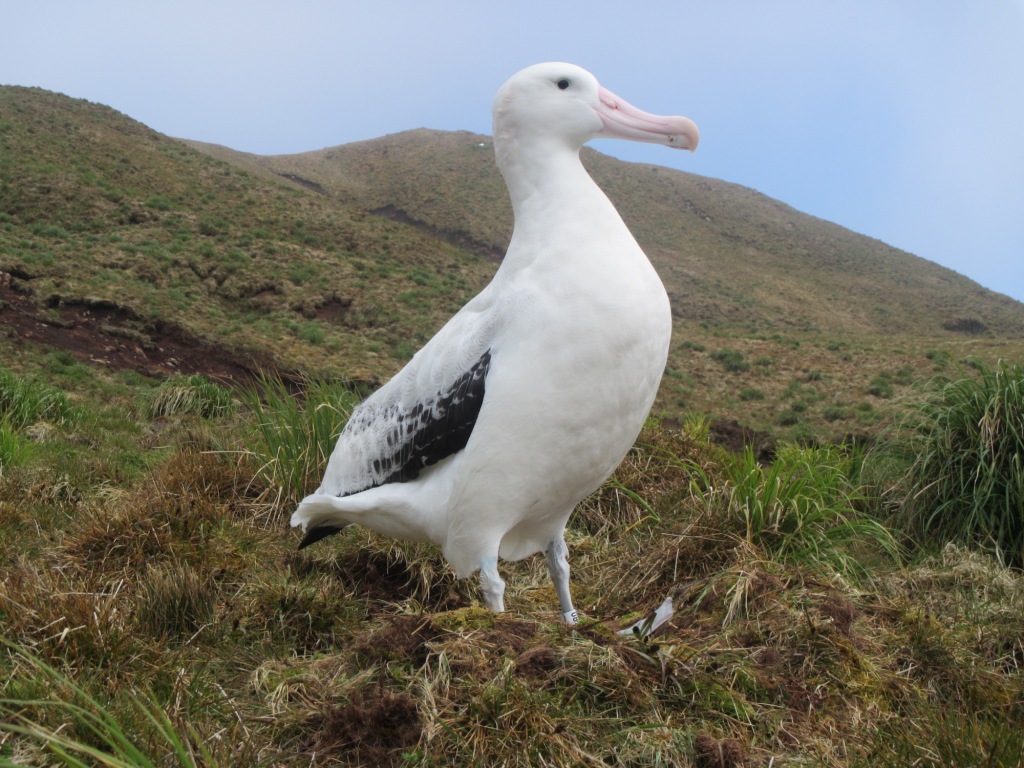 A Wandering Albatross on Macquarie Island, photograph by Kate Lawrence
Australia's sub-Antarctic Macquarie Island supports a small population of globally Vulnerable Wandering Albatrosses Diomedea exulans. In the 2018/19 breeding season only three pairs laid eggs but the current 2019/230 season has seen an increase, with 10 eggs present in January (click here).
The island now reports that following a survey this month there are six chicks present.
"Wildlife Ranger Sara Larcombe, who has just returned from a monitoring trip to the main colony which is about a 40-km walk from the main station on Macquarie Island, found six of the 10 Wandering albatross pairs had successfully hatched a chick. Two sets of parents … were first-time breeders. One of this year's nests, on the northern west coast of the island, is in a location that hasn't been used for breeding since 1967."
Trail cameras have been placed at nests to monitor chick health and feeding visits by parents.
"The Wanderers choose nest sites that are exposed to the strong westerly winds which are typical of Macquarie Island. This means that monitoring involves walking the length of the island and working out of a remote field hut on the southern coast, a trip Ms Larcombe will make once a month until the chicks are fully grown and able to leave the island in December."
Read more here.
With thanks to Keith Springer.
John Cooper, ACAP Information Officer, 23 May 2020