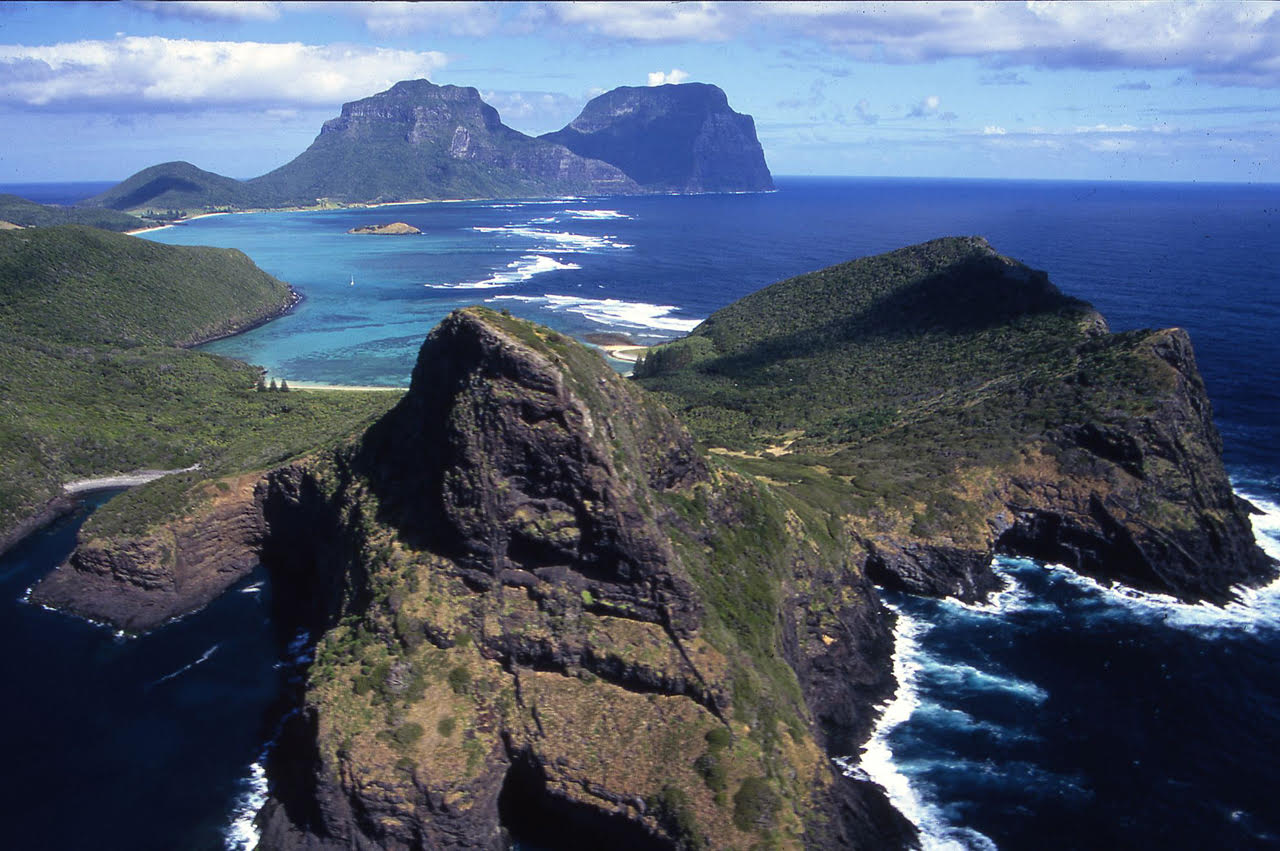 A view of Lord Howe Island, photograph by Ian Hutton
The Lord Howe Island Rodent Eradication Project has worked to eradicate introduced Ship Rats Rattus rattus and House Mice Mus musculus from Australia's inhabited Lord Howe Island. In 2019 after a 15-year period of discussion and planning an attempt was made to eliminate the island's rodents by a combined aerial- and ground-baiting campaign, as reported in ACAP Latest News. The prevailing "rule of thumb" is that two years elapse before surveying for rat presence. This allows for any survivors to breed up to more detectable levels. Only then can the success of an island eradication operation be officially announced. Although a check was scheduled for August 2021 with success appearing promising, shortly before the two years were up a male and a pregnant female rat were caught on the island in April this year which led to a quick reponse (click here).
The Lord Howe Island Board reported on 4 June:
"Lord Howe Island Board (LHIB) and the [New South Wales] National Parks and Wildlife Service (NPWS) field crews are working together with rodent control experts undertaking rodent baiting and monitoring in and around the settlement area and on the fringes of the Permanent Park Preserve. The team currently working on the rodent response include[s] specialists from Lord Howe Island, mainland NSW, Tasmania and New Zealand. Locations where rats have been detected continue to be actively monitored using detection dogs and field teams checking an extensive network of monitoring stations. This complements the permanent monitoring stations in the settlement area and the Permanent Park Preserve. Despite vigilant monitoring, no rats have been detected in the Permanent Park Preserve. All detections to date have been in the northern settlement area.
"The combination of detection, surveillance and removal techniques being used are proving successful. Our Lord Howe Island based dog handlers and detection dogs have been joined by additional dogs from Port Macquarie, Tasmania and New Zealand. These teams have been invaluable in detecting the rats and are integral to planning our response. Detection dog handlers are targeting locations of recent rodent sightings or where monitoring stations indicate recent rodent activity."
According to the latest weekly Rodent Response Update (No. 19, 12 August 2021) sent to the island's householders a total of 95 rats, made up of 43 adults and 52 juveniles, has been removed since the April detection. To achieve this, the detection dogs and their handlers have walked over 2100 km. The effort continues with more motion-detection trail cameras shortly to arrive on the island.
Lord Howe supports breeding populations of Black-winged Pterodroma nigripennis and Providence P. solandri Petrels along with Flesh-footed Ardenna carneipes, Wedge-tailed A. pacifica and Little Puffinus assimilis Shearwaters.
With thanks to Darcelle Matassoni, Project Officer and Keith Springer, Technical Advisor, Lord Howe Island Board.
John Cooper, ACAP Information Officer, 19 August 2021