Post No. 1 for 'WADWEEK2021'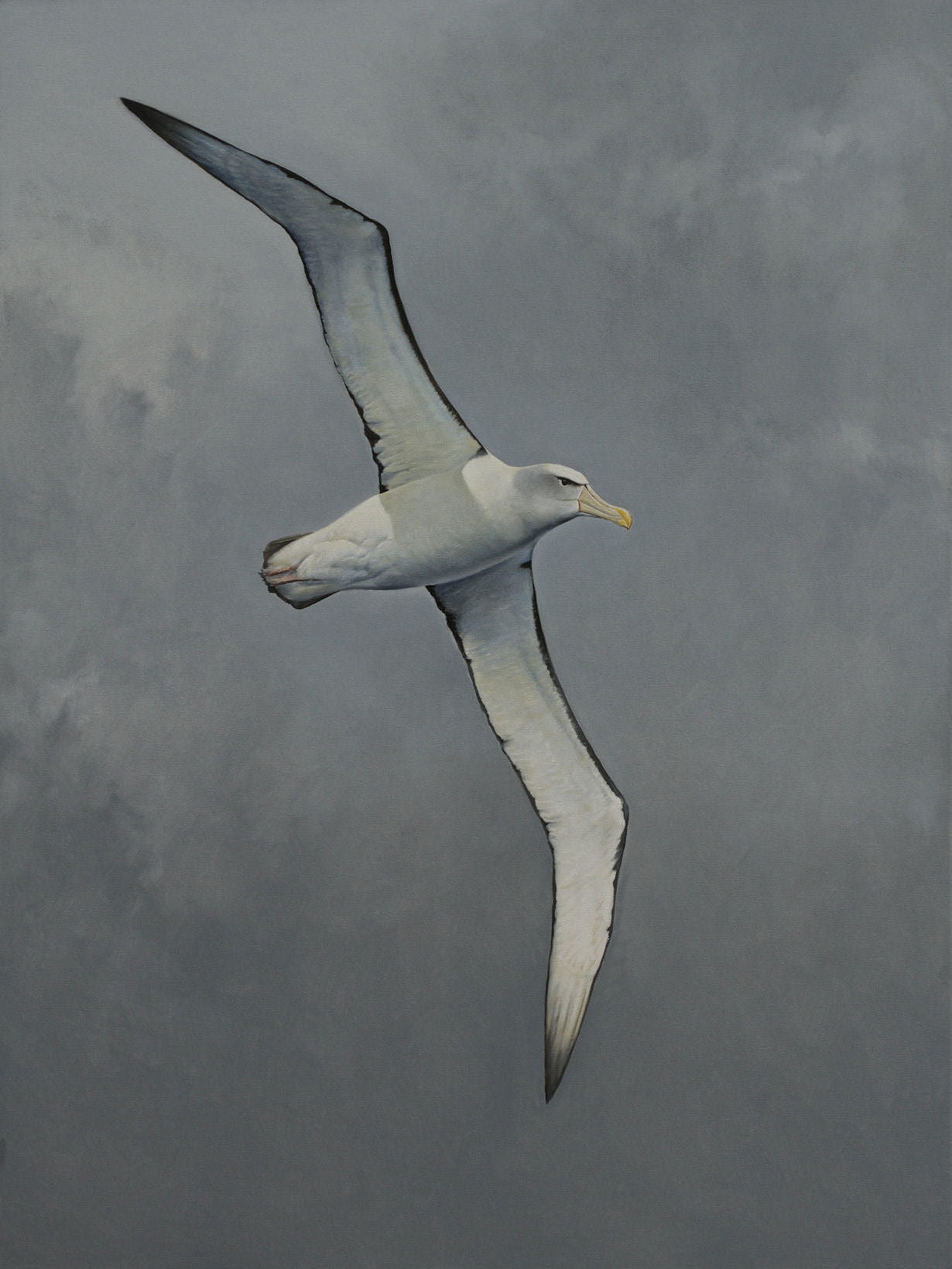 Shy Albatross Thalassarche cauta off Portland, Victoria, Australia, artwork by Brett Jarrett; oil on stretched canvas, 76 x 101 cm
Brett Jarrett is a wildlife artist and illustrator based in Narrawong, a small town close to Portland in Victoria, Australia, where he paints in oils on canvas and exhibits in his own gallery 'Bay of Whales'. ACAP Latest News has previously featured Brett and his seabird art, notably of the albatrosses and petrels he has observed on visits to the Antarctic Continent, drawing attention to his many illustrations in A Complete Guide to Antarctic Wildlife by Hadoram Shirihai (click here).
Brett has now kindly allowed an image of his recent painting of a Shy Albatross Thalassarche cauta, completed on the last day of May, to be used to commence 'WADWEEK2021', a series of seven special posts culminating in World Albatross Day, on Saturday 19 June. Brett writes: "the bird was photographed at sea off Portland during an organized 'birding' pelagic trip. Shy Albatross breed in Bass Strait and it can be seen year-round off Portland". He continues "There is something incredibly exciting about creating a piece of fine art that moves people. As with all my artwork, it is born from the initial love of a subject that ultimately leads to a field trip, whether that be a day excursion or a full-blown month-long expedition." The Shy Albatross, an Australian breeding endemic, is readily seen from the clifftops around his coast, as Brett says on his Facebook page.
Brett Jarrett works on an albatross painting in his gallery
This year's theme for World Albatross Day is "Ensuring Albatross-friendly Fisheries". Thousands of albatrosses, including the Australian endemic and globally Near Threatened Shy Albatross, continue to die as a result of fishing operations, getting caught on hooks, becoming entangled in nets and colliding with trawl cables, all leading to their death by drowning or injury. However, solutions are available to address this conservation crisis. This year's World Albatross Day, only the second ever, aims to draw attention to the problem and to highlight best-practice solutions, such as the use of bird-scaring lines in both longline and trawl fisheries, line weighting and night setting or use of hook-shielding devices by longliners and management of offal discharge by trawlers.
Brett Jarrrett's artwork of these threatened birds can only bring awareness to their plight.
Read ACAP's two-page illustrated Species Summary for the Shy Albatross from here. It is also available in French and Spanish.
John Cooper, ACAP Information Officer, 13 June 2021