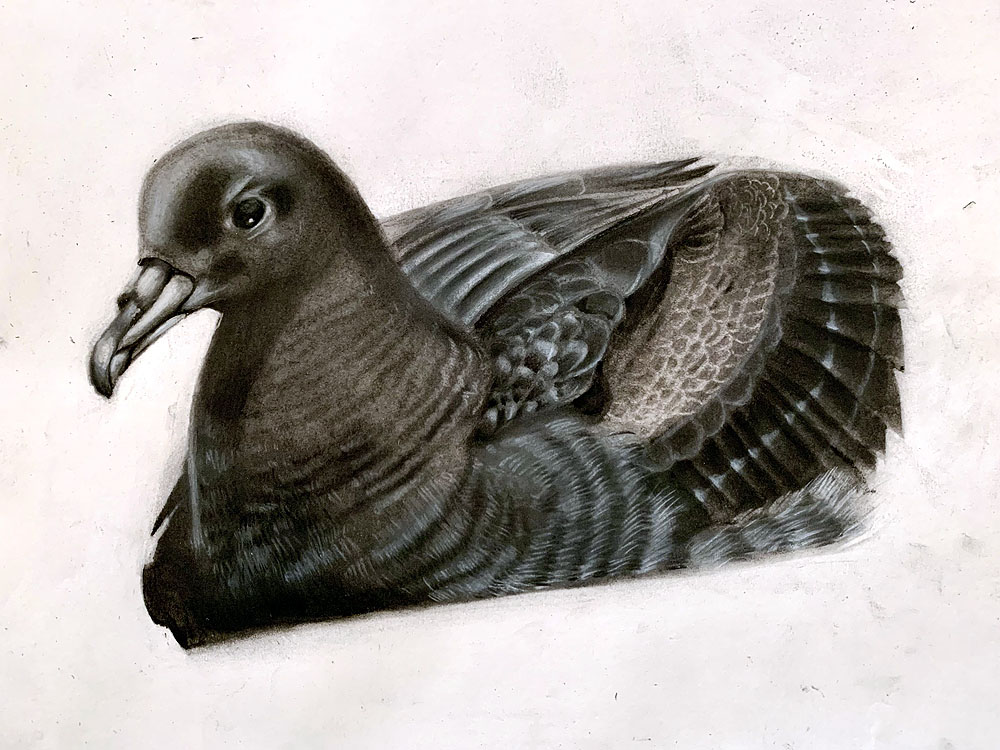 Black Petrel by Annanya Bhardwaj
ACAP's collaboration with Artists & Biologists for Nature (ABUN) earlier this year on the "Painting Petrels in Peril" project was a great success as previously reported here. Among the 50 contributing artists were four aged from 11 to 14. ACAP's efforts to increase awareness of the plight facing albatrosses and petrels are directed at the young and learners as well as at the general public, as shown by last year's World Albatross Day celebrations. It is therefore a pleasure to feature five artworks depicting ACAP-listed petrels produced by the four young conservationists (along with one by the tutor to two of them).
Annanya Bhardwaj is an '8th Grader' (so aged around 13) who lives in California, USA. She has painted the Black Petrel above from a photo by Virginia Nicol. Her art tutor Kalaiarasi Abhilash lives in Gurugram, India.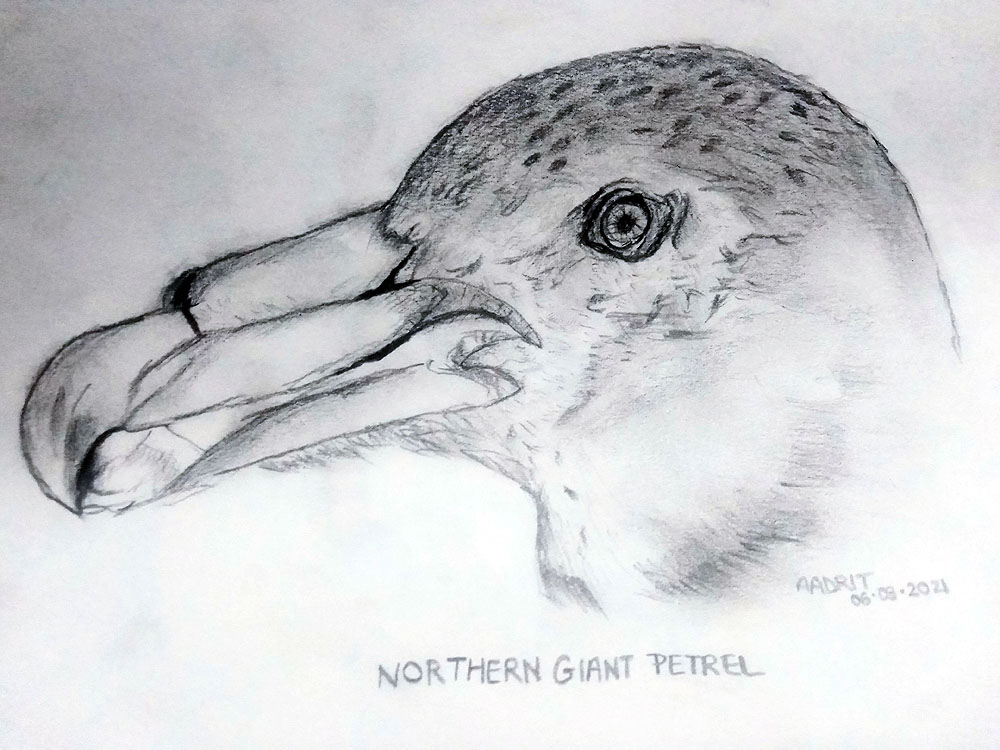 Southern Giant Petrel by Aadrit Gupta
a Aadrit Gupta lives in India. His mother, Atula Gupta, founder and editor of the India's Endangered website writes "he turned 14 this month [March] and ABUN has been a part of his life for the last five to six years [and this] keeps him motivated." His artwork, in graphite pencil, is of a Southern Giant Petrel, using a photograph taken on Gough Island in the South Atlantic by Sylvain Dromzée for inspiration. Please note that Aadrit neatly labeling his drawing as of a Northern Giant Petrel is purely due to an error in labeling Sylvain's photograph by the ACAP Information Officer (who should know how to identify a giant petrel to species by now).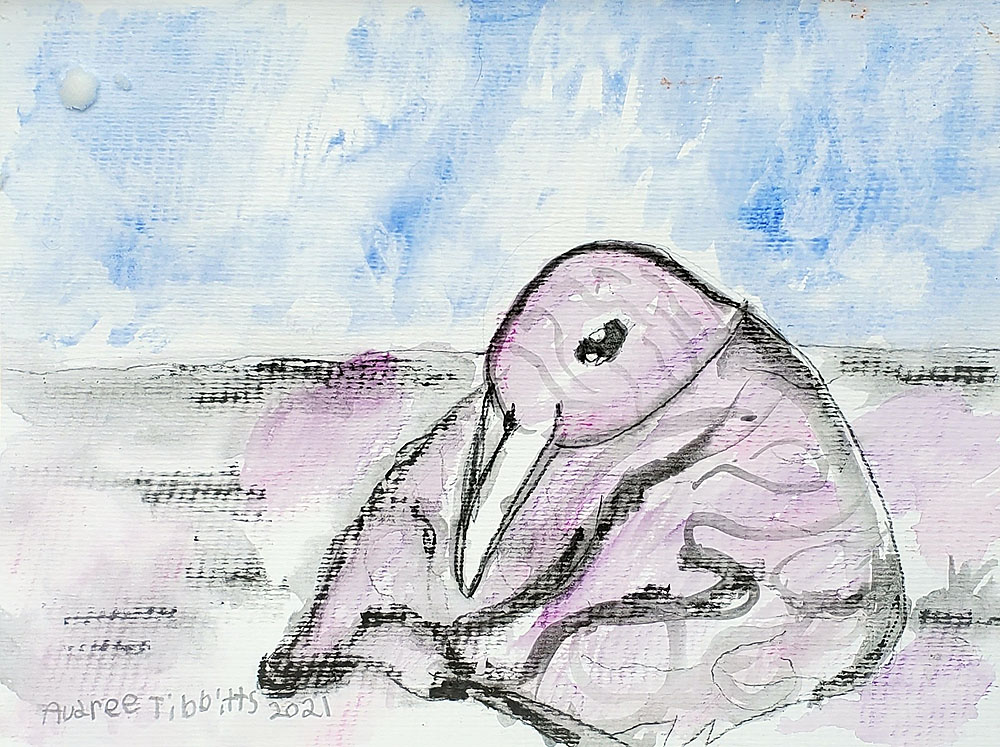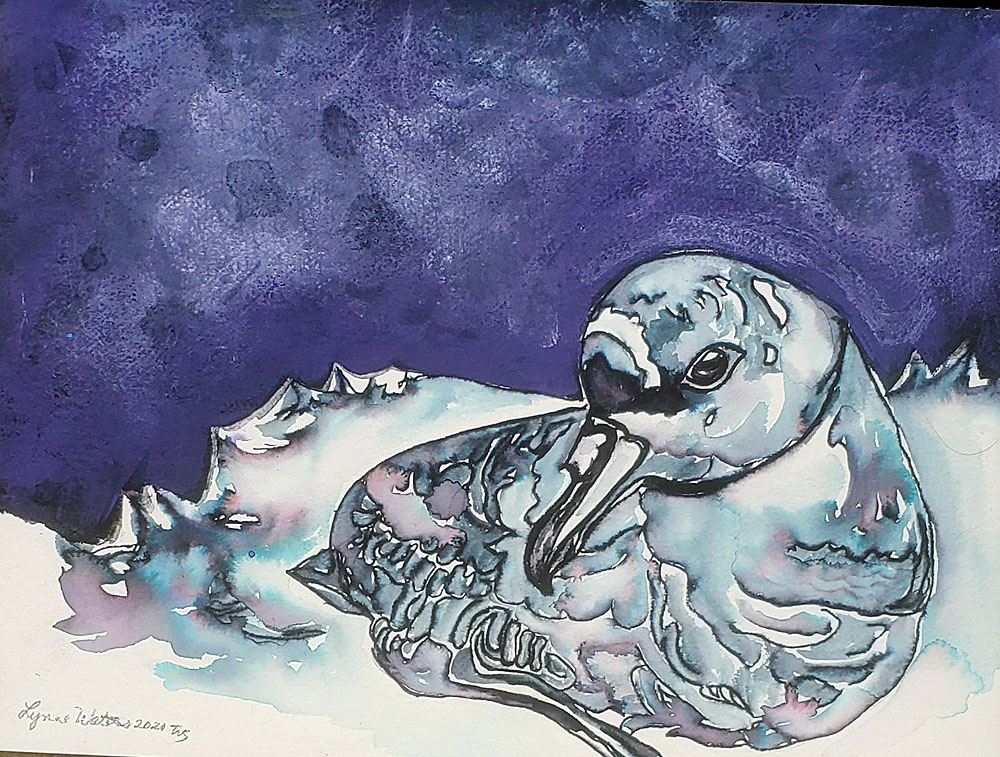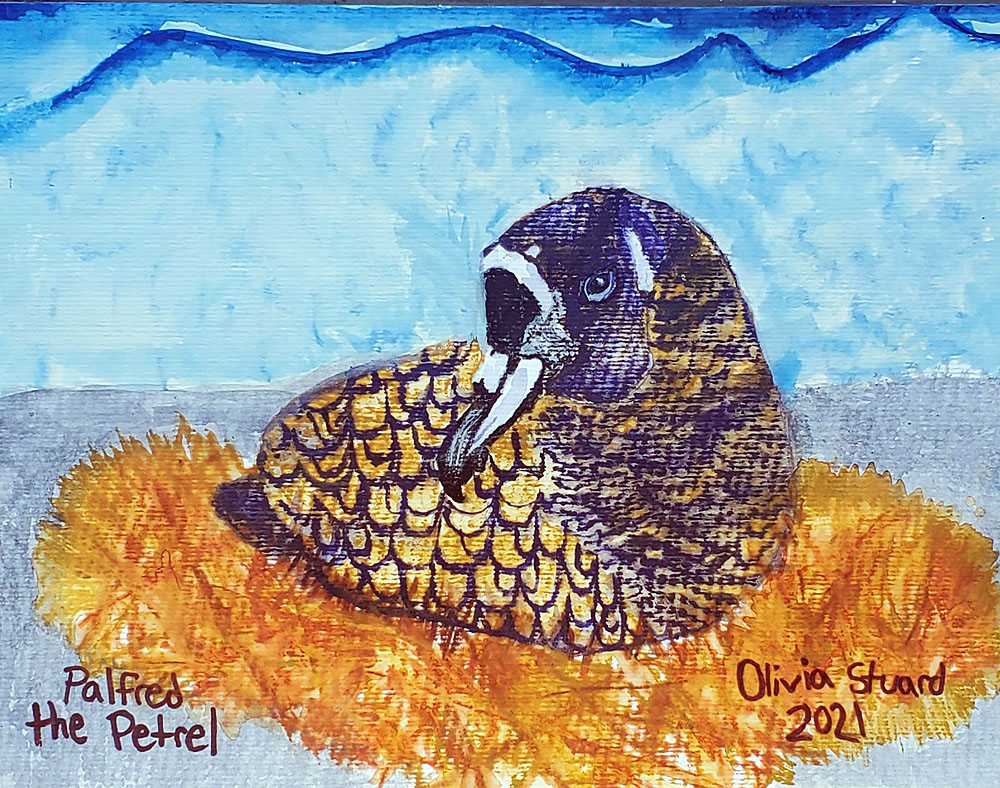 Three interpretations of a Spectacled Petrel by (from left) Audree Tibbitts, Lynne Waters and Olivia Stuard, from a photograph by Peter Ryan

Olivia Stuard, aged 11 and Audree Tibbitts, aged 12 are both art students of Lynne Waters of Lynne Griffey Art and Tutoring in Tennessee, USA. All three have painted a Spectacled Petrel from the same photograph taken at the petrel's sole breeding site – uninhabited Inaccessible Island in the South Atlantic - by Peter Ryan, the only biologist who has ever studied the bird while breeding. Lynne has used an Elegant Writer calligraphy pen and water. Olivia's painting is in Inktense watercolours. She has named her petrel Palfred.

Side by side: Audree's painting and Michelle's photograph
Audree Tibbitts also painted a Southern Giant Petrel with its downy chick, using Inktense watercolour pencils with white gouache, from a photograph by Michelle Risi taken on Marion Island in the southern Indian Ocean.
ABUN's Co-founder, Kitty Harvill, who currently resides in Brazil, writes that Lynne Waters was her High School Art teacher in Clarksville, Tennessee. Good to see the connections between artists living on different continents who all support the conservation of albatrosses and petrels!
With thanks to Kitty Harvill, Lynne Waters, the photographers and the four young artists.
John Cooper, ACAP Information Officer, 24 March 2021