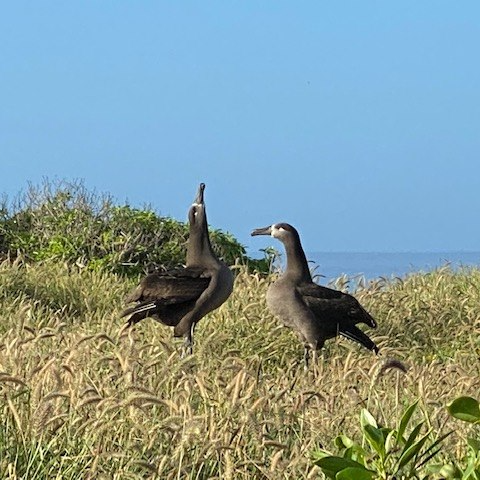 Two Black-footed Albatrosses display at Kaena Point (see text for details)

The Kaena Point Natural Area Reserve on the Hawaiian Island of Oahu is the site of breeding colonies of Laysan Albatrosses Phoebastria immutabilis (Near Threatened) and Wedge-tailed Shearwaters Ardenna pacifica, protected by a predator-proof fence. As well as the breeding Laysans, the reserve has since at least 2006 been visited by Black-footed Albatrosses Phoebastria nigripes (Near Threatened), helped by the presence of decoys and a sound system; but as up to now breeding has not been recorded.
This seems likely to change as the non-profit organisation Pacific Rim Conservation has stated recently on its Facebook page: "The last two years have seen a huge increase in the number of Black-footed Albatross visiting Kaena Point. Pictured … is V541 (male) who we banded in 2018, and his new companion, V949 (female) who we banded earlier this year. These two have been seen visiting the colony daily and doing their courtship dance. While it is too late for them to breed in 2021, we are hopeful that this pair will nest next year and become the first ever Black-footed Albatross pair on Oahu."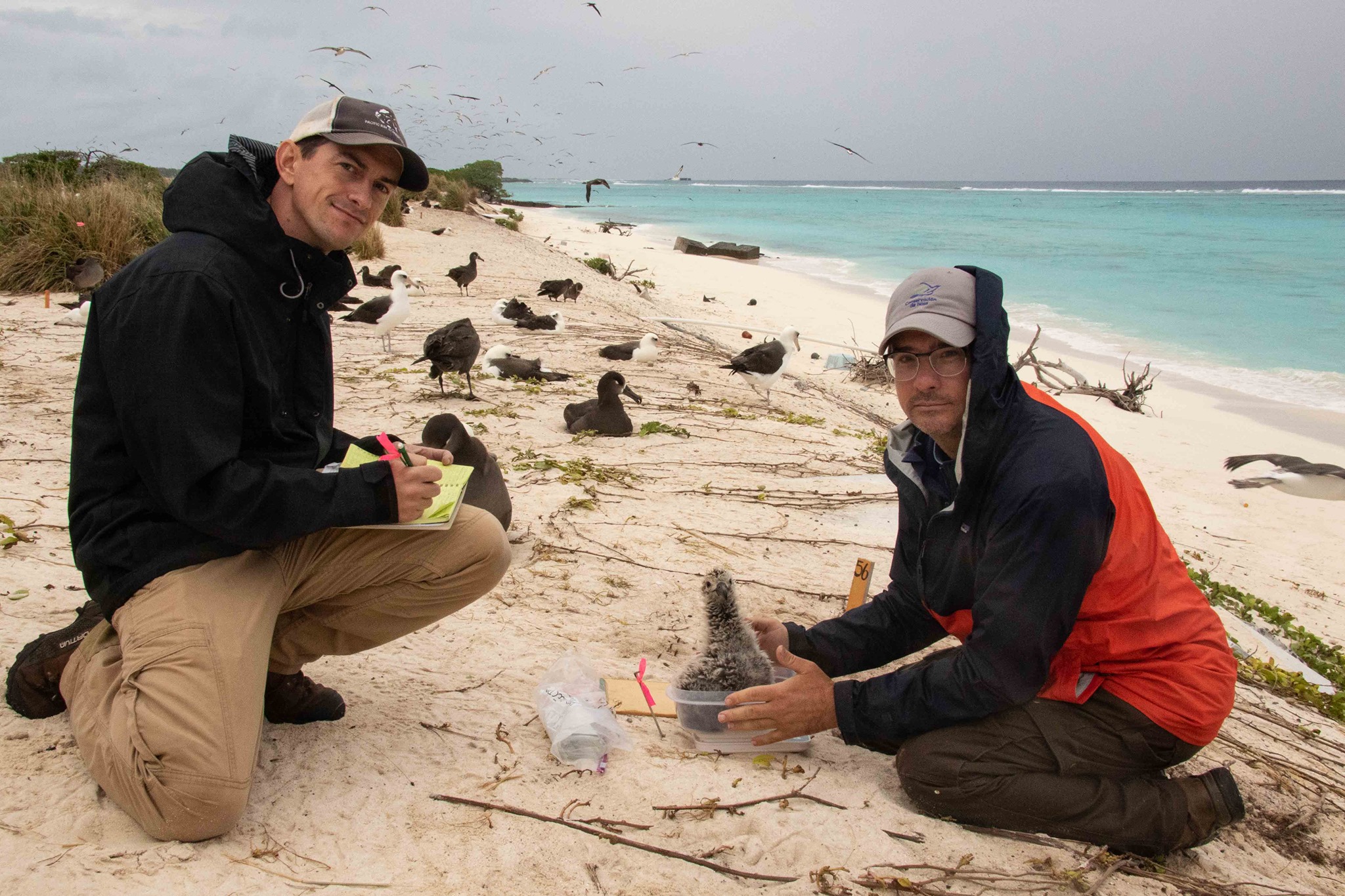 Black-footed Albatross chicks being collected from near the sea's edge on Midway Atoll, February 2021; photographs from Pacific Rim Conservation
Meanwhile the last year's cohort (of five) of Black-footed Albatross chicks relocated under permit from the Midway Atoll National Wildlife Refuge (taken from nests at risk of being washed away by storms) to the James Campbell National Wildlife Refuge on Oahu are out of in-door quarantine and doing well in their outside homes, according to Pacific Rim Conservation. In the first four cohorts 86 out of 90 hand-reared chicks successfully fledged (click here).
So will it be James Campbell or Kaena Point that becomes the first-ever breeding site for Black-footed Albatrosses on Oahu – safe from predicted sea level rise? Time will tell!
Reference:
Young, L.C. & Vanderwerf, E.A. 2016. The beginning of Black-footed Albatross colonization on Oʻahu, Hawaiʻi. 'Elepaio 76(1): 1-4.
John Cooper, ACAP Information Officer, 07 March 2021