The Pelagic Australis ready to sail from Cape Town Harbour

Following the cancelling of last year's attempt to rid Gough of its House Mice that attack and kill many of the island's seabirds – as a necessary consequence of the COVID-19 pandemic – the United Kingdom's Gough Island Restoration Project announced last November its intention to make another attempt this year. With the pandemic still raging globally it is good to report that the 2021 eradication exercise got going this week with the first sailing from Cape Town on Monday [1 February] on the yacht Pelagic Australis, as reported on the GIRP Facebook page:
"And they are off! Fair winds and following seas to the first Gough-bound team members of the 2021 Restoration Project who set sail from Cape Town today! The team and ship's crew have all been living under quarantine for the last two weeks and had to pass multiple COVID-19 tests along their journeys before being allowed to board the ship. We have many more COVID-19-related hurdles to navigate before the operation is completed, but we are delighted that the 2021 restoration is underway!"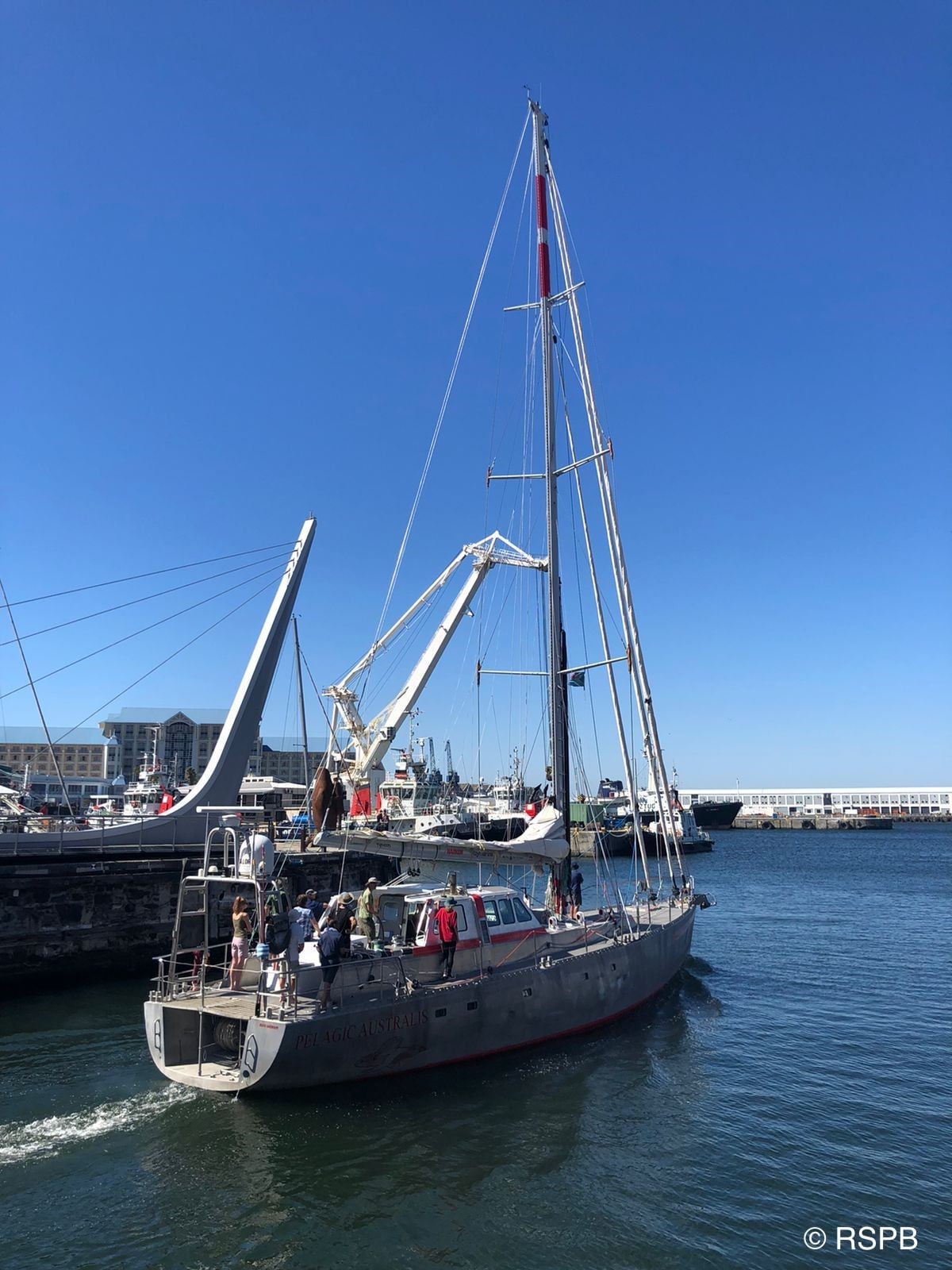 Leaving the inner harbour
Photographs from the GIRP Facebook page, courtesy of the Royal Society for the Protection of Birds
The Gough sailing comes in the same week as the commencement of duties of the project manager for the Mouse Free Marion project, which will be learning from GIRP as it works towards eradicating albatross-killing mice on South Africa's Marion Island in 2023 (click here).
POSTSCRIPT: The yacht has reached Gough Island.
"After nine days of sailing half-way across the South Atlantic, our first team has just landed at Gough Island for the 2021 operation, so we're all very excited that this bodes well for navigating all the Covid restrictions and hurdles that running the operation this year may bring! Greeted by the G66 'overwinterers', the restoration team will be getting straight on with the job of preparing everything needed before the operation can begin. First up, creating temporary additional sleeping quarters ready for the arrival of the remaining team members!" - GIRP Facebook page.
John Cooper, ACAP Information Officer, 04 February 2021, reposted 11 February 2021, updated 12 February 2021