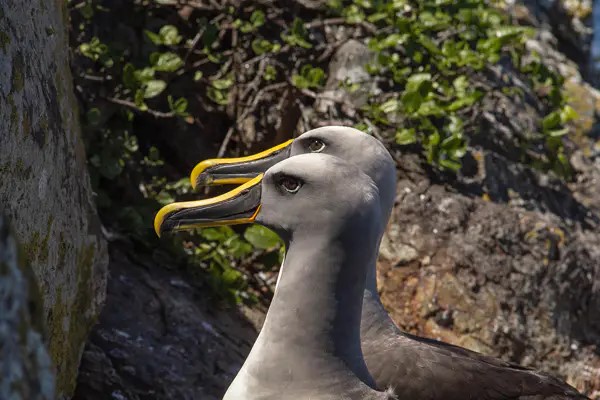 Matt Rayner (Tāmaki Paenga Hira Auckland Museum, New Zealand) and colleagues write in the journal Notornis on Northern Buller's Albatrosses Thalassarche bulleri platei in the Manawatāwhi/Three Kings Islands. Six occupied nests were found on Rosemary Rock, with four unguarded live and two dead chicks present. "Compared with previous observations our count suggests a poor breeding season for Buller's mollymawk on Rosemary Rock in 2019/20. [F]urther work is clearly required to ascertain the trajectory and threats to New Zealand's most northern albatross colony."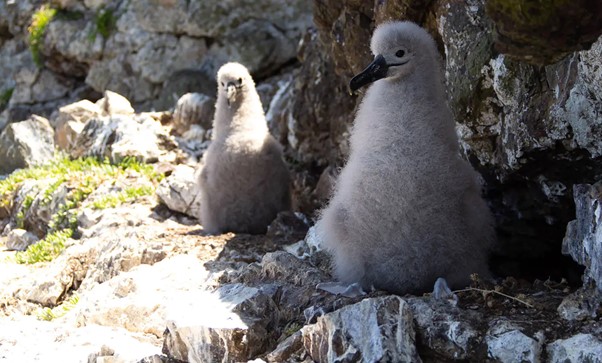 Northern Buller's Albatross adults and chicks on Rosemary Rock, photographs by Kevin Parker
Read a popular account of the field trip to Rosemary Rock from the Auckland Museum and also a previous ACAP Latest News post on the visit.
With thanks to Kevin Parker, Matt Rayner, and Roger Sharp of Web Support, Birds New Zealand.
Reference:
Rayner, M.J., Parker, K.A., Neho, T. & Hvid, T. 2020. Buller's mollymawk (Thalassarche bulleri platei) count at Rosemary Rock, Manawatāwhi (Three Kings Islands). Notornis 67: 580-582.
John Cooper, ACAP Information Officer, 07 January 2020