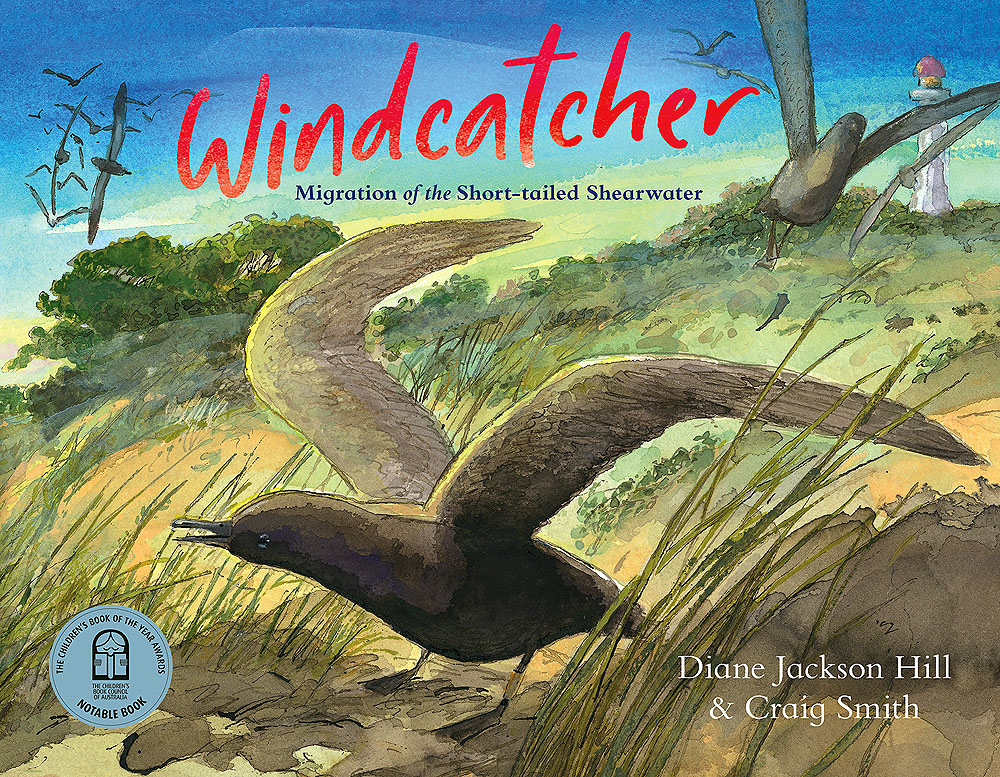 From time to time ACAP Latest News posts reviews of books that cover aspects of the biology of procellariiform seabirds, and of the conservation of their habitats (click here). Such reviews have also covered books directed at children, noting that one of ACAP's roles is to increase awareness of the threats facing albatrosses and petrels among the general public.
Ordinarily, ACAP's Information Officer sends out for review new titles received (or reviews them himself). But we are not living in ordinary times: one outcome of the COVID-19 pandemic has been disruptions to international mailing. The Information Officer is domiciled in South Africa and currently there are problems with postage to that country from Australia. So, failing to have the book to hand to review, Australia's CSIRO Publishing's blurb follows for a new(ish) children's book, Windcatcher, that describes the trans-equatorial migration of the Short-tailed Shearwater Ardenna tenuirostris – considered to be Australia's most abundant seabird.
"A short-tailed shearwater flies from the edge of the Southern Ocean to the rim of the Arctic Circle – and back – every year. This remarkable 30,000 kilometre journey is driven by seabird law. Instinct and community will guide her. A wingspan the size of a child's outstretched arms will support her. But first, she must catch the wind … . Based on birds that live on Griffiths Island, near Port Fairy, Victoria, Windcatcher is a tale of migration, conservation and survival that begins with one small bird called Hope." An estimated 100 000 shearwater burrows exist on the island.
The book was written by award-winning children's author Diane Jackson Hill and illustrated by Craig Smith, described as one of Australia's most prolific and popular illustrators. The Children's Book Council of Australia (CBCA) has named Windcatcher as a 2020 Notable Book, Picture Book of the Year. Read the CBCA's review here. Available as a hardback (AUD 24.99) or an eBook.
Read comments by the author and illustrator on their book.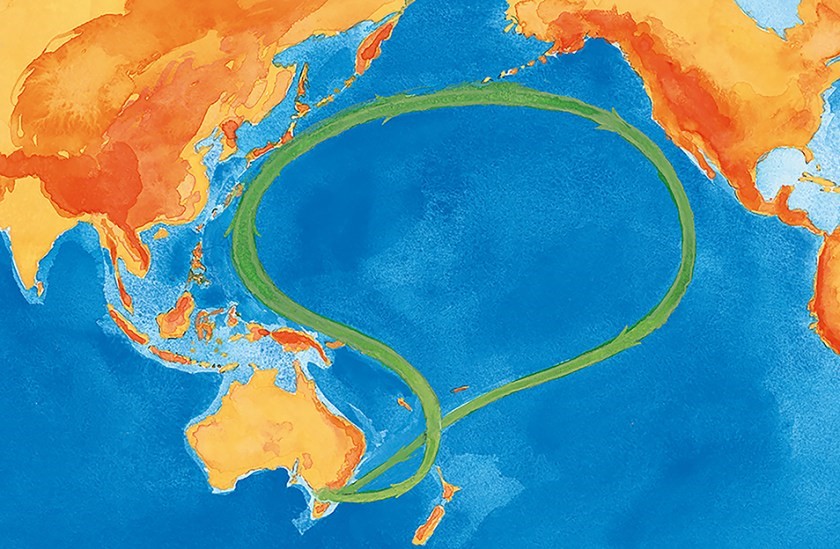 The trans-equatorial migration route of the Short-tailed Shearwater, illustrated by Craig Smith
With thanks to Claire Mason for the alert.
Reference:
Jackson Hill, Diane & Smith, Craig 2019. Windcatcher. Migration of the Short-tailed Shearwater. CSIRO Publishing. 32 pp. ISBN 9781486309870.
John Cooper, ACAP Information Officer, 17 September 2020