The Eleventh Meeting of ACAP's Advisory Committee (AC11) will be held over 13-17 May 2019 in Florianópolis, Brazil. The Ninth Meeting of the Seabird Bycatch Working Group (SBWG), and Fifth Meeting of the Population and Conservation Status Working Group (PaCSWG) will precede AC11 at the same venue from 10 to 14 May.
The many Meeting Documents and Information Papers for the two working groups have now been posted to this website, from where they may be downloaded and consulted. Note, however, that some documents are password-protected so only their abstracts are publicly available. For convenience a meeting document lists all papers to be tabled by title and author(s) for each working group; draft agendas have also been posted.
Documents for the Advisory Committee meeting, in all three ACAP official languages of English, French and Spanish will be loaded to this site soon.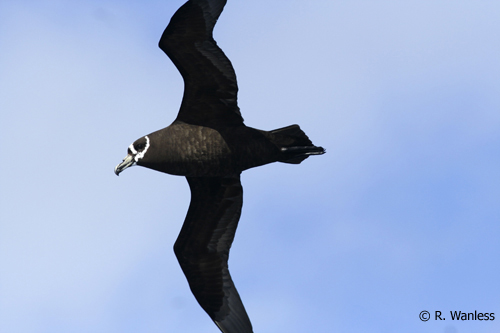 The ACAP-listed Spectacled Petrel Procellaria conspicillata visits Brazilian waters from its Inaccessible Island home
Brazil has previously hosted the Agreement; the Second Meeting of the Advisory Committee (AC2) was held in Brasilia in June 2006. This year's Advisory Committee and working group meetings follow on from AC10, held in Wellington, New Zealand in September 2017 and the Sixth Session of the Meeting of Parties (MoP6) held in South Africa's Kruger National Park last year in May. The Seventh Session (MoP7) is due to be held in 2021 in Australia – when ACAP will be 20 years old.
Florianópolis is the capital and second largest city of the State of Santa Catarina in the southern region of Brazil. It is served by an international airport. A coastal city situated on Santa Caterina Island with a humid subtropical climate, it has a population of roughly half a million. The island is connected to the Brazilian mainland by bridges and is known for its many tourist beaches.
John Cooper, ACAP Information Officer, 09 April 2019