ACAP attended the 14th Scientific Committee meeting and the following 15th annual Commission meeting of the South East Atlantic Fisheries Organisation (SEAFO) in Swakopmund, Namibia, over 19-30 November 2018, wrapping up a full year of ACAP representatives attending and contributing to international meetings (click here). The Agreement was represented at SEAFO by Anton Wolfaardt, Co-convenor of its Seabird Bycatch Working Group.
Although the level of fishing effort within the SEAFO Convention Area is currently relatively low, the area is known to be important for a number of ACAP species. In 2012, SEAFO adopted Conservation Measure 25/12: On Reducing Incidental By-catch of Seabirds in the SEAFO Convention Area, which replaced earlier Conservation Measures relating to seabirds. CM 25/12 has been informed by ACAP best-practice advice, and applies both to demersal longline and trawl fishing.
ACAP presented two documents to the Scientific Committee meeting. DOC/SC/12/2018 provided an overview of the objectives and work of the Agreement, especially in relation to seabird bycatch and ACAP's engagement with Regional Fisheries Management Organisations (RFMOs). DOC/SC/11/2018, which was presented jointly by ACAP and the SEAFO Secretariat, comprised a draft Memorandum of Understanding (MoU) to facilitate cooperation between SEAFO and ACAP to minimise the incidental bycatch of seabirds within the SEAFO Convention Area (click here).
The SEAFO Scientific Committee considered that the proposed MoU would be a useful mechanism to address seabird conservation issues, and recommended its consideration by the SEAFO Commission. At its meeting the following week, the SEAFO Commission supported the adoption of the MoU with ACAP, which was signed at the meeting by its Chair, Venâncio Gomes. The MoU has subsequently been signed by ACAP's Executive Secretary, Christine Bogle, coming into effect on 11 December 2018, joining 11 other MoUs ACAP has signed with RFMOs and other international bodies.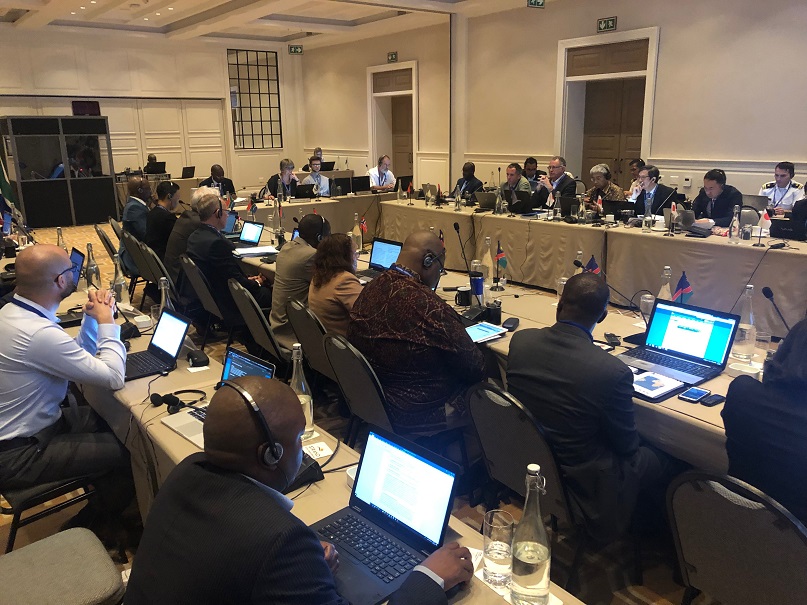 Delegates at the 15th Meeting of the SEAFO Commission, re-usable water bottles to hand; photograph by Anton Wolfaardt
Anton Wolfaardt, Co-convenor, ACAP Seabird Bycatch Working Group, 21 December 2018