Henri Weimerskirch (Centre d'Etudes Biologiques Chizé, Villiers-en-Bois, France) and colleagues have published on numbers of French sub-Antarctic albatrosses in the journal Polar Biology.
The paper's abstract follows:
"Today albatrosses are threatened worldwide, especially by fishing activities, and many populations are currently in decline. Albatrosses breeding at the French Southern Territories in the south-western Indian Ocean, on the Crozet, Kerguelen and Saint-Paul–Amsterdam island archipelagos, are monitored regularly. This monitoring has been based on a sample of species and sites, and there was a need for an assessment of the population trends for all species at each site. During the past 3 years most populations have been surveyed, allowing an assessment of the trends of albatrosses breeding at the archipelagos of the French Southern Territories over the past 40 years. Wandering Albatrosses show similar trends at all sites within the Crozet and Kerguelen archipelagos, with a recent recovery of colonies after strong declines in the 1970s. Amsterdam Albatrosses are increasing, albeit at lower rates during recent years. Indian Yellow-nosed Albatrosses show a global decline over the entire range. The trends among Black-browed and Grey-headed Albatrosses vary between colonies and archipelagos. Sooty Albatrosses have continuously decreased in numbers whereas Light-mantled Albatross numbers vary considerably between years, with an overall increase over the past 30 years. These results confirm that the French Southern Territories in the south-west Indian Ocean support a significant portion of the world populations of several albatross species. Several species appear to be steadily decreasing probably because of the impact of fisheries and disease outbreaks. The reasons for different trends among populations of the same species are not well understood and require further investigation."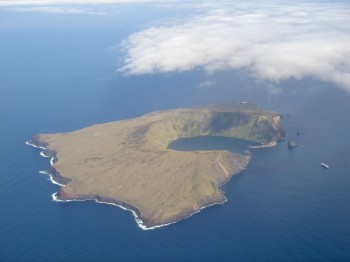 Saint-Paul Island, photograph by Thierry Micol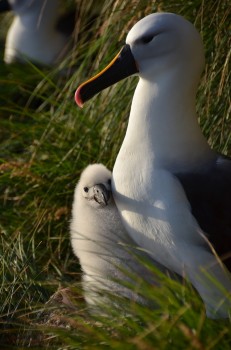 Indian Yellow-nosed Albatross and chick, photograph by Jeremy Demay
Reference:
Weimerskirch, H., Delord, K., Barbraud, C., Le Bouard, F., Ryan, P.G., Fretwell, P. & Marteau, C. 2018. Status and trends of albatrosses in the French Southern Territories, Western Indian Ocean. Polar Biology 41: 1963-972.
John Cooper, ACAP Information Officer, 22 October 2018