Marco Cianchetti-Benedetti (Ornis Italica, Rome, Italy) and colleagues have published in the European Journal of Wildlife Research on effects of light and sound pollution on breeding Scopoli's Shearwaters Calonectris diomedea.
The paper's abstract follows:
"Human disturbances are increasingly becoming a conservation concern for many populations of colonial seabirds. Colonially reproducing species are particularly vulnerable to localised disturbances because detrimental elements can simultaneously affect the entire population. Studies of petrels and shearwaters have shown that light pollution, in particular, can be harmful for both fledglings and adults, but little is known of the way such anthropogenic elements affect the quality of parental care at the nest. Chick provisioning in petrels and shearwaters occurs exclusively at night and is also negatively correlated with the amount of moonlight. We tested the hypothesis that high-intensity light and sound disturbances will disrupt nest attendance and thus affect weight gain in chicks but that the magnitude of such effects would be modulated by moonlight conditions. We measured the effect of two outdoor disco events on overnight weight gain in 26 chicks of Scopoli's shearwaters (Calonectris diomedea) from a breeding colony on Linosa Island. The two disco events occurred under contrasting moonlight conditions (moonless vs moonlight). Chicks situated closer to the disturbance gained significantly less weight compared to conspecifics from nests further away but the effect was only evident on the moonless night. Our results suggest that light and sound disturbances can have a negative effect on parental care in C. diomedea but moonlight might moderate the bird's perception and thus the magnitude of the disturbance. However, while occasional disturbances may impact short-term weight gain in C. diomedea chicks, such effects are not perceivable at fledging when measured as differences in the weight or the date at which they left the nest."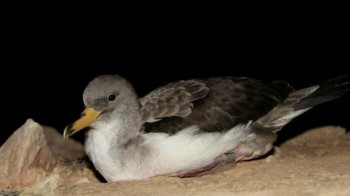 Scopoli's Shearwater fledgling
See a previous news item on the reported research here.
Reference:
Cianchetti-Benedetti, M., Becciu, P., Massa, B. & Giacomo Dell'Omo, G. 2018. Conflicts between touristic recreational activities and breeding shearwaters: short-term effect of artificial light and sound on chick weight. European Journal of Wildlife Research 64:19. doi.org/10.1007/s10344-018-1178-x.
John Cooper, ACAP Information Officer, 14 March 2018