The Pacific Seabird Group's 45th Annual Meeting will be held at the at Universidad Autónoma de Baja California Sur in La Paz, Mexico over 21-24 February 2018.
Presentations on ACAP-listed species are listed below as extracted from the meeting's abstract book, now online. Note only the first author cited is listed. More presentations may cover ACAP-listed species that were not named in the abstract texts. For co-authors, contact addresses and abstracts on fisheries bycatch and on other procellariform species, including many on gadfly petrels, shearwaters and storm petrels, please consult the abstract book.
Josh Adams: DIVING BEHAVIOR OF PINK-FOOTED SHEARWATERS (ARDENNA CREATOPUS) REARING CHICKS ON ISLA MOCHA, CHILE
Ryan Carle: CHILEAN PURSE-SEINE FISHERY OVERLAP AND RISK OF BYCATCH AMONG PINK-FOOTED SHEARWATERS ARDENNA CREATOPUS BREEDING ON ISLA MOCHA
Jane Dolliver: APPLYING CHANGE DETECTION AND MULTI-SPECTRAL IMAGE PROCESSING TOOLS TO CENSUS [sic] NESTING ALBATROSSES FROM SATELLITE IMAGERY
Julio Hernández-Montoya : LAYSAN ALBATROSS (PHOEBASTRIA IMMUTABILIS) ON GUADALUPE ISLAND, MEXICO: POPULATION STATUS, DISTRIBUTION, SOCIAL ATTRACTION AND ADVANCES TOWARDS THE ERADICATION OF FERAL CAT
Kathryn Huyvaert: FORTY YEARS AND COUNTING: UPDATE ON THE ECOLOGY AND CONSERVATION OF THE CRITICALLY ENDANGERED WAVED ALBATROSS
Jason Jannot: CRYPTIC SEABIRD MORTALITY ON U.S. WEST COAST PACIFIC HAKE FISHING VESSELS [Black-footed Albatross]
Caitlin Kroeger: CORTICOSTERONE AS A BEHAVIORAL DRIVER AND NUTRIENT RESPONSE IN TWO SYMPATRIC ALBATROSSES
Verónica López: TOWARDS A PACIFIC MONITORING NETWORK FOR A HIGHLY MIGRATORY SPECIES, THE PINK-FOOTED SHEARWATER
Yutzil Lora-Cabrera: HABITAT SUITABILITY FOR LAYSAN ALBATROSS AND BLACK-VENTED SHEARWATER IN THE MEXICAN PACIFIC OCEAN
Daisuke Ochi: PREDICTING BYCATCH FOR BLACK-FOOTED AND LAYSAN ALBATROSSES BY JAPANESE LONGLINE FISHERIES WITH SPATIO-TEMPORAL OCEANOGRAPHIC FACTORS.
John Peschon: A SUMMARY OF ALBATROSS BAND RECOVERY DATA IN THE HAWAII DEEP AND SHALLOW SET LONGLINE FISHERIES
John Peschon: A SUMMARY OF SEABIRD INTERACTIONS IN THE HAWAII DEEP AND SHALLOW SET LONGLINE FISHERIES IN 2016 [Black-footed & Laysan Albatrosses]
Stacy Schuur: WHAT MIGHT YOU DISCOVER USING ARCHIVED SEABIRD EGGS [Phoebastria albatrosses]
Cristián Suazo: SEABIRD BYCATCH IN PURSE SEINE FISHERIES: STATUS OF KNOWLEDGE AND MITIGATION MEASURES [Pink-footed Shearwater & others]
Laura Todd: ADDRESSING SEABIRD BYCATCH IN THE PACIFIC COAST GROUNDFISH FISHERY: COLLABORATION LEADS TO FEASIBLE CONSERVATION MEASURES [Black-footed & Short-tailed Albatrosses]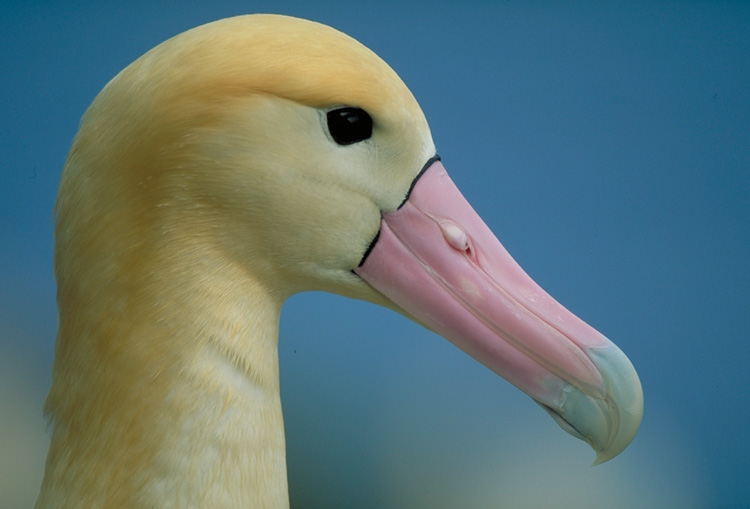 Short-tailed Albatross, photograph by Hiroshi Hasegawa
Click here to view the list of sessions and symposia. A three-hour meeting of the North Pacific Albatross Working Group will be held during the annual meeting.
John Cooper, ACAP Information Officer, 19 February 2018