UPDATE:
The Lord Howe Island Board media release may be read here.
"After a comprehensive and rigorous environmental assessment process, and a Human Health Risk Assessment led by the NSW Chief Scientist and Engineer, the Board has made the decision to proceed", Chair of the Lord Howe Island Board, Sonja Stewart said.
Benefits of the project include:
Increase in numbers and breeding success for a range of seabirds such as Kermadec petrel, Masked booby and White-bellied storm petrel
Recovery of endemic ground lizards and invertebrates such as land snails
Increased seeds and seedlings for numerous plant species including the Critically Endangered Little Mountain Palm
Reintroduction of the world's rarest insect, the Lord Howe Island Phasmid
Long term benefits to tourism and the Island's economy through improved visitor experience
The project will distribute rodenticide (brodifacoum) in cereal based pellets via helicopter in the uninhabited parts of the island and via hand broadcast and bait stations in the settlement area in winter 2018 (June or July).
The [AUS] $9.5M Lord Howe Island Rodent Eradication Project is jointly funded by the NSW Environmental Trust and the Australian Government National Landcare Program and will be implemented through partnerships with the Lord Howe Island Board, the Office of Environment and Heritage and Taronga Conservation Society Australia."
*******************************************************************************************************************************************************************************
After a number of years of planning and deliberations the eradication of Black Rats Rattus rattus by poison bait drop on Australia's Lord Howe Island is slated to go ahead next year. In 2012 Australian governmental funds were allocated to eradicate the island's rodents.
The Lord Howe Island Board earlier this month voted six to one in favour of aerially baiting the UNESCO World Heritage site - which lies 700 km off Australia's east coast - with an estimated 42 tonnes of cereal pellets containing the second generation coagulant brodifacoum. Lord Howe supports breeding populations of Flesh-footed Ardenna carnepeis, Wedge-tailed A. pacifica and Little Puffinus assimilis Shearwaters, as well as of two species of gadfly petrels, Providence Pterodroma solandii and Black-winged Petrel P. nigripennis on the main island. All should benefit from the removal of rats.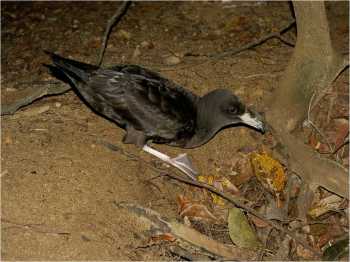 Flesh-footed Shearwater, photograph by Barry Baker
Read more here.
Previously various reports and enabling permits have been issued, clearing the way for the board's decision (click here).
Follow the Lord Howe Island Rodent Eradication Project on Facebook.
John Cooper, ACAP Information Officer, 28 September 2017, updated 03 October 2017