Seven Endangered Newell's Shearwater Puffinus newelli chicks have been flown by helicopter from their montane-nesting areas in the Hawaiian island of Kauai to a coastal site protected by a predator-proof fence at Nihoku within the Kilauea Point National Wildlife Refuge. They (along with an eighth chick found earlier) are being raised by hand feeding to fledge from the same site where 10 Vulnerable Hawaiian Petrels Pterodroma sandwichensis chicks were successfully translocated last year in the hopes of starting new protected colonies of both species (click here).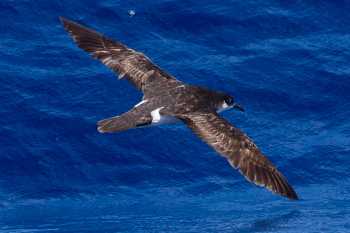 Newell's Shearwater, photograph by Eric Vanderwerf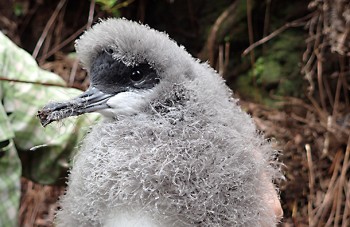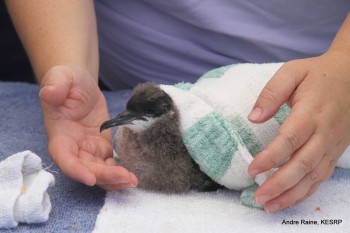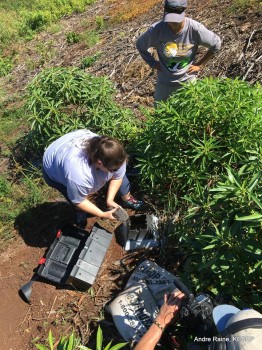 Translocated Newell's Shearwaters, photographs by Andre Raine
"The translocation, which involved two separate teams and more than a dozen people, took place in Kauai's rugged mountain interior and along the coast. In the early morning, a team was dropped by helicopter onto a mountain peak located in the Upper Limahuli Preserve... The team members headed out to seven different nest burrows that had been monitored throughout the breeding season. Seven large, healthy chicks were carefully removed from their burrows by hand, placed into pet carriers, and carried up the side of the mountain to a waiting helicopter. The chicks were flown to the Princeville airport, then driven to the refuge and their new home within the predator-proof fence. An eighth chick was found several weeks earlier in the Hono O Na Pali Natural Area Reserve … where it had left its burrow and become lost" (click here for the full news release).
Photos and videos of the translocation can be found here.
Read more here.
Latest News from Pacific Rim Conservation:
"Day six and the translocated Newell's Shearwater chicks at Kilauea Point National Wildlife Refuge are doing well and have settled into their new homes. They have also started to lose their fuzz which is being replaced with new feathers to help them fly out to sea. That mohawk won't be around for too much longer!"

John Cooper, ACAP Information Officer, 26 September 2016