"Marine ecosystems provide a wealth of benefits to humanity and the planet, including the provision of livelihoods and food security. Biological diversity underpins ecosystem functioning and the provisioning of ecosystem services essential for human well-being. The oceans, and the life therein, are critical to the healthy functioning of the planet."
ACAP's Executive Secretary, Marco Favero, will be attending a meeting later this month with the title "Sustainable Ocean Initiative (SOI) Global Dialogue with Regional Seas Organizations and Regional Fisheries Bodies on Accelerating Progress Towards the Aichi Biodiversity Targets". The meeting is being organized by the Convention on Biological Diversity (CBD) and will take place over 26-29 September in The Palace Hotel Seoul, Seoul, Republic of Korea.
The goal of the meeting is to explore opportunities for strengthening collaboration at the regional scale to accelerate progress towards the Aichi Biodiversity Targets, in particular Targets 6, 10 and 11, and relevant Sustainable Development Goals, in particular goal 14.
Specific objectives are:
• To enhance sharing of scientific information between regional seas organizations and regional fisheries bodies, such as information related to ecologically or biologically significant marine areas (EBSAs) and vulnerable marine ecosystems (VMEs), as well as the information in the Ocean Biogeographic Information System, regionally owned data/information, and/or information regarding impacts on marine biodiversity and living resources;
• To exchange experiences and expertise in regionally applying available tools and approaches in the conservation and sustainable use of marine living resources and ecosystems (e.g., ecosystem approaches, impact assessments, area-based management tools);
• To exchange knowledge and experiences on the development and application of regional-scale indicators in support of the objectives of the respective regional organizations/bodies, which can provide inputs to measuring progress in achieving the Aichi Biodiversity Targets and Sustainable Development Goals;
• To identify lessons learned regarding ways of cooperation between regional seas organizations (RSOs) and regional fisheries bodies (RFBs), including sharing successful examples where national-level cross-sectoral cooperation has led to regional level cross-sectoral cooperation and vice versa.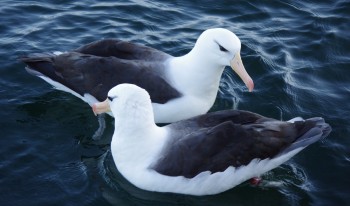 Black-browed Albatrosses at sea, photograph by Kolette Grobler
Click here for the meeting documents.
A meeting report will be prepared and submitted, as information, to the 13th Meeting of the Conference of the Parties to the Convention in December 2016.
John Cooper, ACAP Information Officer, 20 September 2016