ACAP Latest News has received a media release from Oceansmart, a company based in Queensland, Australia that reports on progress with testing its Smart Tuna Hook.  The following information is extracted from the company's media release of 4 December last year.
Sunshine Coast Company Ahi Enterprises, trading as Oceansmart, has been working towards an effective solution to reduce the mortality of seabirds and turtles that are hooked and die as a result of trying to eat tuna longline fishing baits.  Ahi Enterprises CEO Hans Jusseit says the solution has come from within the industry itself.  By working closely with the longline fishing industry the team at Oceansmart has developed and patented the Smart Tuna Hook (winner of the ABC Television's New Inventors).  The Smart Tuna Hook aims to render longline bait inaccessible to seabird or turtle species, thus saving their lives and allowing the bait to sink rapidly to the feeding depth of the intended catch, mainly tuna and Swordfish.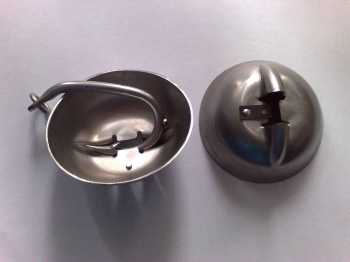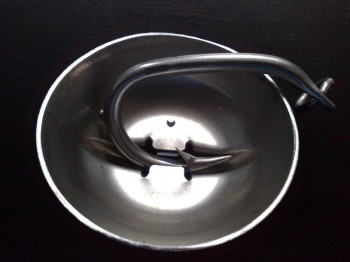 Smart Tuna Hooks with fitted shields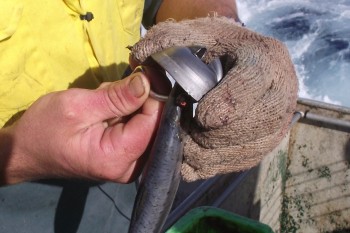 The shield gets fitted to a baited Smart Tuna Hook
Photographs by Barry Baker
"The aim is to conserve the species that are not being targeted and to increase the efficiency for the fishing operators.  The Smart Tuna Hook enables the targeted fish to be caught more efficiently making the entire industry more environmentally friendly, more viable as well as safer without the need to have lead weights on their [sic] lines."
Trials held in South Africa show that the Smart Tuna Hook reduces seabird (albatross & petrel) bycatch by 80-90% with no detrimental effect on fishing operations and no increase in cost or effort.  The experimental testing was undertaken by Barry Baker, past Chair of ACAP's Seabird Bycatch Working Group.  Further catch trials were due to be held in December 2014 in an effort to obtain further significant results.
Click here for an earlier ACAP news item on the Smart Tuna Hook.  Development of the smart hook has been funded previously by the ACAP Small Grants Programme under project ACAP 12-03 "Seabird mitigation effectiveness of the Smart Tuna Hook in Tuna longline fishing".
With thanks to Barry Baker and Hans Jusseit for information and photographs.
Selected Literature:
Anon. nd.  Innovation Case Study: The Smart Hook System.
Baker, G.B. & Candy, S.G. 2014.  Proof of Concept Experiment to Demonstrate the Efficacy of the 'Smart Tuna Hook'.  Report prepared for AHI Enterprises.  [Kettering]: Latitude 42 Environmental Consultants.  24 pp.
Jusseit, H. 2010.  Testing Seabird and Turtle Mitigation Efficacy of the Smart Hook System in Tuna Long-line Fisheries - Phase One.  Ahi Enterprises.  15 pp.
John Cooper, ACAP Information Officer, 03 January 2015, updated 08 January 2015