The Seabird Program of the USA-based NGO American Bird Conservancy (ABC) has reported to the ACAP Secretariat on its recent efforts to reduce seabird mortality in Ecuador's artisanal longline fishery.  The following information is taken from the ABC press release.
A new technique designed to reduce bycatch in Ecuadorian fisheries of seabirds such as the Critically Endangered Waved Albatross Phoebastria irrorata and the Vulnerable Black Petrel Procellaria parkinsoni was presented at a recent meeting with representatives of Ecuador's Environmental Ministry.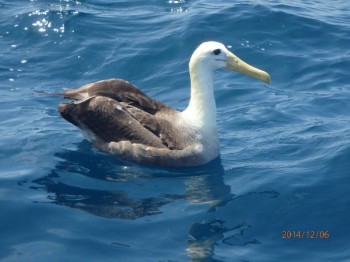 The Waved Albatross is often attracted by baited hooks and can become entangled in line and hooks, photograph by Giovanny Suarez/ABC
The meeting, which focused specifically on the issue of seabird bycatch in the artisanal hake fishery in Ecuador, was held in the offices of the Ministry of the Environment on 5 December 2014.  The new fishing innovation – known as the NISURI device – aims to reduce by up to 90% the time that baited fishing lines are cast in the water with bait visible to birds.  Line setting using this technique is cut from 8 to >20 minutes to 1-2 minutes.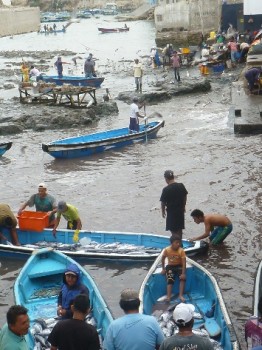 Artisanal fishing boats, Santa Rosa, Ecuador, photograph by Nigel Brothers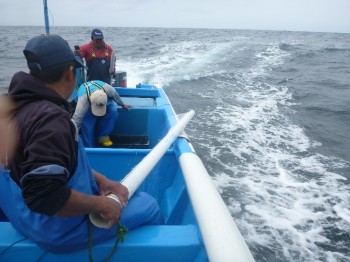 Ecuadorian artisanal fishers use the  NISURI tube to reduce seabird interactions, photograph by Nigel Brothers
To employ the NISURI device, Ecuadorian fishers typically prepare up to 400 baited hooks and insert them into a 1.8-m long PVC plastic tube which holds the lines while protecting the bait from birds. The NISURI tube acts like a chute to deploy the lines without the possibility of hooks being caught in a fisher's hand or a bird's bill while the boat is underway.
At the conclusion of the meeting the participants agreed to continue to work together to promote the new method and expand its use in artisanal hake fisheries through supporting fishers' workshops in other ports in Ecuador.
A paper on the NISURI system was presented and discussed at the Sixth Meeting of the ACAP Seabird Bycatch Working Group, held in Punta del Este, Uruguay during September this year.
With thanks to Hannah Nevins, American Bird Conservancy for information.
Selected literature:
Brothers, N., Holly Freifeld, H., Suarez, G. & Wallace, G. 2014.  NISURI Fastset – a simple, cheap and effective artisanal demersal longline setting system to reduce seabird bycatch.  Sixth Meeting of the Seabird Bycatch Working Group Punta del Este, Uruguay, 10 - 12 September 2014.  SBWG6 Doc 14  [Summary]  3 pp.
John Cooper, ACAP Information Officer, 02 January 2015, updated 09 and 13 January 2015