EU LIFE+ Malta Seabird Project researchers this month released four fledgling Yelkouan Shearwaters Puffinus yelkouan found disorientated by light pollution (click here to view a video of the release filmed under red light). The birds were released at night from a coastal cliff top.
"These seabirds … wait for darkness to leave their nests, and are guided offshore by the brightest glare, being the horizon in natural circumstances. So during these first flying attempts, young birds can easily get distracted by lights from nearby urban areas, ending up stranded on land, vulnerable to injury by traffic or stray animals. Unless guided back to sea, Yelkouan Shearwaters, may not be able to find their way to the shore."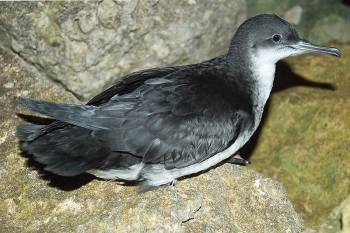 Yelkouan Shearwater, photographed by Matthew Borg Cardona
The EU LIFE+ Malta Seabird Project aims to identify Marine Important Bird Areas for the three species of procellariiform seabirds that breed on the Maltese Islands. The project is 50% funded by the EU's LIFE unit, and is a partnership between BirdLife Malta, the RSPB (BirdLife UK), SPEA (BirdLife Portugal) and the Ministry for Sustainable Development, Environment and Climate Change.
The Vulnerable Yelkouan Shearwater has been proposed for ACAP listing.
Click here to access a review of the ecological consequences of light pollution.
John Cooper, ACAP Information Officer, 01 August 2014