Seabirds in Chile are linked to extensive coastal and oceanic areas and are represented in different areas of endemism. Their presence in marine systems include the Humboldt Current, oceanic islands and the fjords and sub-Antarctic islands, where key aspects of their biology and ecology still remain unexplored. These marine systems have varied expressions of human activity, and as such seabirds experience different emerging and established contexts of environmental change.
The description of the reproductive phenology of seabirds and the reduction of incidental mortality in fisheries are topics that require presentation and consideration through working groups. Therefore, a symposium at the XXXIV Chilean Marine Science Congress held at the Universidad de Los Lagos in Osorno, southern Chile in May this year sought to share experiences among researchers under the title: " Seabirds of Chile: Progress in Biology, Ecology and Conservation ".
For the first time, this symposium brought together Chilean researchers and working groups dedicated to different areas of seabird biology, ecology and conservation. Therefore, this meeting provided an opportunity to disseminate and discuss the state of knowledge and current activity that involves the conservation of this group of marine species, as well as identify the existing priorities and potential future collaborations.
The seven presentations in the symposium included participation from a total of 11 institutions including Chilean and foreign universities, plus national and international non-governmental organisations (click here for authors' summaries in Spanish).
The symposium included a revision of seabird studies, and acknowledged the history of this work in Chilean waters opening with a look back at the beginning of seabird studies in Chile by renowned national researchers, such as by Prof. Roberto Schlatter of the Universidad Austral de Chile. The event also provided the chance to acknowledge pioneers like Prof. Schlatter for supporting and encouraging the development of new seabird researchers throughout the country.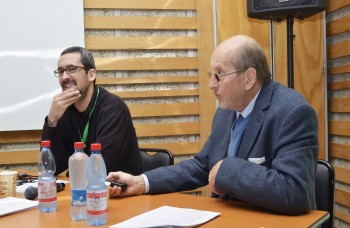 Luis Cabezas (ATF-Chile) with Prof. Roberto Schlatter during his presentation
Phootgraph by Albatross Task Force -Chile
Subsequently, current research findings were presented on the reproductive biology and ecology of Grey-headed Albatrosses Thalassarche chrysostoma in Chilean Sub-Antarctic environments (Suazo et al., Justus Liebig University-Giessen/Albatross Task Force-Chile); the ecology and monitoring of multispecies seabird groups foraging in the Humboldt Current System (Anguita & Simeone, University Andres Bello); and the potential for monitoring and evaluating the conservation status of trans-hemispheric migratory species such as Pink-footed Puffinus creatopus and Sooty P. griseus Shearwaters (Simeone & Cabezas).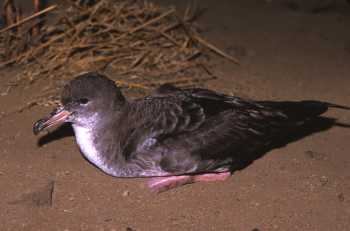 Pink-footed Shearwater: a candidate for ACAP listing, photograph by Peter Hodum
Another area considered corresponded to actions relating to the conservation of seabirds from beach surveys and island colonies through citizen science and participation including endemic seabirds such as the Pink-footed Shearwaters (Colodro et al., Oikonos) and a volunteer seabird stranding network (Portflitt et al., Catholic University of the North), which, thanks to the participation of volunteers has managed an extensive latitudinal sampling effort.
Finally the session was brought to a close with a summary on seabird bycatch mitigation in various marine fisheries in Chile (Cabezas et al., Albatross Task Force - Chile), as well as the future challenges for seabird conservation with an emphasis on ACAP-listed species.
It is important to highlight the active development of local initiatives and international collaboration that is currently underway in Chile. These are mainly independent efforts, but there is a clear link and great potential for collaboration if these species are considered under common objectives for the conservation of seabirds in Chile.
The accumulation of different experiences and actions related to endemic species such as the Pink-footed Shearwater represents an opportunity to develop national collaborations. Such activities require the inclusion of environmental education, citizen participation and science together with integrated conservation actions as much as for seabirds as for other taxa. The first steps include identifying individual responsibilities and actions related to seabird conservation.
Collaborative initiatives, such as the transfer of experiences via thematic workshops and the creation of links between active organisations drive the first steps toward seabird conservation and the solutions to common environmental problems. Some of these first steps are already underway in Chile, such as collaborative projects on interactions between seabirds and fisheries. These initiatives are of interest to the national fishery authorities and where citizen involvement is expected throughout the territory, where there is a growing involvement with public entities linked to the system of marine protected areas and long-term development, such as the breeding colonies of the endemic Pink-footed Shearwater.
Such initiatives have permitted the active collaboration by distinct actors to update the conservation status and conservation priorities of Chilean seabirds. A good example is the collaborative effort by Chilean public representatives and institutions to include the Pink-footed Shearwater in the ACAP list of species.
Thanks to Oliver Yates, BirdLife International Global Seabird Programme for all his support.
Cristián G. Suazo, Symposium Coordinator, Department of Animal Ecology and Systematics, Justus Liebig University Giessen, Giessen, Germany & BirdLife International Albatross Task Force - Chile, 11 July 2014