South Africa's research station at sub-Antarctic Marion Island in the southern Indian Ocean is relieved once a year in April-May. Returning today on the S.A. Agulhas II are two young researchers who have spent the last 13 months studying albatrosses on the island.
2012 BSc Honours graduates Kim Stevens (University of Cape Town) and Stefan Schoombie (University of KwaZulu-Natal) have been studying Grey-headed Albatrosses Thalassarche chrysostoma and the two sooty albatrosses Phoebetria spp., respectively.
Their two studies have been designed to be comparable. Utilizing colour-banded birds in long-term monitoring colonies, birds were tracked at sea with back-mounted GPS loggers during three stages in their breeding seasons: early and late incubation and while brooding small chicks. Deployments were made on 45 Grey-headed, 30 Sooty P. fusca and 15 Light-mantled P. palpebrata Albatrosses. Return rates with successful downloads were good at 69 out of the 90 devices deployed. Only a few loggers were lost at sea and some birds had data for more than one foraging trip.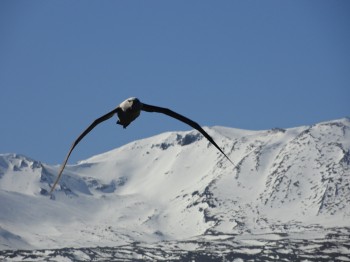 A Grey-headed Albatross flies over a snowy Marion landscape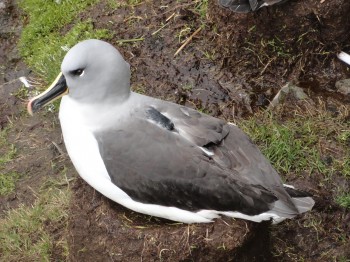 A Grey-headed Albatross on its nest has been fitted with a back-mounted GPS logger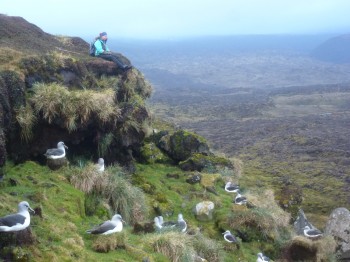 With albatross crook close by Kim Stevens sits above a study colony on Grey-headed Albatross Ridge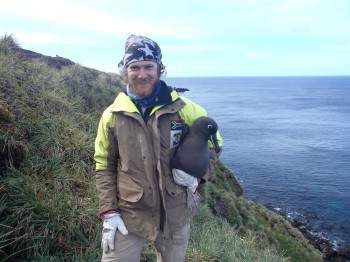 Stefan Schoombie holds a Sooty Albatross on Marion Island
Photographs by Kim Stevens and Stefan Schoombie
In addition, chick regurgitations and squid beak casts were collected on an ad hoc basis to compare with previous studies made on the island, as will be information gathered daily on incubation shifts.
Kim's study required overnight stays of up to 15 days at a time in a field hut at aptly-named Grey-headed Albatross Ridge on Marion's south coast – a good day's walk from the research station on the islands' eastern side. Stefan had it a little easier, with some of his study animals being within an hour's walk of the base, although he needed to use fixed ropes as safety aids when working with the sooties that bred on coastal cliffs.
Both Kim and Stefan will now register for Master's degrees in the Percy FitzPatrick Institute at the University of Cape Town to write up their research findings. Albatross research at Marion Island is managed by the Institute's Director, Peter Ryan, who was also on the 2014 relief – as was ACAP's Information Officer.
Click here for an earlier ACAP news item on research placing "daily diary" loggers on Wandering Albatrosses Diomedea exulans during this year's Marion relief.
John Cooper, ACAP Information Officer, 06 May 2014