The Endangered Black-capped Petrel) Pterodroma hasitata or Diablotin (Little Devil) breeds in remote areas of Haiti and the Dominican Republic, with a population estimated to be 600 to 2000 pairs.
To learn about its at-sea movements in the North Atlantic solar-powered satellite transmitters were placed on three breeding birds last month in the Sierra de Bahoruco along the border between the Dominican Republic and Haiti. Click here to follow the birds' journeys.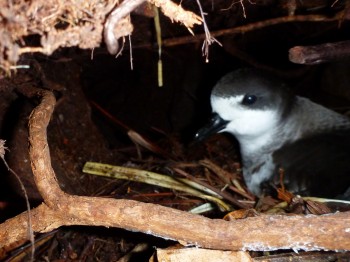 A Black-capped Petrel is equipped with a solar-powered satellite transmitter
"Much of the habitat loss stems from the desperate situation faced by communities on the Haitian side of the border, which depend on land for farming and fuel wood for cooking. As a result, the remaining nesting habitat for this species is rapidly becoming deforested and degraded. This affects the security of nesting colonies in Haiti, but also in the Dominican Republic, since Haitians are often hired by Dominicans to farm and make charcoal for them in the Sierra de Bahoruco, despite its protected area status. In addition, the species is believed to be threatened by losses from collisions with power lines and communication towers, the periodic outbreak of wildfires and fires associated with forest clearing for farmland, and non-native predators such as rats and cats." (click here).
The tracking project is being led by Patrick Jodice and Rob Ronconi with institutional backing from the South Carolina Cooperative Fish and Wildlife Research Unit at Clemson University, Grupo Jaragua in the Dominican Republic and American Bird Conservancy through the International Black-capped Petrel Conservation Group.
With thanks to Rob Ronconi for information.
Selected Literature:
Goetz, J.E., Hardesty-Norris, J. & Wheeler, J.A. (Eds) 2012. Conservation Action Plan for the Black-capped Petrel (Pterodroma hasitata). International Black-capped Petrel Conservation Group. 26 pp.
Simons, T.R., Lee, D.S. & Haney, J.C. 2013. Diablotin Pterodroma hasitata: a biography of the endangered Black-capped Petrel. Marine Ornithology 41 (Special Issue): S3-S43.
John Cooper, ACAP Information Officer, 05 May 2014