Caio Cipro (Littoral Environnement et Sociétés, Université de La Rochelle, France) and colleagues have published in the journal Polar Biology on trace elements in tissues of White-chinned Petrels Procellaria aequinoctialis in the southern Indian Ocean.
The paper's abstract follows:
"The use of seabirds to assess marine contamination by trace elements in areas remote from pollutant emission points has already been done at various latitudes. Nevertheless, little information is available concerning the Southern Indian Ocean. Determining the contaminants levels, there appears necessary not only due to several deleterious effects reported in literature, but also as previous studies have highlighted elevated concentrations of cadmium (Cd) and mercury (Hg) in mollusks, crustaceans and fish. Within this context, the white-chinned petrel appears as a key species due to its lifespan, diet and trophic position. Thirty-three accidentally killed (collision with lights/bycatch in longline vessels) individuals collected in Kerguelen waters were analysed for Cd, copper (Cu), Hg, selenium (Se) and zinc (Zn) in liver, kidney, pectoral muscle, feathers and for mature males, testis. Elevated Hg concentrations (average 58.4 μg g−1 dw in liver) are likely due to the presence of mesopelagic prey in the diet of Procellaria aequinoctialis. Cd concentrations (average of 65.7 μg g−1 dw in kidney) can be attributed to a high level of fisheries offal consumption, as well as crustacean and squid ingestion. Correlation of Hg with Se indicates its detoxification by co-precipitation, and correlation of Cd with Zn suggests its displacement by Cd on metallothioneins binding sites. This work also indirectly confirms ecological data (range and diet composition) from the wintering period of the species, which is [sic] rather scarce. Seasonal diet change and moulting accounted more for the obtained results than sex of the birds."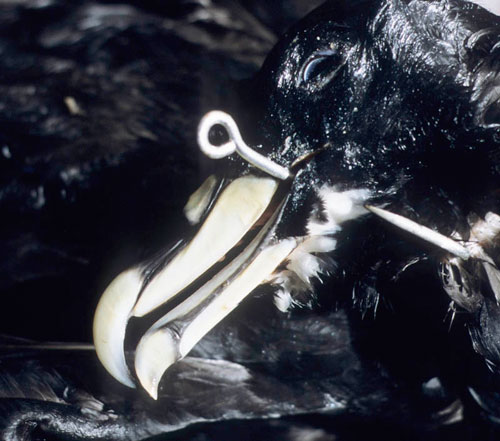 A White-chinned Petrel falls the victim of a longline hook
Photograph by Nicolas Gasco
Reference:
Cipro, C.V.Z., Cherel, Y., Caurant, F., Miramand, P., Méndez-Fernandez, P. & Bustamante, P. 2014. Trace elements in tissues of white-chinned petrels (Procellaria aequinoctialis) from Kerguelen waters, Southern Indian Ocean. Polar Biology DOI 10.1007/s00300-014-1476-z.
John Cooper, ACAP Information Officer, 13 April 2014