Karine Delord (CEBC-CNRS, Villiers-en-bois, France) and colleagues have published in the journal Marine Policy on selecting candidate marine IBAs utilizing seabird-tracking data in the southern Indian Ocean. ACAP-listed species included in the data set are Wandering Albatross Diomedea exulans, Amsterdam Albatross D. amsterdamensis, Indian Yellow-nosed Albatross Thalassarche carteri, White-chinned Petrel Procellaria aequinoctialis and Grey Petrel P. cinerea.
The paper's abstract follows:
"Seabirds are increasingly threatened worldwide, with population declines for many species that are faster than in any other group of birds. Here the Important Bird Area (IBA) criteria recommended by BirdLife International were applied to a large tracking dataset collected from a range of seabirds, to identify areas of importance at an ocean basin scale. Key areas were identified using tracks obtained from both the breeding and non-breeding periods of 10 species that have different habitat requirements. These species range in their IUCN threat status from Least Concern to Critically Endangered. An evaluation of spatial overlap between the key areas for these species and the jurisdiction of Regional Fisheries Management Organisations (RFMOs), national Exclusive Economic Zones (EEZs) and other stakeholder bodies highlighted the major importance of the French EEZs (around Crozet, Kerguelen and Amsterdam Islands) for seabird conservation. The majority of the candidate marine IBAs that were identified were located in the High Seas, where Marine Protected Areas cannot easily be designated under existing international agreements, except in the Commission for the Conservation of Antarctic Marine Living Resources Convention Area. In the short term, it seems that only fisheries regulations (through international agreements) can bring about efficient protection for seabirds in the High Seas. The BirdLife IBA approach, although sensitive to heterogeneity in the data (species selected, inclusion of different life stages, years etc.), proved valuable for selecting important areas corresponding to large-scale oceanographic structures that are considered to be key foraging habitats for many species."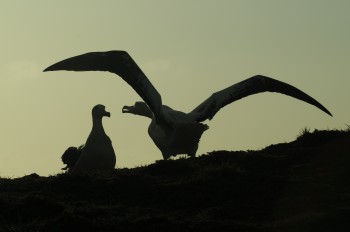 Wandering Albatrosses display on Ile de la Possession, Iles Crozet
Photograph by Franck Theron
With thanks to Richard Phillips for information.
Reference:
Delord, K., Barbraud, C., Bost, C.-A., Deceuninck, B., Lefebvre, T., Lutz, R., Micol, T., Phillips, R.A., Trathan, P.N. & Weimerskirch, H. 2014. Areas of importance for seabirds tracked from French southern territories, and recommendations for conservation. Marine Policy 48: 1-13.
John Cooper, ACAP Information Officer, 11 April 2014