New Zealand's Department of Conservation is considering declaring a conservation park on parts of Great Barrier Island (Aotea) lying 80 km north-east of Auckland and has called for public comment with a deadline of month end (click here).
The ACAP-listed and Vulnerable Black or Parkinson's Petrel Procellaria parkinsoni breeding locality on Great Barrier Island, known as the Hirakimata/Kaitoke Swamp Ecological Area, will fall within the proposed Aotea Conservation Park.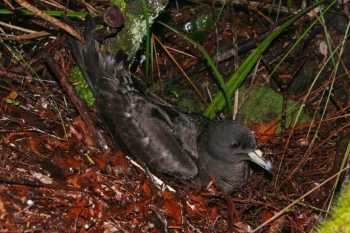 Black Petrel at its breeding site, photograph by David Boyle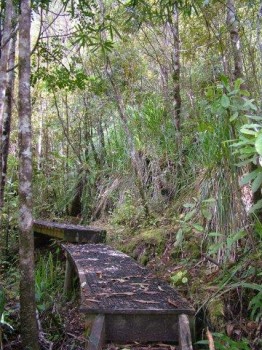 Black Petrel breeding habitat on Great Barrier Island, photograph by Biz Bell
Elizabeth (Biz) Bell, Black Petrel researcher with Wildlife Management International writes to ACAP:
"I personally think this is a good development as the move in New Zealand at the moment is to develop partnerships between different interest groups and stakeholders to protect and enhance important areas. This proposal will be another layer of protection – and a management group to make decisions on use and changes. Added protection may also mean there are more options for obtaining personnel to undertake predator control and wider funding options."
Read the proposal's discussion document here.
Click here for an NGO view on the proposed new park with a call for a national park instead.
John Cooper, ACAP Information Officer, 27 February 2014