A female Wandering Albatross Diomedea exulans carrying British Museum of Natural History band No. 4001481 has been reported by the Centre d'Etudes Biologiques de Chizé breeding on Île de la Possession, French Crozet Islands in the southern Indian Ocean during January 2014.
This bird was banded as a chick on 17 November 2005 in Wanderer Valley on Bird Island in the South Atlantic by the British Antarctic Survey (BAS). It has not been recorded back on the island since it fledged.
According to BAS records this is the first time a Bird Island bird has been seen ashore in the Crozets. However, a French Wanderer (BS6639) banded as a chick in the Crozets on 8 January 1976 was recorded on Bird Island four years later on 25 January 1980: at quite a young age for a Wanderer to return to land.
In contrast, within the southern Indian Ocean interchange of over 60 Wandering Albatrosses has occurred between Possession and South Africa's Marion and Prince Edward Islands, 1068 km apart, including of at least 19 fledglings from one locality breeding at the other.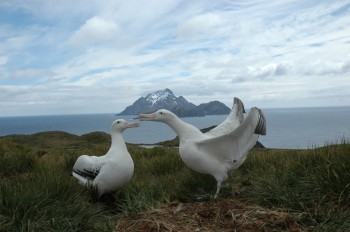 Wandering Albatrosses on Bird Island, photograph by Richard Phillips
With thanks to Richard Phillips, Henri Weimerskirch and Andy Wood for information.
Selected Literature:
Cooper, J. & Weimerskirch, H. 2003. Exchange of Wandering Albatrosses Diomedea exulans between the Prince Edward and Crozet Islands: implications for conservation. African Journal of Marine Science 25: 519-523.
John Cooper, ACAP Information Officer, 03 March 2014