Shy Thalassarche cauta and White-capped T. steadi Albatrosses are two taxa for which specific status has recently been postulated; however, owing to their close morphological resemblance they are frequently referred to as "shy-type" albatrosses. White-capped Albatross, a New Zealand breeding endemic, is well known in South American seas, particularly in the Humboldt Current. Conversely, Shy Albatross, an Australian breeding endemic, is less pelagic than many other albatrosses, although its range extends to southern Africa. Both albatross species are listed as Near Threatened, due to their high mortality rates as a result of interactions with longline and trawl fisheries in southern Indian and south-eastern Atlantic Oceans.
Shy-type albatrosses have been previously recorded in the south-western Atlantic region in Brazilian waters, and later on onto the north and north-west of the Falkland Islands (Islas Malvinas)*. However, these records do not come from observations made on board fishing vessels or from land-based interviews with fishers. Birds, chiefly juvenile and non-breeding adults, have been recently recorded interacting with commercial longline fisheries off the Argentine-Uruguayan Common Fishing Zone and being caught by this fishery as well as off southern Brazil.
More recently, shy-type albatrosses have been recorded attending high-seas trawlers in Patagonian waters off Argentina. Over the period 2008 to 2011 22 sightings of shy-type albatrosses comprising up to 49 individuals were made from these trawlers, chiefly between 39ºS to 44°S and 55ºW to 60ºW. The records collated so far indicate (1) that shy-type albatrosses may be more widely distributed in the region that previously thought, and (2) that the Patagonian Shelf may be an important foraging area for these species.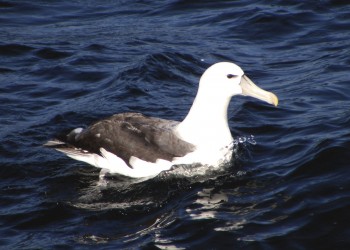 A shy-type albatross attending a high-seas trawler off Argentina, 07 June 2010
Photograph by Juan Pablo Seco Pon
The support of ACAP Parties such as Argentina, Brazil, Uruguay and the United Kingdom in conducting at-sea surveys has enabled a better understanding of the global ranges of threatened or potentially threatened species of albatrosses and petrels and this work needs to be continued as our knowledge of many species' foraging ranges is still incomplete.
Click here for a related ACAP news item on "Shy-type" albatrosses in South American waters.
Selected Literature:
Baker, G.B., Double, M.C., Gales, R., Tuck, G.N., Abbott, C.L., Ryan, P.G., Petersen, S.L., Robertson, C.J.R. & Alderman, R. 2007. A global assessment of the impact of fisheries-related mortality on Shy and White-capped Albatrosses: conservation implications. Biological Conservation 137: 319-333.
Brothers, N., Gales, R., Hedd, A. & Robertson, G. 1998. Foraging movements of the Shy Albatross Diomedea cauta breeding in Australia; implications for interactions with longline fisheries. Ibis 140: 446-457.
Gianuca, D., Peppes, F.V. & Neves, T. 2011. New records of "shy-type" albatrosses Thalassarche steadi/cauta in Brazil. Revista Brasileria de Ornitologia.
Hedd, A. & Gales, R. 2005. Breeding and overwintering ecology of Shy Albatrosses in southern Australia: year-round patterns of colony attendance and foraging-trip durations. Condor.
Jiménez, S., Domingo, A., Marquez, A., Abreu, M., D´Anatro, A. & Pereira, A. 2009. Interactions of long-line fishing with seabirds in the western Atlantic Ocean, with a focus on White-capped Albatrosses (Thalassarche steadi). Emu.
Marin, M. 2011. Distributional notes on the Shy Albatross (Thalassarche cauta): its presence off South American in the western Atlantic and eastern Pacific Oceans. Notornis 58: 101-103.
Petry, M.V., Bencke, G.A. & Klein, G.N. 1991. First record of Shy Albatross Diomedea cauta for the Brazilian coast. Bulletin of the British Ornithologists´ Club 111: 189.
Phalan, B., Phillips, R.A. & Double, M.C. 2004. A White-capped Albatross, Thalassarche (cauta) steadi, at South Georgia: first confirmed record in the south-western Atlantic. Emu.
Seco Pon, J.P. & Tamini, L. 2013. New records of shy-type albatrosses Thalassarche cauta/T. steadi off the Argentine Continental Shelf. Revista Brasileira de Ornitologia.
White, R.W., Gillon, K.W., Black, A.D. & Reid, J.B. 2002. The Distribution of Seabirds and Marine Mammals in the Falkland Islands Waters. Peterborough: Joint Nature Conservation Committee.
Juan Pablo Seco Pon, ACAP South American News Correspondent, 11 February 2014
*A dispute exists between the Governments of Argentina and the United Kingdom of Great Britain and Northern Ireland concerning sovereignty over the Falkland Islands (Islas Malvinas), South Georgia and the South Sandwich Islands (Islas Georgias del Sur y Islas Sandwich del Sur) and the surrounding maritime areas.