Black-footed Albatrosses or Ka'upu Phoebastria nigripes and Laysan Albatrosses or Mōlī P. immutabilis are now incubating on Kure Atoll in the USA's Northwestern Hawaiian Islands.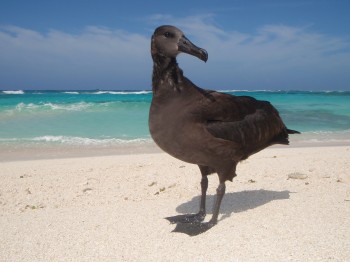 Black-footed Albatross on Kure Atoll, photograph by Cynthia Vanderlip
An island-based team undertook the annual albatross census on Kure last month. The survey was conducted over 16-20 December 2013 and resulted in totals of 2854 occupied nests of Black-footed Albatrosses and 20 703 occupied Laysan Albatross nests. In addition, the single same-sex pair of Short-tailed Albatrosses P. albatrus was present once more (click here for the history of these two females, currently taking turns to incubate a single egg).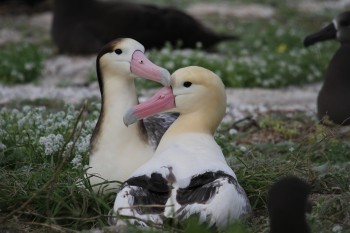 The female-female pair of Short-tailed Albatrosses on Kure
Photograph by Cynthia Vanderlip
"This is the 4th annual nest count conducted in as many years. Winter albatross counts were started in 2010, the year that year-round camps began. It took a team of 6 people 5 days and 241 hours to complete the count. Bad weather during the albatross count was endured by the team with winds gusting into the 30's and 40's and a high wind speed of 53 mph from the SSW on the 17th. It rained 2.2" between the 16th-18th."
According to the ACAP Data Portal 24 366 Laysan Albatross and 3434 Black-footed Albatross nests were counted in 2013 (= 2012/13, the previous season).
Kure Atoll is a part of the Papahānaumokuākea Marine National Monument and is the westernmost atoll in the North-western Hawaiian Islands. Click here for job opportunities on Kure.
With thanks to the Kure Atoll Conservancy for information and to Cynthia Vanderlip for the photographs.
John Cooper, ACAP Information Officer, 10 January 2014