Predator-proof fences are increasingly being used to keep pests out of area of natural habitats that support threatened species, despite some controversy over their cost-effectiveness. Most fences are erected on the mainland or on inhabited islands where introduced pests such as feral cats, domestic dogs, mongoose, rats and mice frequently occur. To date over 50 fences have been constructed, protecting more than 10 000 ha around the World. The standard has become a metal fence c. 2 m high with a curved top hood, a closely-woven mesh wall and an underground skirt.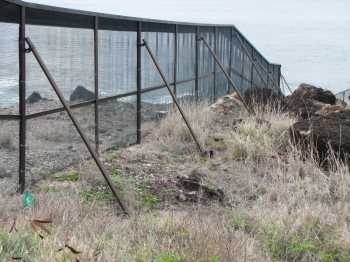 An example of a predator-proof fence in Hawaii
Photograph by John Cooper
Modern predator-proof fencing evolved in New Zealand where there are a number of examples of its use. Since most species of albatrosses and petrels breed on uninhabited islands, where the preferred method of alien predator control is complete eradication, such fencing has not often been used to protect their colonies. However, there are several notable examples which are described below from three countries, including fences which protect two ACAP-listed species, the Laysan Albatross Phoebastria immutabilis and the Black Petrel Procellaria parkinsoni. Most mainland fences are across peninsulas and are not complete barriers to pests at their coastal extremities, meaning that trapping needs to continue within the fenced-off area from time to time.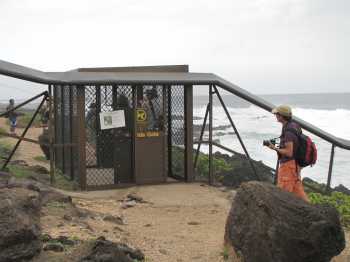 Pedestrian access though a self-closing double-door system stops predator entry
Kaena Point, Oahu, Hawaii, USA
Photograph by John Cooper
The Cape Sanctuary, Cape Kidnappers Peninsula, North Island, New Zealand
The Cape Sanctuary is a privately owned and funded wildlife restoration project. A predator-proof fence completed in 2007 stretches 10.6 km across the neck of the peninsula from coast to coast. Because pests can still gain access at the fence's coastal ends an intensive control programme operates continuously within the 2500-ha protected area with over 100 traps set for mustelids (stoats, ferrets and weasels) and 2200 bait stations for rats and mice. "[Brushtail] Possums have almost been eradicated from the peninsula but feral cats still pose a problem with over 750 caught to date."
Fifty Grey-faced Petrels Pterodroma macroptera gouldi chicks were transferred to the sanctuary in 2008, 75 in 2009 and 75 in 2010. Another 75 were intended to be transferred in 2011. The chicks are hand fed until fledging. From three to five years of age they are expected to return to the sanctuary to breed. A total of 150 Cook's Petrels P. cookii has also been transferred to the sanctuary with another 100 intended to have been translocated in 2012.
Elizabeth Ellen Preece Conservation Covenant, Pitt Island, Chatham Islands, New Zealand
A predator-proof fence was erected in 2001 to protect the 36-ha Elizabeth Ellen Preece Conservation Covenant on Pitt Island (Rangiauria) from feral cats and pigs. Between 2002 and 2005 200 Endangered Chatham Petrel P. axillaris chicks from the only known breeding site on South East Island (Rangatira) were moved into the covenant (click here). In 2012, 17 pairs from these translocated birds returned to breed, producing 15 chicks.
http://www.chathams.co.nz/index.php/naturalheritage/116-chatham-petrel-recovery
Glenfern Sanctuary, Kotuku Peninsula, Great Barrier Island (Aotea), New Zealand
A 2.1-km Xcluder® fence built across the Kotuku Peninsula on inhabited Great Barrier Island in the Hauraki Gulf Marine Park in 2009 by the Glenfern Sanctuary Charitable Trust helps protect Vulnerable Black Petrels within the 250-ha Glenfern Sanctuary. Monitoring of over 1000 bait station and tracking tunnels occurs to prevent reinvasions becoming established.
Kaikoura Peninsula Te Rae O Atiu, Kaikoura, South Island, New Zealand
The Endangered Hutton's Shearwater Puffinus huttoni breeds only in the Seaward Kaikoura Ranges of South Island, New Zealand where the two known colonies are under threat from pigs, stoats and other predators. A predator-proof fence was erected to protect an existing peninsular translocation site in 2010 by the Hutton's Shearwater Charitable Trust. Translocation and hand-feeding of chicks inot the site was undertaken from 2005 to 2008 and again in 2013. Following pest eradication in 2010 breeding in artificial burrows commenced the same year (click here).
Rapanui Point, North Taranaki, North Island, New Zealand
A 0.4-m predator-proof fence protects one hectare of mainland habitat containing Grey-faced Petrels. The Rapanui Grey-Faced Petrel Trust was established to assist in the management, conservation and monitoring of the petrel colony, particularly the management of the fence.
Stony Bay, Banks Peninsula, South Island, New Zealand
In partnership with the Banks Peninsula Conservation Trust, Mesh Industries and Pest Proof Fences erected a 296-m welded-mesh predator-proof fence around 0.5 ha at Stony Bay in 2010 to protect the last breeding colony of Sooty Shearwaters P. griseus on the Banks Peninsula near Christchurch, New Zealand. Stoats Mustela erminea had gained access on two occasions through a previous fence erected in 1998 and killed many chicks (click here). The colony contained 15 pairs in 2008. The fencing project involved a technically difficult installation on a steep slope on the edge of a 130-m cliff - and needed repair after the February 2011 earthquake.
Sweetwater Conservation Covenant, Chatham Island, New Zealand
A 700-m fence was erected by the Chatham Islands Taiko Trust in 2004 to enclose 7.5 ha of forest at the Sweetwater Conservation Covenant site on the main Chatham Island. Two hundred Chatham Petrel chicks were translocated into next boxes into the fenced site over the period 2008- 2011. In 2011/12 a pair of Chatham Petrels bred for the first time, successfully fledging their chick (click here). In addition, Critically Endangered Magenta Petrels or Taiko Pterodroma magentae chicks were translocated into the site in 2007 and 2008 and hand-fed until fledging (click here) in order to create a second colony for the endemic species.
Taiaroa Head, Otago Peninsula, South Island, New Zealand
There is currently no modern predator-proof fence on the Otago Peninsula. However, there is a fence at the Taiaroa Head Nature Reserve for protection of the only mainland breeding colony of Endangered Northern Royal Albatrosses Diomedea sanfordi, but it only stops people, dogs and rabbits as cats, stoats, ferrets and rats are able to climb over it. Current predator control by trapping within the colony seems effective in protecting the albatrosses (with the last predator event about 10 years ago, but the risk is always there when chicks are small) from the above species. Taiaroa Head has "masses of other smaller seabirds" (probably due to protection from people and long-term predator control) that are more at risk from predator issues and this might help reduce predation events on albatrosses. According to Lyndon Perriman of New Zealand's Department of Conservation a predator-proof fence would need to be 600 m long to extend across the neck of the headland and would have to have a self-closing gate allowing both vehicle and pedestrian access. Such a gate has been installed in the fence protecting the mainland peninsular Tawharanui Regional Park near Auckland, New Zealand (see below). However, funds do not currently rise to erecting such a fence at Taiaroa Head. Recently, nine Stoats and 31 rats have been removed from the albatross colony by trapping.
The Tawharanui Open Sanctuary, Tawharanui Peninsula, North Island, New Zealand
The Tawharanui Open Sanctuary Society (TOSSI) was formed in 2002 to help make the open sanctuary project at Tawharanui Regional Park a reality. TOSSI projects include forest and wetland restoration, re-introduction of threatened species, monitoring animals and plants and pest control. The 588-ha Tawharanui Regional Park is New Zealand's first integrated open sanctuary where farming, public recreation and conservation of native species are combined. The Tawharanui Open Sanctuary has a 2.5-m predator-proof fence erected in 2004 across the Tawharanui Peninsula to create a refuge for native animals free from pests such as rats, Stoats and possums. Dogs are prohibited at all times in the park. The fence protects an expanding population of Grey-faced Petrels, first recorded breeding in 2009. A Common Diving Petrel Pelecanoides urinatrix chick has also been found within the sanctuary (the first recent record of this species breeding on the mainland) and Fluttering Shearwaters Puffinus gavia and a Cook's Petrel have visited, attracted by a sound system broadcasting calls.
Kaena Point Natural Area Reserve, Oahu, Hawaii, USA
The Kaena Point Natural Area Reserve on the Hawaiian island of Oahu supports breeding colonies of Laysan Albatrosses and Wedge-tailed Shearwaters Puffinus pacificus. A 630-m Xcluder® predator-proof fence with three self-closing double gates for pedestrians was completed by the Ka`ena Point Ecosystem Restoration Project in 2011 and has so far proven successful when combined with ongoing trapping in keeping the 20-ha fenced area free of dogs, feral cats, mongoose and rodents. Prior to fence construction, nesting seabirds and native plants were under constant threat from these predatory animals. Up to 15% of seabird chicks were killed each year prior to fledging and many endangered plants were unable to reproduce as a result of seed predation (click here). This fence has allowed improved breeding success and increased breeding populations for both seabird species. Wedge-tailed Shearwater chicks hatching increased in number from none in 1994 to over 3000 in 2011 while Laysan Albatrosses increased from no pairs in 1989 to approximately 61 pairs in 2012.
Kilauea Point National Wildlife Refuge, Kauai, Hawaii, USA
The Kilauea Point National Wildlife Refuge supports a breeding colony of Laysan Albatrosses. "Experimental fencing erected at Kilauea Point resulted in 14 fledged chicks in 1990 … and continued increases in population and success … to 95 eggs and 50 fledged chicks at the Kilauea Point colony and 200 eggs and 101 fledged chicks overall at Kilauea Point and surrounding properties in 2008" (click here). The fence keeps out dogs and feral pigs but not the smaller predators.
Corvo Island, Azores, Portugal
A 800-m Xcluder® fence erected in 2011 as part of joint effort by BirdLife partners RSPB in the UK and SPEA in Portugal protects a 3.5-ha area in which 100 artificial burrows have been constructed for Cory's Calonectris borealis, Manx Puffinus puffinus and Little P. assimilis Shearwaters, as well as for the Vulnerable Monteiro's Storm Petrel Oceanodroma monteiroi (click here).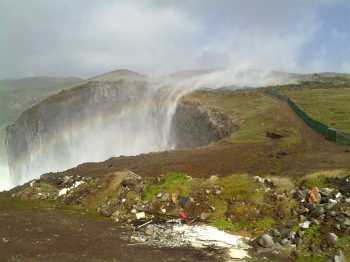 The Corvo Island fence
Photograph by Steffan Oppel
To read about the design of predator-proof fences visit the following web sites:
http://www.pestprooffences.co.nz/
To read more about fenced sanctuaries in New Zealand click here.
With thanks to Lyndon Perriman, Matt Rayner and Lindsay Young for information. Details of more existing or proposed predator-proof fences designed to protect procellariiform seabirds will be welcomed.
Selected references:
Burns, B., Innes, J. & Day, T. 2012. The use and potential of pest-proof fencing for ecosystem restoration and fauna conservation in New Zealand. In: Somers, M,J., Hayward, M.W. (Eds). Fencing for Conservation: Restriction of Evolutionary Potential or a Riposte to Threatening Processes? New York: Springer. pp. 65-90.
Clapperton, B.K. & Day, T.D. 2001. Cost-effectiveness of exclusion fencing for stoat and other pest control compared with conventional control. DOC Science Internal Series 14. 19 pp.
Innes, J., Lee, W.G., Burns, B., Campbell-Hunt, C., Watts, C., Phipps, H. & Stephens, T. 2012. Role of predator-proof fences in restoring New Zealand's biodiversity: a response to Scofield et al. 2011. New Zealand Journal of Ecology 36: 232-238.
Miskelly, C.M., Taylor, G.A., Gummer, H. & Williams, R. 2009. Translocations of eight species of burrow-nesting seabirds (genera Pterodroma, Pelecanoides, Pachyptila and Puffinus: Family Procellariidae). Biological Conservation 142: 1965-1980.
Pyle, R.L & Pyle, P. 2009. The Birds of the Hawaiian Islands: Occurrence, History, Distribution, and Status. Honolulu: B.P. Bishop Museum. Version 1 (31 December 2009).
Scofield, R.P., Cullen, R. & Wang, M. 2011. Are predator-proof fences the answer to New Zealand's terrestrial faunal biodiversity crisis? New Zealand Journal of Ecology 35: 312–317.
Spencer, A. 2010. Sooty shearwater at Stony Bay – why build a predator fence? In:Bowie, M., Barker, R. & Troup, C. (Compilers) 2010. Proceedings of the Banks Peninsula Biodiversity Workshop. Lincoln University Wildlife Management Report No. 30. pp. 11-12.
Young, L.C., VanderWerf, E.A., Mitchell, C., Yuen, E., Miller, C.J., Smith, D.G. & Swenson, C. 2012. The Use of Predator Proof Fencing as a Management Tool in the Hawaiian Islands: a Case Study of Ka`ena Point Natural Area Reserve. Technical Report No. 180. Honolulu: The Hawai`i-Pacific Islands Cooperative Ecosystem Studies Unit & Pacific Cooperative Studies Unit, University of Hawai`i. 82 pp.
John Cooper, ACAP Information Officer, 21 April 2013