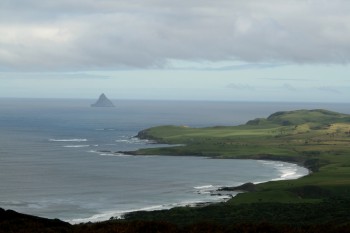 Photograph by Peter Langlands
The Pyramid is the southernmost islet of the Chatham Islands, located about 800 km to the east of New Zealand's South Island. The island is privately owned but uninhabited. It forms part of an Important Bird Area. Access is challenging as well as getting around on its steep slopes, which limit research opportunities.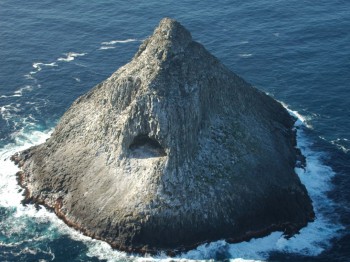 Photograph by Paul Scofield
Despite its rugged character and confined space with only 1.7 ha rising about 174 m above sea level The Pyramid is home to a variety of seabirds as well to New Zealand Fur Seals Arctocephalus forsteri. However, the island is clearly ruled by the ACAP-listed and Vulnerable Chatham Albatrosses Thalassarche eremita who have chosen the rock stack as their single breeding site worldwide.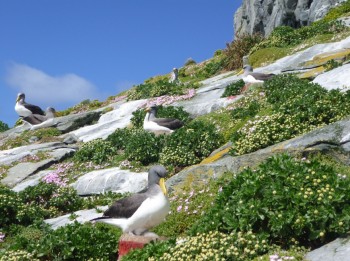 About 4500 pairs of Chatham Albatrosses breed annually on the Pyramid on rock ledges nestled within Button Daisies Leptinella featherstonii and New Zealand Ice Plants Disphyma australe, raising their chicks between November and April.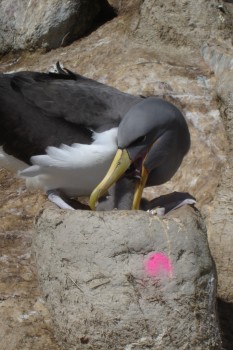 Young chicks are fed by the parent straight after return from a foraging trip. Once on their own chicks can become a meal for the resident pair of Subantarctic or Brown Skuas Stercorarius [antarctica] lonnbergi.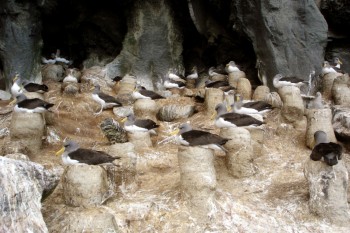 Although most nests are exposed to wind and rain and require reasonable amounts of maintenance to stay in place, some Chatham Albatrosses breed within 'the cave', where nests have grown into tall pedestals over the years and the guano-covered floor allows burrowing by Fulmar Prions Pachyptila crassirostris.
Photographs by Lorna Deppe unless otherwise stated
Tracking studies have been carried out during recent years using GPS and geolocators to improve knowledge of the annual at-sea distribution and behaviour of the species.
Click here to access the ACAP Species Assessment for the Chatham Albatross.
Selected References:
Department of Conservation 2001. Recovery plan for albatrosses in the Chatham Islands. Chatham Island mollymawk, Northern royal albatross, Pacific mollymawk. 2001-2011. Threatened Species Recovery Plan No. 42. 24 pp.
Deppe, L. 2012. Spatial and Temporal Patterns of at-sea Distribution and Habitat Use of New Zealand Albatrosses. PhD thesis, University of Canterbury, Christchurch, New Zealand. 140 pp.
Fraser, M.J., Palmer, D., Deppe, L., Scofield, P. & Robertson, C.J.R. 2009. Population Dynamics of the Chatham Mollymawk at The Pyramid, 20 November to 14 December 2009. Wellington: Ministry of Fisheries. 6 pp.
Robertson, C., Bell, D. & Scofield, P. 2003. Population assessment of the Chatham mollymawk at The Pyramid, December 2001. DOC Science Internal Series No. 91. 17 pp.
Taylor, G.A. 2000. Action plan for seabird conservation in New Zealand. Part A, Threatened seabirds. Threatened Species Occasional Publication No. 16. 234 pp.
Tennyson, A.J.D., Mayhill, R.C. & Clark, G.S. 1993. A visit to The Pyramid and the Murumurus, Chatham Islands. Tane 34: 171-179.
Lorna Deppe, School of Biological Sciences, University of Canterbury, Christchurch, New Zealand, 11 March 2013