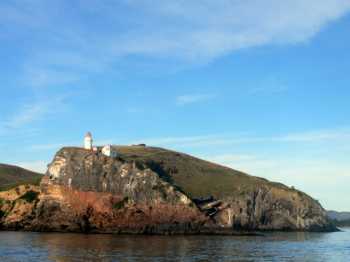 Taiaroa Head (originally known as Pukekura) situated on the tip of the Otago Peninsula near the city of Dunedin on New Zealand's South Island is home to a small colony of Northern Royal Albatrosses Diomedea sanfordi. It is the only mainland breeding site for any albatross species in the Southern Hemisphere. It consists of a 5.3-ha nature reserve managed by the New Zealand Department of Conservation supported by the Royal Albatross Centre which is owned and operated by the Otago Peninsula Trust. It is one of the very few places in the World where breeding albatrosses may be viewed by the public without joining a dedicated expedition or tour.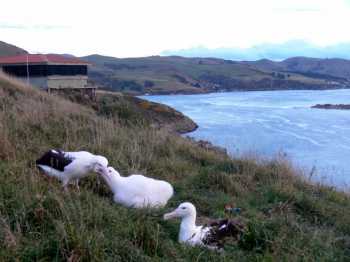 The headland supports a unique mixture of ecological, cultural, historic, landscape, tourism and commercial values. The albatross colony is open for public viewing from the Richdale Albatross Observatory (seen here) through its one-way glass. About 40 000 visitors each year contribute to raising public awareness for this Endangered seabird.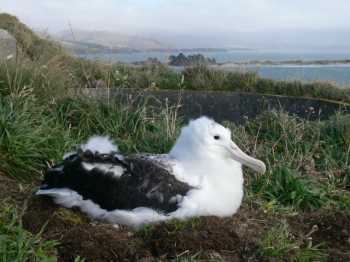 Once the site of the Pukekura pa (a Maori fortified village), the headland was extensively fortified in the late 1800s following a potential threat from Russia. During the First and Second World Wars it acted as an important defence base. Behind the albatross chick above are the remains of one of the six gun batteries that date from the late 1800s.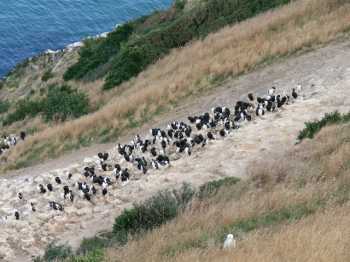 Since Taiaroa Head became a nature reserve it has provided a breeding sanctuary for many wildlife species including Sooty Shearwaters Puffinus griseus, Little Blue Penguins Eudyptula minor, Spotted Phalacrocorax (Stictocarbo) punctatus (shown above) and Stewart Island P. (Leucocarbo) chalconotus Cormorants, Red-billed Gulls Larus (Chroicocephalus) novaehollandiae scopulinus and New Zealand Fur Seals Arctocephalus forsteri.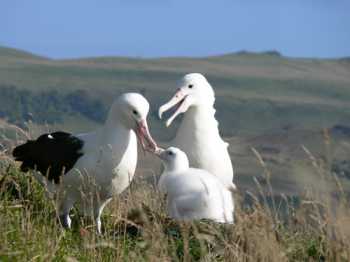 Photographs by Junichi Sugishita
The first albatross chick successfully fledged in 1938 as a result of the pioneering protective efforts of Lance Richdale (click here for a review of his biography). Since 1945 a variety of protective measures has been undertaken to increase the productivity at the colony, including trapping introduced predators such as Stoats Mustela erminea. In recent years about 30-35 pairs have attempted to breed annually, with 36 pairs laying eggs this austral summer (click here).
Selected References:
Leach, H.M. & Hamel, G.E. 1978. The place of Taiaroa Head and other classic Maori sites in the prehistory of East Otago. Journal of the Royal Society of New Zealand 8: 239-251.
Peat, N. 2011. Seabird Genius. The Story of L.E. Richdale, the Royal Albatross, and the Yellow-eyed Penguin. Dunedin: Otago University Press. 288 pp.
Richdale, L.E. 1938. A Royal Albatross nesting on the Otago Peninsula, New Zealand. Emu 38: 467-488.
Robertson, C.J.R. 2001. Effects of intervention on the Royal Albatross population at Taiaroa Head, Otago, 1937 -2001. DOC Science Internal Series 23. Wellington: Department of Conservation. 13 pp.
The Korako Karetai Trust, Te Rūnanga o Ōtākou, Department of Conservation & the Dunedin City Council 2011. Draft Pukekura Reserves Management Plan 2011. 45 pp.
Junichi Sugishita, Department of Zoology, University of Otago, Dunedin, 2 March 2013