The Solander Islands are an isolated outpost off south-western New Zealand, located 38 km south of the Fiordland coast of South Island and 60 km west north-west of Stewart Island. Named by Captain James Cook after botanist Daniel Solander, they are the eroded remnants of a Pleistocene adakite volcano, culminating at 340 m (100-ha Big Solander/Hautere) and 180 m (8-ha Little Solander two kilometres to the west). Their climate is best described as wild temperate, with a mean annual temperature of around 11°C, rainfall around 1500 mm a year, with frequent westerly storms and heavy swells.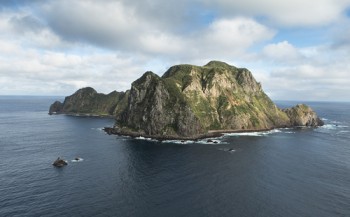 Big Solander/Hautere approached from the north-east. From left to right South-East Peninsula, North-East Headland (foreground) and North-West Headland
Photograph by Michael Hall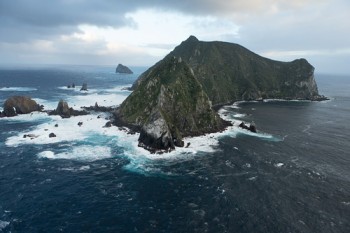 The Solander Islands viewed from the south-east
From left to right: stacks off South-West Bay, Little Solander (far background), South-East Peninsula (foreground) and North-East Headland
Photograph by Michael Hall
Both islands are surrounded by cliffs or steep slopes covered by blanket peat, grasslands of Poa foliosa, P. astonii and Anisotome lyallii, or "muttonbird scrub" of Veronica (Hebe) elliptica (near the shoreline), Brachyglottis rotundifolia and B. stewartiae. Low Olearia lyallii forest with a lush groundcover of ferns and the megaherb Stilbocarpa lyallii is confined to the small summit plateau of Big Solander/Hautere.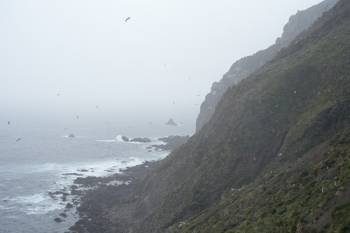 The north coast of Big Solander/Hautere viewed from North-West Headland
Buller's Albatross nests are scattered throughout the tussock-covered slopes, scrub margins and along cliff ledges
The islands were visited by Maori and, from 1803 onwards, by sealing gangs, with more recent open sealing seasons up to 1946. A gang of sealers was marooned there for four and half years in the early 1800s.
Included within the Fiordland National Park (which itself falls within the Te Wāhipounamu - South West New Zealand World Heritage Area) in 1959, and gazetted as a special protected area in 1973, the Solanders are administered by the New Zealand Department of Conservation. Entry is by permit only, with strict quarantine measures required for the infrequent visiting parties. There are no huts on the islands, and access is mostly by helicopter. The Solander Islands have been identified as an Important Bird Area (IBA) by BirdLife International.
The group is one of the strongholds of the New Zealand Fur Seal Arctocephalus forsteri and Fiordland Crested Penguin Eudyptes pachyrhynchus, with a further nine seabird species breeding on the islands. There are no introduced mammals, but Weka Gallirallus australis thought introduced to Big Solander/Hautere take a heavy toll on small procellariiforms, as evidenced by remains of Broad-billed Prions Pachyptila vittata and Common Diving Petrels Pelecanoides urinatrix in their territories. Wekas also occasionally take eggs and small chicks of Buller's Albatrosses Thalassarche bulleri.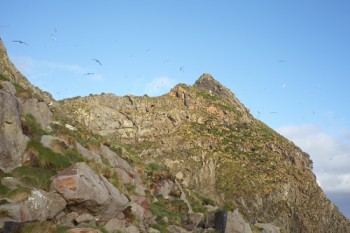 Non-breeding Buller's Albatrosses in wheeling flight over a study colony on the North-West Headland
Buller's Albatross chick and non-breeders (mostly immature) in Poa foliosa grassland and salt-burned Veronica elliptica scrub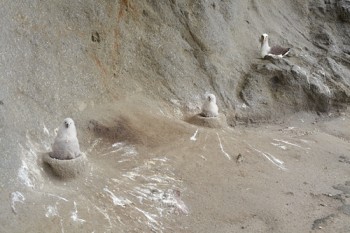 Prime breeding estate under a dry rock overhang
Buller's Albatross is the only ACAP-listed species that breeds on the Solander Islands. The islands are one of two breeding sites of the Southern Buller's Albatross T. b. bulleri, the other one being The Snares Island group 164 km to the south. No significant genetic differences have been detected between the two populations. An aerial and ground census in February-March 2002 indicated a population of 4912 breeding pairs (4579 on Big Solander/ Hautere, 333 on Little Solander), up from 4147 pairs in 1996. An earlier census of chicks on Little Solander suggests that the population has been increasing there since at least 1985.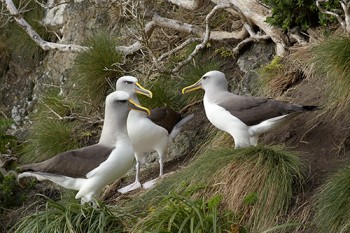 A gam of non-breeding Buller's Albatrosses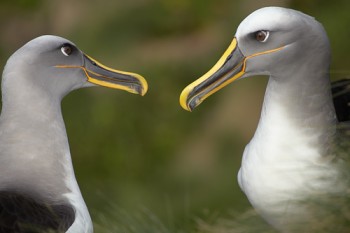 A pair of non-breeders in "gawky look" posture while croaking and nodding in duet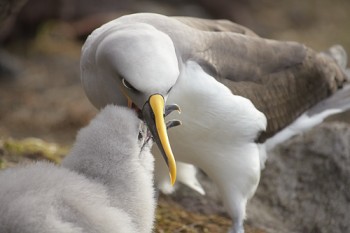 A Buller's Albatross feeds its c. two-month-old chick in mid-May
All photographs by Jean-Claude Stahl unless stated
Buller's Albatrosses breed in loose groups or colonies among tussock-covered slopes and cliff ledges of both islands. They also nest under scrub provided there is a nearby open landing and take-off site. The greatest concentrations of nests are located on the north-west to south-west coasts of Big Solander/Hautere (North-West Headland, West Bay and South-West Bay). Breeding adults return in late December and January and depart at chick fledging in September.
Click here for an account of a recent expedition to the Solanders.
Selected references:
Cooper, W.J.; Miskelly, C.M.; Morrison, K. & Peacock, R.J. 1986. Birds of the Solander Islands. Notornis 33: 77-89.
Francis, R.I.C.C. & Sagar, P.M. 2012. Modelling the effect of fishing on southern Buller's albatross using a 60-year dataset. New Zealand Journal of Zoology 39: 3-17.
James, G.D & Stahl, J.-C. 2000. Diet of southern Buller's albatross (Diomedea bulleri bulleri) and the importance of fishery discards during chick-rearing. New Zealand Journal of Marine and Freshwater Research 34: 435-454.
Sagar, P.M. 2013. Buller's Mollymawk. In: Miskelly, C.M. (Ed.) New Zealand Birds Online.
Sagar, P.M. & Stahl, J.-C. 2005. Increases in the numbers of breeding pairs in two populations of Buller's Albatross (Thalassarche bulleri bulleri). Emu 105: 49-55.
Stahl, J.-C. & Sagar, P. 2000. Foraging strategies and migration of southern Buller's albatrosses Diomedea b. bulleri breeding on the Solander Is, New Zealand. Journal of the Royal Society of New Zealand 30: 319-334.
Stahl, J.-C., Bartle, J.A., Cheshire, N.G., Petyt, C. & Sagar, P.M. 1998. Distribution and movements of Buller's albatross (Diomedea bulleri) in Australasian seas. New Zealand Journal of Zoology 24: 109-137.
Van Bekkum, M., Sagar, P.M.; Stahl, J.-C. & Chambers, G.K. 2006. Natal philopatry does not lead to population genetic differentiation in Buller's albatross (Thalassarche bulleri bulleri). Molecular Ecology 15: 73-79.
Jean-Claude Stahl, Museum of New Zealand Te Papa Tongarewa, Wellington, 13 August 2013