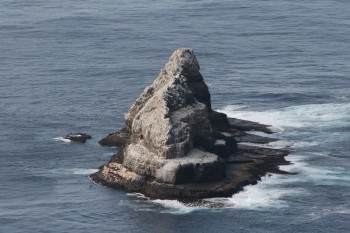 Pedra Branca (shown above on a calm day) is one of only three breeding sites of the ACAP-listed and Vulnerable Shy Albatross Thalassarche cauta, a species endemic to Australia. The other two sites are Albatross Island and Mewstone. Aptly-named Pedra Branca ("white rock") was named by Abel Tasman, after whom Tasmania is named.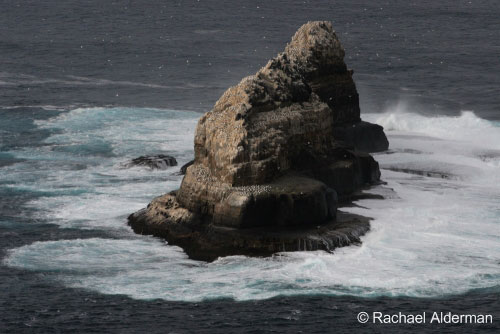 Pedra Branca (seen above on a less than calm day) lies off the south-eastern coast of Tasmania and, as does Mewstone, falls within the Southwest National Park and the Tasmanian Wilderness World Heritage Area. Pedra Branca is occasionally exposed to extreme wave action which is known to affect the breeding Australasian Gannets on the island and may also impact its albatross population.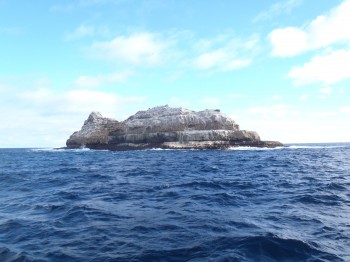 Pedra from the sea – you can just see the police vessel taking a party to the island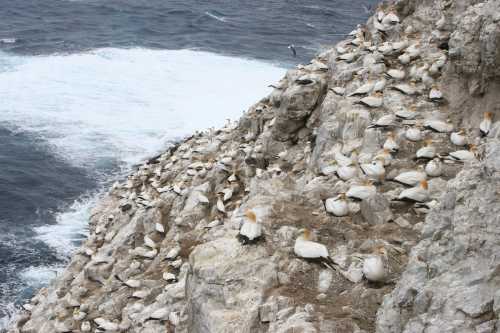 The few Shy Albatrosses (268 breeding pairs in 1996, with a downwards trend - chick production dropped from over 100 to 31 between 1993 and 2007) on the island share the limited breeding space with a growing colony (4% a year since 1985) of Australasian Gannets Morus serrator.
Read more in the ACAP Species Assessment for the Shy Albatross.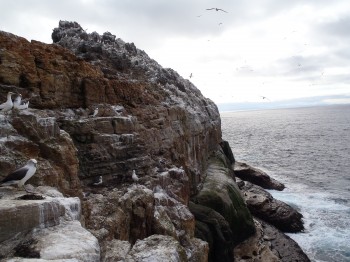 Even in the middle of winter, many gannets and albatross remain on the island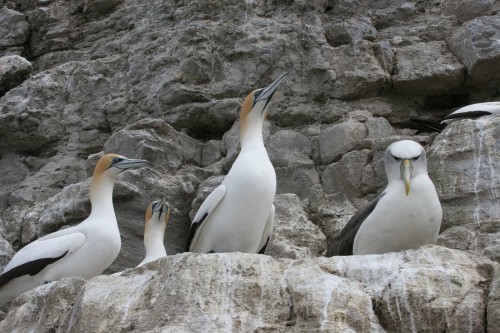 Not too happy with its noisy neighbours?
All photographs by Rachael Alderman
Selected References:
Alderman, R.L. 2012. The Shy Albatross (Thalassarche cauta): Population Trends, Environmental and Anthropogenic Drivers, and the Future for Management and Conservation. PhD thesis, University of Tasmania. 180 pp.
Alderman, R., Gales, R., Hobday, A.J. & Candy, S. 2010. Post-fledging survival and dispersal of shy albatrosses from three breeding colonies in Tasmania. Marine Ecology Progress Series 405: 271-285.
Alderman, R., Gales, R., Tuck, G.N. & Lebreton, J.D. 2011. Global population status of shy albatross and an assessment of colony-specific trends and drivers. Wildlife Research 38: 672-686.
Baker, G.B., Double, M.C., Gales, R., Tuck, G.N., Abbott, C.L., Ryan, P.G., Petersen, S.L., Robertson C.R. & Alderman, R. 2007. A global assessment of the impact of fisheries-related mortality on shy and white-capped albatrosses: conservation implications. Biological Conservation 137: 319-333.
Brothers, N., Pemberton, D., Pryor, H. & Halley V. 2001. Tasmania's Offshore Islands: Seabirds and other Natural Features. Hobart: Tasmanian Museum and Art Gallery. 641 pp.
Rachael Alderman, Marine Conservation Program, Biodiversity Conservation Branch, Department of Primary Industries, Parks, Water & Environment & John Cooper, ACAP Information Officer, 16 May 2013