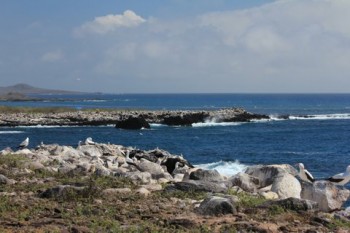 Isla Española is the south-easternmost island of the Galápagos Archipelago, Ecuador. The island is home to nearly the entire World's population of the ACAP-listed and Critically Endangered Waved Albatross Phoebastria irrorata with birds breeding at several localities on the island. The Galápagos Islands straddle the equator about 1000 km west of the South American Continent, making this species the only tropically-breeding albatross in the World.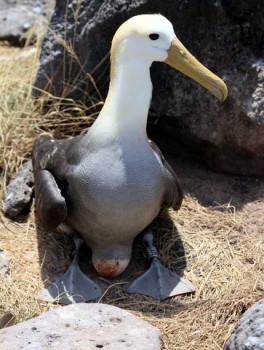 About 4300 Waved Albatross pairs breed annually at the Punta Cevallos colony (see top photo) at the island's easternmost point amongst the rocks and Nazca Booby Sula granti nests. The Punta Cevallos colony is not open to tourism, but guided tourist groups can view breeding albatrosses close up at Punta Suárez at the western end of Española - where approximately 1500 pairs breed. The total island population was given as 9600 pairs in 2001, although the number of birds breeding in inland colonies and along inaccessible sea cliffs is poorly known. Eggs are laid on the ground and the nest is, at best, a loose collection of grass, pebbles, feathers, and the occasional bone. This loose nest structure facilitates "mobile incubation" wherein adults shuffle through the colony with the egg in tow - which can lead to egg loss when the egg is broken or gets stuck next to a rock.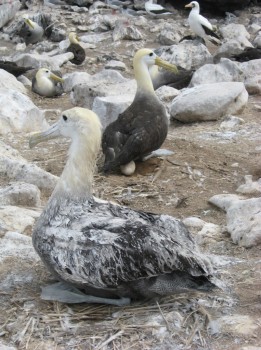 Incubation stints lasting more than two weeks take a toll on the species plumage as Nazca Boobies prove not to be the tidiest of neighbours. The fine striations – or waves - on the feathers of the breast and belly give the species its common name but it is also sometimes called the Galápagos Albatross (Albatros de las Galápagos in Spanish).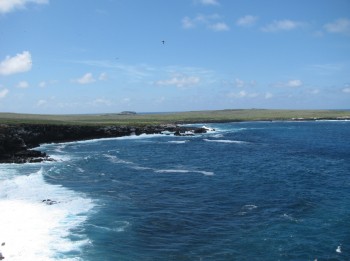 Other threats to the species at the breeding colonies on Española include declines in suitable nesting habitat. Introduced feral goats Capra aegagrus hircus were eradicated from the island in 1978, leading to dramatic increases in thick, woody vegetation and the apparent loss of some inland colonies of the Waved Albatross.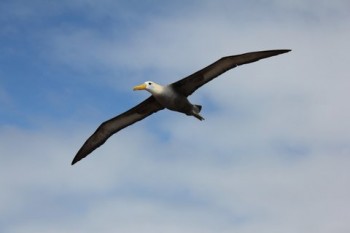 At-sea, bycatch mortality in artisanal fishing operations in the Waved Albatross's principal foraging areas in the Peruvian Upwelling System is thought to be contributing to declines in abundance.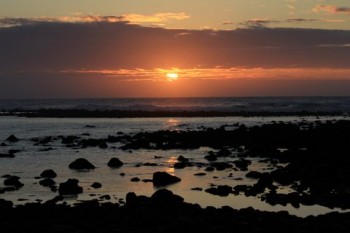 Photographs by Kate Huyvaert & Paul F. Doherty, Jr.
Isla Española falls within the Galápagos National Park which is situated within the Galápagos Marine Reserve. The Galápagos Islands, including Española, have been a World Heritage Site since 1978. Since 2001 the marine reserve has also fallen within the World Heritage Site. This protected status, ongoing population monitoring, and continued research on threats to the species, both on land and at sea, offer hope that the sun will continue to rise on the Waved Albatross.
Click here to access the ACAP Species Assessment for the Waved Albatross.
Selected References:
ACAP 2008. Plan of Action for the Waved Albatross (Phoebastria irrorata). AC4 Doc 50 rev.4. 30 pp.
Anderson, D.J., Huyvaert, K.P., Awkerman, J.A., Proaño, C., Milstead, W.B., Jimenez Uzcategui, G. Cruz, S. & Grace, J.K. 2008. Population status of the Critically Endangered waved albatross (Phoebastria irrorata), 1999‐2007. Endangered Species Research 5: 185-192.
Anderson, D.J., Huyvaert, K.P., Apanius, V., Townsend, H., Gillikin C.L., Hill, L.D., Juola, F., Porter, E.T., Wood, D.R., Lougheed, C. & Vargas, H. 2002. Population size and trends of the Waved Albatross Phoebastria irrorata. Marine Ornithology 30: 63-69.
Awkerman, J.A., Huyvaert, K.P., Mangel, J., Alfaro Shigueto, J. & Anderson, D.J. 2006. Incidental and intentional catch threatens waved albatross population. Biological Conservation 133: 483-489.
Awkerman, J.A., Huyvaert, K.P. & Anderson, D.J. 2005. Mobile incubation in waved albatrosses (Phoebastria irrorata): associated hatching failure and artificial mitigation. Avian Conservation and EcologyÉcologie et Conservation des Oiseaux 1(1): 2. 16 pp.
Douglas, H.D. 1998. Changes in the distribution and abundance of waved albatrosses at Isla Espanola, Galapagos Islands, Ecuador. Condor 100: 737-740.
Fitter, J., Fitter, D. & Hosking, D. 2000. Safari Guides. Wildlife of the Galápagos. London: Collins. 254 pp.
Gibbs, J.P. & Woltz, H.W. 2010. A pilot survey of the central colony of the waved albatross Phoebastria irrorata on Espanola Island. Galapagos Research 67: 18-21.
Harris, M.P. 1973. Biology of Waved Albatross Diomedea irrorata of Hood Island, Galapagos. Ibis 115: 484-510.
Huyvaert, K.P. & Parker, P.G. 2010. Extra‐pair parentage in waved albatrosses: genetic relationships among females, social mates, and genetic sires. Behaviour 147: 1591-1613.
Kate Huyvaert, Department of Fish, Wildlife, and Conservation Biology, Colorado State University, Fort Collins, USA & John Cooper, ACAP Information Officer, 09 April 2013