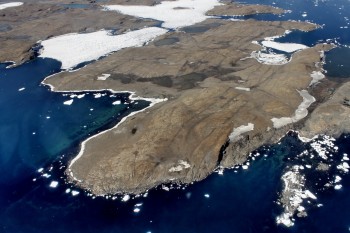 Hawker Island lies some 7 km south-west of Australia's Davis Station and some 300 m offshore from the Vestfold Hills, in the eastern part of Prydz Bay, East Antarctica. Hawker Island is one of only four known breeding localities (and the southernmost) for Southern Giant Petrels Macronectes giganteus on the coast of continental Antarctica. Southern Giant Petrels on the Antarctic Continent (i.e. away from the Antarctic Peninsula) comprise less than 1% of the global breeding population. The total population of continental Antarctica is about 290 pairs. The number of occupied nests on Hawker Island varies from year to year but is usually around 35 to 40. A maximum of 90 nests with eggs was recorded in 1970/71. The colony was discovered in December 1963.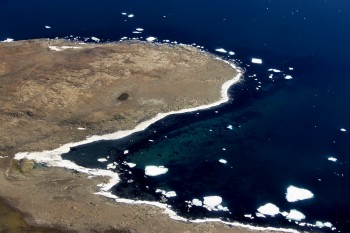 There are several fresh water lakes on the rocky island. The Southern Giant Petrel colony is situated between a small lake and the coast on the northern peninsula, visible here with nearby pale guano staining showing the colony locality. Adélie Penguins Pygoscelis adeliae (estimated at 2500 to 7500 pairs) and a few Pintado or Cape Petrels Daption capense also breed on Hawker Island.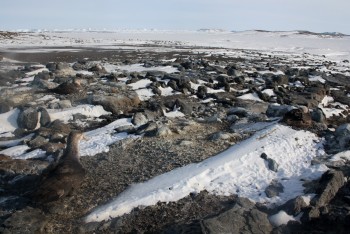 By November, the breeders have commenced incubation. The snow is receding but the sea ice is still firm.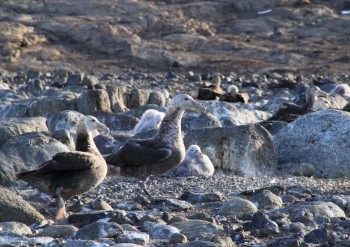 In February, the chicks are quite large and will soon start to fledge. The juvenile plumage of the closest chick has started to grow; the brown colour of the feathers of fledglings is just becoming visible underneath the down.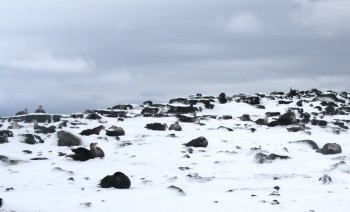 In March, snow storms occur again quite regularly covering the birds sitting on their nests. A few fledglings are still around.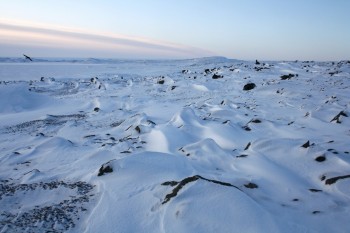 Photographs by Barbara Wienecke and the Australian Antarctic Division
In late winter the island is often covered by snow. Largely deserted during the height of winter, in August a few giant petrels are usually seen on the island as recorded here by an automatic camera. Most of those are young birds but older birds occasionally return as well.
The entire island (1.9 km²) is an Antarctic Specially Protected Area (ASPA No. 167) as proclaimed by the Antarctic Treaty System. Access is by permit only to minimise human disturbance. In terms of the ASPA's 2011 management plan only one research visit should be conducted to conduct a census of the Southern Giant Petrels and other seabird populations in each five-year period. Censuses should be conducted from vantage points outside the Southern Giant Petrel colonies.
Selected references:
Patterson, D.L., Woehler, E.J., Croxall, J.P., Cooper, J., Poncet, S. & Fraser, W.R. 2008. Breeding distribution and population status of the Northern Giant Petrel Macronectes halli and the Southern Giant Petrel M. giganteus. Marine Ornithology 36: 115-124.
Wienecke, B., Leaper, R., Hay, I. & van den Hoff, J. 2009. Retrofitting historical data in population studies: southern giant petrels in the Australian Antarctic Territory. Endangered Species Research 8: 157-164.
Woehler, E.J. & Johnstone, G.W. 1991. Status and conservation of seabirds of the Australian Antarctic Territory. In: Croxall, J.P. (Ed.). Seabird Status and Conservation: a Supplement. International Council for Bird Preservation Technical Publication No. 11. pp. 279-308.
Woehler, E.J., Riddle, M.J. & Ribic, C.A. 2003. Long-term population trends in southern giant petrels in East Antarctica. In: Huiskes, A.H.L., Gieskes, W.W.C., Rozema, J., Schorno, R.M.L., van der Vies, S.M. & Wolff, W.J. (Eds). Antarctic Biology in a Global Context. Leiden: Backhuys Publishers. pp. 290-295.
Barbara Wienecke, Australian Antarctic Division, Kingston, Tasmania & John Cooper, ACAP Information Officer 27 March 2013