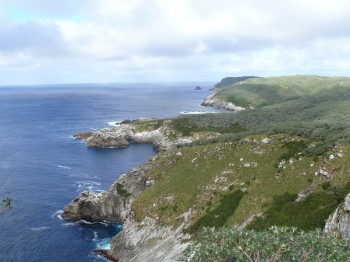 The Snares Islands (Tini Heke) are the northernmost of New Zealand's sub-Antarctic islands, lying about 200 km south-west of the mainland. Along with the other sub-Antarctic island groups under New Zealand jurisdiction, the Snares Islands form part of a World Heritage Site and are a National Nature Reserve. The group comprises North East Island (280 ha) and Broughton Island (48 ha), both of which have forested interiors, and many offshore rock stacks. The vegetation in the interior of the main islands is dominated by the Subantarctic Tree Daisy Olearia lyallii, whilst around the perimeter there is a fringe of the evergreen bushy shrub Hebe elliptica and the tussock grasses Poa astonii and P. tennantiana.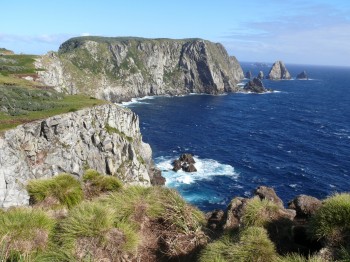 Most of the islands are bounded by steep granite cliffs and there is no large, natural harbour that provides shelter in all weathers, and so apart from sealers during the early 1800s there has been no long-term occupation of the islands by humans. No introduced mammals have ever become established and only two introduced plant species have become established.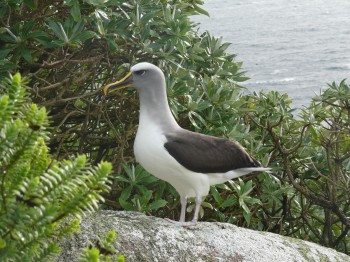 Although renowned for abundant populations of burrowing seabirds, including the Sooty Shearwater Puffinus griseus, the Snares Islands support colonies of just two breeding ACAP-listed species, the Near Threatened Buller's Albatross Thalassarche bulleri (of the nominate southern subspecies) and the Vulnerable Salvin's Albatross T. salvini. The Snares are the main breeding site of the Southern Buller's Albatross, with some 8700 breeding pairs estimated there in 2002.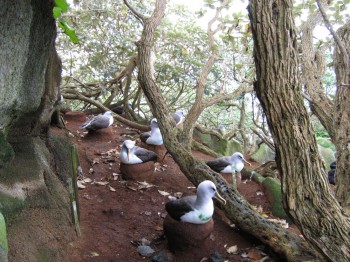 Southern Buller's Albatrosses breed in colonies around the main islands, most nesting under the forest canopy; breeding extends from December to September, with chicks being reared throughout the austral winter. This species has been the subject of a succession of researchers, beginning with Lance Richdale in February 1948 (click here).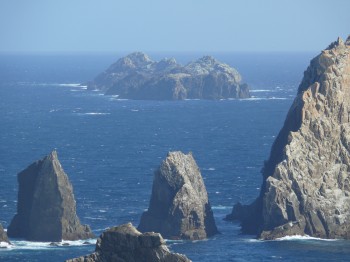 Salvin's Albatrosses breed on the Snares Western Chain, a group of five rocky islets lying about 5 km south-west of the main Snares group. The Snares Western Chain is largely devoid of vegetation and soil, and so supports a markedly different avifauna to that which occurs on the main islands.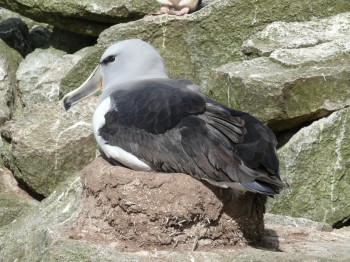 Photographs by Paul Sagar
Salvin's Albatrosses breed on Toru and Rima Islets of the Western Chain, with some 1100 pairs counted annually over 2008 to 2010. In addition, one to two pairs of the ACAP-listed Chatham T. eremita and Black-browed T. melanophris Albatrosses breed among the Salvin's Albatrosses.
Selected References:
Department of Conservation 1998. Conservation Management Strategy Subantarctic Islands 1998-2008. Southland Conservancy Conservation Management Planning Series No. 10. Wellington: Department of Conservation. 113 pp.
Francis, R.I.C.C. & Sagar, P.M. 2012. Modelling the effect of fishing on southern Buller's albatross using a 60-year dataset. New Zealand Journal of Zoology 39: 3-17.
Miskelly, C.M. 1984. Birds of the Western Chain, Snares Islands 1983-84. Notornis 31: 209-223.
Miskelly, C.M., Sagar, P.M., Tennyson, A.J.D. & Scofield, R.P. 2001. Birds of the Snares Islands. Notornis 48: 1-40.
Richdale, L.E. 1949. The pre-egg stage in Buller's Mollymawk. Biological Monographs No. 2. 50 pp.
Sagar, P.M., Charteris, M.R., Carroll, J.W.A. & Scofield, R.P. 2011. Population size, breeding frequency and survival of Salvin's Albatrosses (Thalassarche salvini) at the Western Chain, The Snares, New Zealand. Notornis 58: 57-63.
Sagar, P.M. & Stahl, J.-C. 2005. Increases in the numbers of breeding pairs in two populations of Buller's Albatross (Thalassarche bulleri bulleri). Emu 105: 49-55.
Warham, J., Wilson, G.J. & Keeley, B.R. 1982. The annual cycle of the Sooty Shearwater Puffinus griseus at the Snares Islands. Notornis 29: 269-292.
West, C.J. 2003. New Zealand Subantarctic Islands Research Strategy. Invercargill: Department of Conservation. 38 pp.
Paul Sagar, National Institute of Water and Atmospheric Research, Christchurch, New Zealand, 23 March 2013