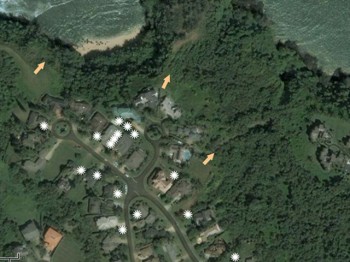 A small colony of Laysan Albatrosses Phoebastria immutabilis has adopted residential and golf course areas for their nesting sites on the island of Kauai in the Hawaiian Islands. Located in the Princeville community on the north shore, approximately 40 nesting pairs return each year to breed. The aerial photo shows a cluster of 16 nests with eggs in one neighbourhood. The three arrows show the traditional fledging bluffs 170 feet [50 m] above sea level.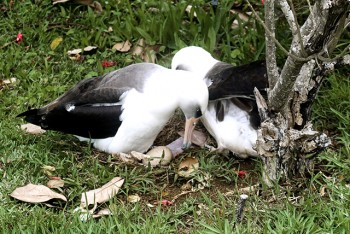 This Princeville pair is changing over on their egg.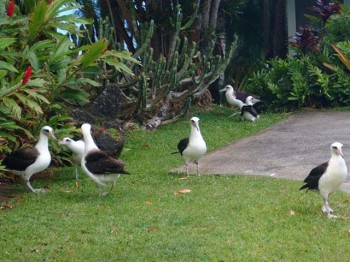 The Laysan Albatrosses appear comfortable nesting in a populated area. Several pairs have returned to the same private gardens or yards for 9-10 years in a row. Chicks which fledged from this area years before have returned, some actually raising chicks in the same yards where they themselves were raised.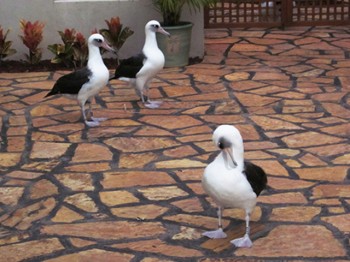 In addition to the nesting pairs throughout the north shore, young adults gather in yards and golf course areas. By recording and tracking their colour bands, volunteers know the age and origin of many of the returning birds. This group ranged in age from five to eight years.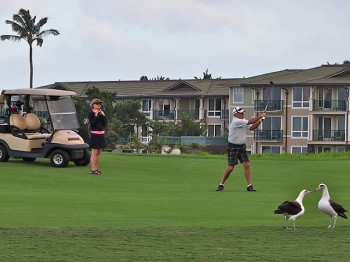 These two displaying albatrosses are oblivious to the golfers who are sharing Tee 15 with them. The part of the golf course that is located along ocean bluffs is an important breeding site, with nest sites chosen in the long grass on the sides of the fairways and in the middle of the course. Ground keepers stop mowing areas with nests; management is very supportive of the albatross presence. The golf course is also the albatross equivalent of a singles' bar, with pre-breeders calling to birds flying along the cliffs, encouraging them to land. Very often albatrosses returning to Princeville for the first time since fledging will choose to make their first ungainly landings on a fairway, which offers a large, spongy target for birds which have not touched ground since leaving Princeville three or more years previously.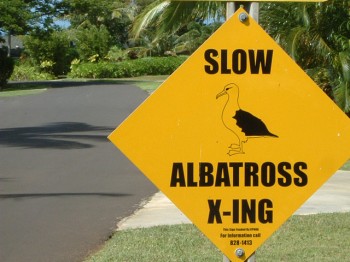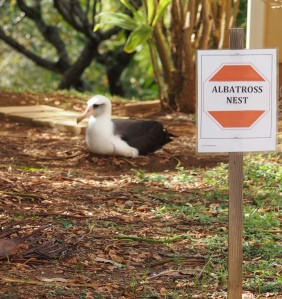 Informational signs are placed along the roads to alert residents and visitors of the presence of the albatrosses. Closer to the nests, other signs provide information about the "Moli" (Hawaiian name for the Laysan), including a warning to not get too close to the birds. As needed, volunteers place traffic cones and/or additional warning signs, especially when the chicks are more active prior to fledging. However, domestic dogs running astray have sometimes killed birds (click here) although most dogs are thankfully kept on leashes by local ordinance.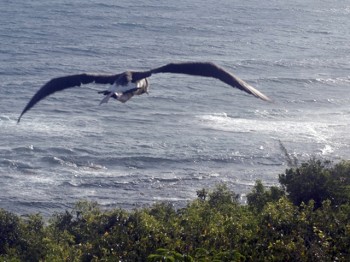 Photographs by Bob Waid and Cathy Granholm
Most fledging flights in this area are made from one of the three bluffs overlooking the ocean. Due to the rough terrain below the bluffs, volunteers have made several rescues over the years to extract birds which had failed to gain sufficient lift to clear the trees. All rescue attempts have gone well, bringing the young birds back to the cliff top for a later successful fledging attempt.
Click here for more news on Princeville's albatrosses and visit Princeville Laysan Albatross websites by Bob Waid and Cathy Granholm.
Selected references:
VanderWerf, E.A. & Young, L.C. 2011. Estimating survival and life stage transitions in the Laysan Albatross using multi-state mark-recapture models. Auk 128: 726-736.
Waid, R. 2005. The Majestic Albatross. Images of Kauai's Beloved Seabirds. Honolulu: Mutual Publishing. 51 pp.
Waid, R. & Waid, J. 2010. Baby Winston. 55 pp. [e-book].
Young, L.C., VanderWerf, E.A., Smith, D.G., Polhemus, J., Swenson, N., Swenson, C., Liesemeyer, B.R., Gagne, B. & Conant, S. 2009. Demography and natural history of Laysan Albatross on Oahu, Hawaii. Wilson Journal of Ornithology 121:722-729.
Young, L.C., Zaun, B.J. & Vanderwerf, E.A. 2008. Successful same-sex pairing in Laysan albatross. Biology Letters 4: 323-325.
Bob Waid & Cathy Granholm, Princeville, Kauai & John Cooper, ACAP Information Officer, 15 March 2013