îles Kerguelen are located at 48-49°S and 68-69°E. They form part of the French Southern and Antarctic Territories (Terres Australes et Antarctiques Françaises - TAAF). The sub-Antarctic archipelago covers 700 km² and is the largest in the southern Indian Ocean. Since 2006 the site has been classified as a National Natural Reserve with both marine and terrestrial territories under specific legislation. Kerguelen has also been classified in the Ramsar Convention as part of a Wetlend of International importance and represents the biggest European site since 2008 (click here).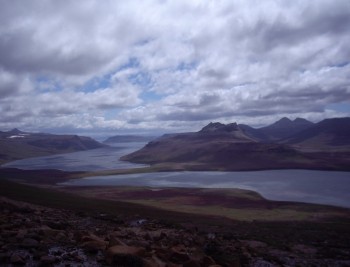 The Golfe de Morbihan viewed from the top of the Jeanne d'Arc Peninsula in the south-eastern part of the Kerguelen Archipelago
Kerguelen is composed of over 300 islands surrounding the main island, known as 'La Grande Terre'. The coastline is indented with numerous fjords and bays with a total length exceeding 5000 km (similar to that of mainland France).Kerguelen possesses an exceptional biodiversity in marine predators, vascular plants and invetrebrates, some of which are endemic to the French southern territories (Crozet, Kerguelen, Amsterdam and Saint-Paul). The archipelago is home to 36 bird species of which 10 are listed within ACAP. These include six albatross species (Wandering, Black-browed, Grey-headed, Indian Yellow-nosed, Sooty and Light-mantled Sooty) and four petrel species (Northern and Southern Giant, White-chinned and Grey).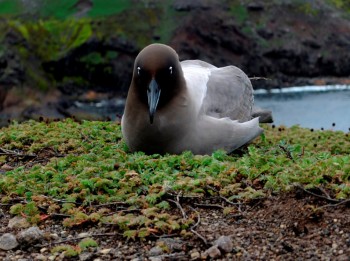 A Light-mantled Sooty Albatross in Baie Larose in the south-western part of the archipelago
Photograph by Fabrice LeBouard
Only a few pairs of Light-mantled Sooty Albatrosses Phoebetria palpebrata breed on Kerguelen, whereas Sooty Albatrosses P. fusca are more common (c. 4000 pairs). The Peninsule Courbet at the north-eastern part of Kerguelen mainland, is habitat for penguins and seals but also for Wandering Albatrosses Diomedea exulans. Annual censuses are undertaken in this area that represents 35% of the total population breeding in the archipelago (c. 1100 pairs).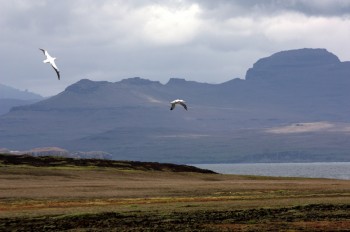 Two Wandering Albatrosses fly over the marshes of the Peminsule Courbet
Photograph by Maite Louzao
Three mollymawk species are present on the island. Fifty pairs of Indian Yellow-nosed Albatrosses Thalassarche carteri breed in the Nuageuses Islands north of the archipelago. Grey-headed Albatrosses T. chrysostoma (c. 7900 pairs) breed mainly in mixed colonies with Black-browed Albatrosses T. melanophris. The last species has been part of a long-term monitoring programme ongoing since as early as the 1960s.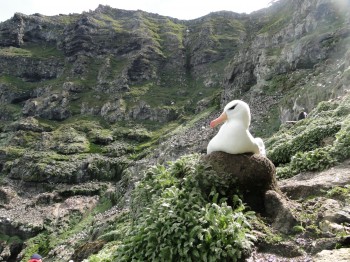 A Black-browed Albatross on its nest in The Canyon, site of long-term monitoring
Vegetation and habitats are really rich in Kerguelen, offering home to 19 species of burrowing petrels, two of which are on the ACAP list: the Grey Petrel Procellaria cinerea and the White-chinned Petrel P. aequinoctialis. A method based on burrow density and occupancy allowed estimates of their population sizes as respectively c. 3400 and c. 234 000 in 2006. However, the impact of introduced plants and and seven species of mammals on the archipelago is severe. As a result only the larger petrels remain on the mainland and the smaller species are confined to predator-free islands in the Golfe de Morbihan.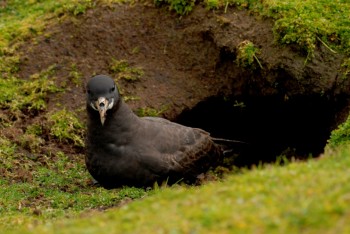 A White-chinned Petrel, one of the species most affected by fisheries bycatch but also by introduced mammals such as cats, rats, mice and rabbits
Photograph by Fabrice LeBouard
Both species of giant petrels are found breeding in Kerguelen. Northern Giant Petrels Macronectes halli are the most abundant with approximately 2000 breeding pairs. In 2009 a new breeding site of Southern Giant Petrels M. giganteus was discovered on île du Prince de Monaco, this colony with the less accessible Peninsule Rallier du Baty colonies add up to 50 breeding pairs for the archipelago.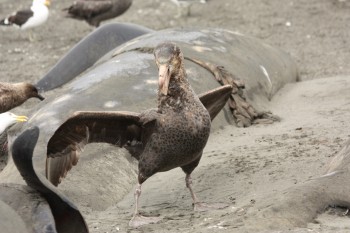 A Northern Giant Petrel displays on a pilot whale during a mass stranding in 2009
Photograph by Maite Louzao
Photographs by Deborah Pardo unless stated otherwise.
Selected References:
Duriez, O. & Delord, K. 2012. Manchots, petrels et albatross : oiseaux des Terres australes et antarctiques françaises (TAAF). Ornithos 19-3: 162-183.
Duriez, O., Jornvaal, H. & Shirihai, H. 2005. Birds and wildlife of the French sub-Antarctic islands: Crozet, Kerguelen and Amsterdam & St Paul. Dutch Birding 27: 87-115.
Barbraud, C., Delord, K., Marteau, C.& Weimerskirch. H. 2009. Estimates of population size of white-chinned petrels and grey petrel at Kerguelen Islands and sensitivity to fisheries. Animal Conservation 12: 258-265.
Ministère de l'Écologie et du Développement Durable 2008. Décret No. 2006-1211 du 3 octobre 2006 portant creation de la reserve naturelle des Terres australes françaises. Journal Officiel de la République Française. 4 octobre 2006. 4 pp.
Pardo, D., Barbraud, C., Authier, M. & Weimerskirch, H. 2013. Evidence for an age-dependent influence of environmental variations on a long-lived seabird's life-history traits. Ecology 94: 208-220.
TAAF 2006. Instructions sur la protection de l'environnement dans les Terres australes antarctiques françaises. Saint-Pierre: Terres australes et antarctiques françaises. 9 pp.
TAAF 2010. Plan de gestion 2011 - 2015 Réserve naturelle des Terres australes françaises. Saint Pierre, La Réunion: Terres australes et antarctiques françaises. 35 pp.
Weimerskirch, H., Zotier, R. & Jouventin, P. 1989. The avifauna of the Kerguelen Islands. Emu 89: 15-29.
Deborah Pardo, British Antarctic Survey & John Cooper, ACAP Information Officer, 08 July 2013