The U.S. Fish and Wildlife Service (USFWS) has this month issued a permit under the Migratory Bird Treaty Act (MBTA), authorizing a limited number of seabirds to be killed or injured by Hawaiian longline vessels fishing for swordfish.
This action is the first permit issued under the MBTA - America's foremost law protecting migratory bird species - to regulate the taking of migratory birds in the operation of an otherwise lawful commercial activity.
Until now, only regulation under the Endangered Species Act (ESA) had been used to prevent seabird deaths caused by commercial longline fishing, and then only in relation to the endangered Short-tailed Albatross Phoebastria albatrus. It is known that the Hawaiian swordfish fishery kills and injures Black-footed P. nigripes and Laysan P. immutabilis Albatrosses. However, the MBTA had not historically been applied to this fishery because the National Marine Fisheries Service (NMFS - the federal agency that oversees the U.S. fishing fleet) had previously asserted that the areas where it operates, federal waters and on the high seas, lie outside the jurisdiction of the MBTA.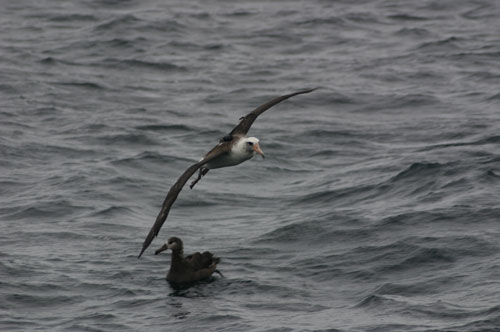 Laysan and Black-footed Albatrosses at sea
A Draft Environmental Assessment on the NMFS permit application was published by FWS in the Federal Register on 10 January 2012. FWS published its Final Environmental Assessment on 20 August 2012, concluding that the current level of take, which averages 54 Laysan and 20 Black-footed Albatrosses annually (equivalent to less than one per cent of the estimated breeding population of each species) does not pose a threat to the population or conservation status of either species. FWS therefore has decided to authorize take at this level and add in a buffer to account for anomalous events. Under the permit, NMFS will not be required to take action to reduce albatross take in the fishery. Instead, they will be required to analyse existing data and other sources of information to improve their knowledge of when and how take occurs and investigate how it might be remedied.
The Final Environmental Assessment (FEA) and Finding of No Significant Impact (FONSI) are available on the FWS Pacific Region's website (click here).
The above text has been edited from http://www.chattanoogan.com/2012/8/24/232868/Fed-Action-To-Limit-Albatross-Deaths.aspx.
For an earlier ACAP Latest News report on the action taken click here.
John Cooper, ACAP Information Officer, 26 August 2012