A number of marine ornithologists from the South American region (here including nearby islands in the South Atlantic) travelled to Wellington, New Zealand last month to attend the Fifth International Albatross and Petrel Conference.
Authors and titles of presentations from the South American region at IAPC5 are listed below.
Fernanda Colabuono, Viviane Barquete, Satie Taniguchi, Peter Ryan & Rosalinda Montone:  Carbon and nitrogen stable isotopes and persistent organic pollutants in albatrosses and petrels.  P31.
Sofía Copello, Juan Pablo Seco Pon & Marco Favero:  Defining high-risk areas in the Argentinean continental shelf: at-sea distribution of Black-browed Albatrosses and overlap with longline and trawl fleets.  P18.
Maria Dias, José Granadeiro & Paulo Catry:  Working the day or the night shift?  Geographical variability and moon effects on the daily schedules of two pelagic seabirds.  O10.
James Grecian, Richard Phillips & Robert Furness:  Using stable isotopes to assess climate-change impacts on the migration of prions.  P11.
April Hedd, Alastair Baylis, William Montevecchi & Richard Phillips:  Inter-annual consistency in wintering areas and habitat use by Black-browed Albatrosses from Steeple Jason Island, Falkland Islands.  P12.*
April Hedd, William Montevecchi, Helen Otley & Richard Phillips: Foraging areas, activity patterns and habitat associations of Sooty Shearwaters Puffinus griseus breeding in the Falkland Islands.  O17.*
Rafael Matias, Stuart Bearhop & Paulo Catry: Do ticks Ixodes uriae affect growth and survival of Black-browed Albatross Thalassarche melanophris chicks?  O43.
Rocío Moreno, Jose Roscales, Valon Llabjani, Francis Martin, Begoña Jiménez & Richard Phillips:  Infrared spectroscopy as a novel non-destructive approach to assess adverse molecular effects of legacy and emerging Persistent Organic Pollutants (POPs) in albatrosses and petrels.  O45.
Richard Phillips, Robin Freeman & John Croxall:  Juvenile dispersal patterns in the Wandering Albatross.  O8.
Juan Pablo Seco Pon & Marco Favero:  The effect of the use of fish by-catch reduction devices and the retention of marketable non-targeted fish on the reduction of seabird abundance and interaction with commercial trawlers.  O25.
Click here to read the abstracts of the above (and other) papers in the conference booklet.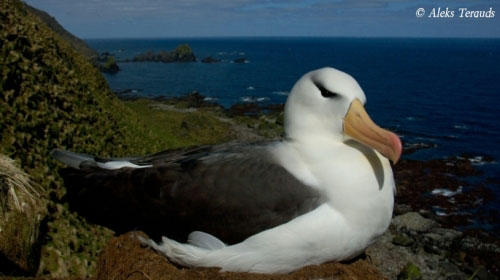 Black-browed Albatross on its nest
Photograph by Aleks Terauds
John Cooper, ACAP Information Officer, 13 September 2012
A dispute exists between the Governments of Argentina and the United Kingdom of Great Britain and Northern Ireland concerning sovereignty over the Falkland Islands (Islas Malvinas), South Georgia and the South Sandwich Islands (Islas Georgias del Sur y Islas Sandwich del Sur) and the surrounding maritime areas.