When I attended the British Birdwatching Fair in August 2000 at Rutland Water in the UK on behalf of BirdLife International's then "Save the Albatross Campaign" I was first in-line to have my copy of Lance Tickell's just-published book on albatrosses signed by him.  I consult his book a good deal when researching news stories for this web site, and I especially enjoy the final chapter entitled "The Mariner Syndrome" that eruditely reviews poetry about albatrosses since Coleridge's classic "rime".
Lance has now been honoured by having a mountain peak named after him on Bird Island, that lies off the main island of South Georgia (Islas Georgias del Sur)* where he studied albatrosses in the 1960s (click here).
"Lance Tickell assisted in some [of] the first science on Bird Island - tagging fur seal pups in 58/59.  He returned twice more before the mid 60's working on seals and albatrosses, and was one of the first to overwinter there.  Tickell Peak is the second highest peak on the island at 290 m and is positioned above steep cliffs on the north coast towards the east end of the island."
As well as his book, Lance has published over 15 scientific papers on albatrosses from his South Atlantic studies, including on Wanderers Diomedea exulans and two mollymawks (Grey-headed Thalassarche chrysostoma and Black-browed T. melanophris).  Click here to read about his most recent publication on albatrosses with his thoughts on how Wanderers get their pink ear stains.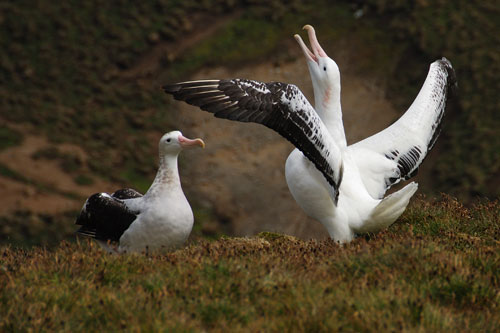 Displaying Wandering Albatrosses.  Photograph by Rowan Treblico
More news from Bird Island is that, as every year, all the Wandering Albatross on the island have been banded: "[t]his amounts to just shy of 600 birds covering the entire island.  The wanderer chicks are now about 7 months old and still have several months before they begin to fledge. They are beginning to lose their downy white fluff and grow dark feathers in its place. They have also begun trying out their wings; stretching and flapping them, especially on windy days."
Meanwhile on the main island preparations are underway for next year's removal of the reindeer herd that lives between the Fortuna and Neumayer Glaciers in January and more rodents by aerial poison-bait drop from March in Phase Two of the habitat restoration project.  Reports on progress and success of both efforts will be published here as they become available.  Click here for earlier news on these and other Southern Ocean eradication programmes.
Reference:
Tickell, W.L.N. 2000. Albatrosses.  Mountfield: Pica Press.  488 pp.
Click here for a review of Lance's book by Mike Brooke (author of his own albatross and petrel book).
John Cooper, ACAP Information Officer, 26 October 2012
*A dispute exists between the Governments of Argentina and the United Kingdom of Great Britain and Northern Ireland concerning sovereignty over the Falkland Islands (Islas Malvinas), South Georgia and the South Sandwich Islands (Islas Georgias del Sur y Islas Sandwich del Sur) and the surrounding maritime areas.